Evaluating ERP is not easy, and it is a 20+ year investment, don't make a mistake by not being fully informed!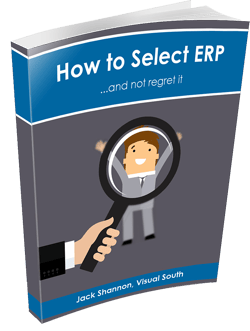 Most people heading up an ERP evaluation have never done it before, and aren't really sure how to approach it. The ones who know what mistakes to avoid end up leading their team to a decision they feel good about. In this ebook, you will learn how:
To avoid the trap of wasting your time watching a demo (Huh? I thought that was what I was supposed to do!) Many ERP salespeople are compensated based on conversations they have and whether or not you will watch a demo, regardless if you are a fit for their product or not.
To understand what is important (here's a hint, the software is not the most important factor!)
To have an evaluation based on YOUR needs. Only spend time with the vendors who recognize this, as opposed to the ones who don't care!