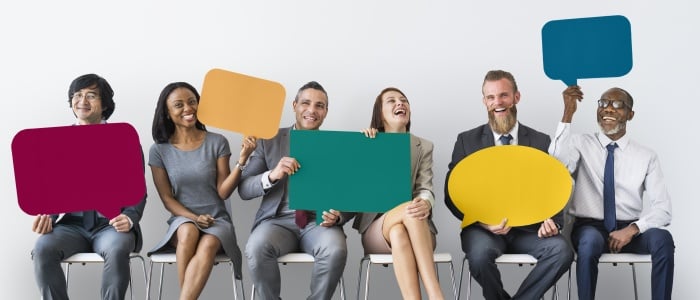 What others say are benefits of ERP
We've written many articles about the benefits of ERP, but also wanted to poll the industry to hear what others had to say. Below is a compilation of the answers we received to our survey question, "What is the best benefit you or your company has experienced from using an ERP system?"
As you'll see, the answers form a comprehensive list, and will hopefully offer insight to possible areas you and your organization can use as well. For those who have not yet adopted an ERP system, this article could be used to strengthen your business case and justify the spend.
Who contributed to this survey about benefits of using an ERP system?
We used HARO to gather the opinions of ERP users. Our respondents listed a wide variety of benefits we often see reflected by our clients. For clarity, we have grouped the benefits into a few related categories. The categories are based on three central themes:
Consolidated systems (one solution)

Improved performance management and reporting (reliable data mining)

Improved operations
1. Single system vs. disparate systems
Single database:
"Better information accuracy and availability is the primary benefit that drives all other ERP benefits. Advanced ERP systems collect, process, and store production, sales, supply, and customer data. Instead of maintaining many databases, you employ a single data system, eliminating regular checks and synchronization."
David Reid, The VEM Group
Seamless integration:
"An integrated, centralized database that supports all business-essential processes is the biggest benefit of an ERP solution. As a result, siloed divisions and operations within the corporation can be seamlessly integrated. This integration allows for more ideas, more consistent decision making, and better customer experiences. It also aids in making more informed (and better) decisions."
Bram Jansen, VPN Alert
Reduced costs:
"The one benefit I often cite regarding ERP is the cost reduction and scalability it offers. Instead of wasting resources on multiple systems that need dedicated staff, infrastructure, support teams, and licenses, I have consolidated all those costs into a single ERP solution. Instead of spending more on different systems, I have saved IT expenses by centralizing everything in one ERP. This also benefits me by reducing training requirements; it is always easier to learn just one system instead of interacting with multiple individual applications."
Richard Lubicky, Real People Search
Single system and database:
"An ERP system centralizes all core business processes in one location, providing real-time visibility into operations, from supply chain [logistics] to customer relationship management (CRM). The other significant advantage of an ERP system is data security. After all, at the guts of the ERP solution is data. Sharing data across functional silos (e.g. customer service, sales, marketing, business development) enhances collaboration throughout a corporation. It really has made operations related to data smoother and efficient."
Daria Maltseva, KeyUA
Improved data security and accessibility:
"It's a tough task to manage security permits and access across multiple systems. [With an ERP system,] organizations have the capacity to ensure that critical company data can be shared, without being compromised by using a common control system. Everything can be saved in a single, secure database that's accessible from any location."

Neil John, One Computer Guy
2. Performance management & reporting
Integrated information repository:
"ERP platforms, which are available on-premise or in the cloud, are frequently used by businesses as an integrated information repository. ERP collects data from various sources and arranges it according to the needs of the users. All of the records you need for your operations, from inventory details and sales reports to staff information and customer files, can be stored in this system and retrieved whenever you choose. When you and your employees need to pull files for specific objectives, especially when cooperating with other departments, this saves you and your staff time."
Gerris Smith, Corporate Investigation Consulting
Faster and more accurate reporting:
"Data integrity is critical to the success of any organization. ERP solutions include business intelligence tools and machine learning capabilities to help you assure the correctness and consistency of all the data you save in your system. These tools enable you to sift data for discrepancies, evaluate information, and generate insights on performance using powerful filters and real-time analytics, so you can make the necessary adjustments to your operations quickly and effectively."
Ariana Flynn, Proxy Rack
Improved financial management and reporting:
"ERP programs contain modules for forecasting and reporting on a wide range of data. Analytic tools analyze historical and real-time data to help you make the best possible decisions. ERP solutions have a strong emphasis on reporting. Region, location, profit center, and personnel data can all be sorted in the applications in a variety of ways, based on your company's specific requirements. In the short and long term, this vast variety of data enables for more nuanced and precise decision making."
Fahad Jamal, Pure Tuber
Data reliability:
"One of the most compelling benefits of ERP software is the data reliability it provides. ERP software makes data from every department easily accessible to senior management; it gives us complete control over every essential operation in the company. We can stay up with our business development and continue to serve our clients to the best of our ability by transferring our project management process to the cloud."
Salvador Ordorica, The Spanish Group
Task automation and reporting:
"An ERP software saves time and money by automating tasks and receiving real-time sales, inventory, customer activity, and financing reports. The ERP system is designed to help you improve your bottom line by streamlining processes and providing information about your business in a way that gives you real-time insight into where you are today, what challenges are out there, and where you're headed. Daily business processes run more smoothly with ERP."
Marilyn Gaskell, True People Search
3. Improved Business Operations
Drive revenue
"Businesses face higher labor expenses as a result of inefficient operations and decentralized data. These can be particularly damaging to small and medium-sized businesses (SMBs) with limited resources.

"ERP systems can automate and streamline daily tasks, allowing your workers to focus on revenue-generating activities. For example, the software can connect sales orders to accounting systems instantly or generate reports without the use of complex spreadsheets.

"ERP should be viewed as a technological strategy by businesses. It can help businesses attain flexibility and agility by efficiently automating and linking administrative and operational capabilities, such as finance, HR, purchasing, manufacturing, and distribution."
Dan Close, We Buy Houses
Enhanced planning and forecasting:
"You can use ERP solutions to forecast sales, costs, and the resources you need, such as materials, equipment, or people. ERP gives you the information you need to make informed decisions about production schedules and resource requirements. In order to avoid downtime or production delays, you must be able to foresee occurrences like equipment maintenance or order fulfilment. Better planning and resource management allows company executives to make more effective decisions and handle obstacles within the organization."
Jared Bauman, 201creative
Improved ability to scale and adapt:
"ERP software has a modular structure that allows it to scale up or down, depending on current demands and circumstances. Using this capability, a ERP system is able to adjust to changes in the company's size on every level. Adding additional goods, employees, production facilities, suppliers, departments, or divisions necessitates ERP solutions that are highly adaptable to even the smallest of structural and operational changes. ERP systems can adapt to any type of growth, whether an increase in production, an increase in inventory, or the inclusion of additional operations, services, or users."
Ben Zellner, 3000milemyth
Improved customer satisfaction:
"Optimizing client relationships is the most important practical benefit of contemporary ERP software. It is easier for sales managers and customer support employees to engage with customers and reduce the time it takes to respond to customers' requests when all relevant information is centralized in a single location.

"Having access to client records in a more timely manner, and with more accuracy, also contributes to the list of ERP advantages. Data on client behavior patterns, for example, might lead to better plan improvements or more accurate estimates of demand that must be met accordingly and at the appropriate moment."
William Westerlund, Almvest
Improved quality assurance:
"An ERP system provides a major advantage in terms of quality control. Suppose you have a product that has just finished production, but you must still examine and sign off on the corresponding documentation before it can be sold. Until the paperwork is accepted, you can tell your ERP system to keep the goods out of the market. It's much more difficult for someone to mistakenly remove an unreleased product from your supply chain when you have this tight control over your internal flow of supplies.
"It's also possible to restrict access in your ERP so that only those who need to see or update information can do so; the system itself provides checks and balances. A smoother flow of work between departments can eliminate human error and save time by performing quality control on sensitive and timely data."
Ernests Embutnieks, Wolf of Desk
Increased ability to outperform competitors:
"Some think ERP systems are too costly. On the contrary, investing in a comprehensive ERP system may put you one step ahead of the competition, simply by providing you with a level of [data] analysis that they do not have. The combination of real-time data and enhanced agility allows you to zero in on previously undiscovered competitive advantages, accelerate product development, and adapt swiftly to change."
Jeff Mains, Champion Leadership Group LLC
Summary
The survey respondents validated many of the key benefits we discuss with our prospects when explaining the significant benefits of a single ERP system versus the typical cobbled together system (consisting of something like Quick Books for accounting, Fish Bowl for inventory, a plethora of spreadsheets, and possibly an Access database or custom-written programs).
The benefits of a single ERP system with a single database include trusted data, increased security, and improved reporting providing actionable information. By virtue of having these efficiencies in place, your team can focus on business improvements and grow the organization—versus gathering data and hoping it's accurate.
Visual South helps manufacturing companies get better. If you want to discuss benefits that your company can achieve with an ERP system, simply reach out and have a free 30-minute consultation. Schedule your free assessment here.