Infor CloudSuite Industrial/Syteline ERP addresses all your service-related needs
When manufacturers look for areas to grow their revenue and find high-margin opportunities, many focus on the service component of their operation. Our team at Visual South has talked to many companies with ongoing initiatives to improve both after-market sales for replacement parts and service agreements with customers. This is especially prevalent in the engineer-to-order space and capital equipment.
Infor CloudSuite Industrial (CSI) is unique in that it is a purpose-built ERP application with supporting functionality for manufacturers that are engineer-to-order, and includes a complete Service Management system that's part of the core application. Providing manufacturers with the ability to include installation as part of the project—by virtue of scheduling the installation service order and creating multi-length service and maintenance agreements—allows for a long-term customer relationship and continuing revenue stream. Additionally, warranty is a part of the Infor CSI service application, providing an all-inclusive toolset to allow better service your customers, differentiate your offering from the competition, and manage warranties, replacement parts, service orders, service and maintenance agreements, and complete unit history…all from your core Infor CloudSuite ERP system.
Related: Watch the CloudSuite Industrial Service Management Micro Demo
In this article, we will focus on the three ways to drive revenue, profitability, and better customer support using CloudSuite Industrial ERP:
1. Replacement Parts
Typically, the manufacturer in an engineer-to-order environment is the likely go-to source for parts, which makes your ability to provide replacement parts very important. Having a replacement parts warehouse (whether real or virtual) allows you to rapidly respond to customer needs. The CSI ERP tells you which parts are commonly used across multiple products that may make sense to stock, as well as provides optimum inventory levels for those parts. Additionally, by virtue of having serialized finished goods, the replacement parts team members will be able to see exact unit configurations of as-built components for specific replacement part needs. They'll also be able to see whether of those items are covered under warranty by your company, or by the supplier if it is a purchased part.
CloudSuite Industrial Unit Configuration Form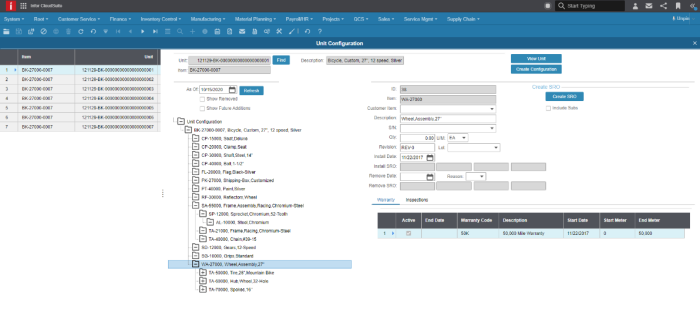 Having this visibility into parts and accurately managing warranties can lead to tangible savings each year. Infor CSI Service Management also provides visibility into current configurations for older units that may have had various replacement parts added, allowing to quickly provide what is needed to address repairs. These CSI tools help drive profits for your replacement parts business unit.
CloudSuite Industrial Warranty Form

2. Service Agreements
Infor CloudSuite Industrial allows you to include or add service agreements to equipment you sell and/or service. The Service Management module helps manage these contracts and have complete visibility into the actions associated with them, what is covered, and the profitability of the agreement.
3. Service Execution
Infor CloudSuite Industrial has full-service order scheduling, routing, and service order distribution to your techs or partners using CloudSuite Industrial Service Mobile. Techs can see service orders they are scheduled for and then choose an order. The tech will be able to get driving instructions to the destination and have full access to the service order, what is covered in the contract, the unit repair and service history, and current unit configuration. The tech or team can clock into the job, issue materials to the job, and even capture expenses associated with the job.
CloudSuite Industrial Service Mobile Application
This service order functionality allows for complete cost collection, so you can measure profitability. You can quickly issue accurate invoices for time and material service orders, improving time from service to cash as well. Finally, the tech can take pictures of the work completed and get an electronic signature for sign off while in the field.
Summary
Infor CloudSuite Industrial ERP is a great solution for manufacturers, however, it really shines for those who also have service requirements for their customers. CSI can not only help improve the level of customer service throughout the lifecycle of products, but also allow you to drive profitable revenue by virtue of having a fully functional service management system as part of your ERP application.
For more information on how you can improve your abilities with regards to replacement parts and service, please reach out for a free assessment.