There's a method to ERP implementation plans and timelines
Creating an ERP implementation timeline can be a difficult process. There is no standard template that will magically fit all projects, as every one is unique. No two businesses, even in the exact same industrial segment, are alike. Each has a different scope, team, and availability. However, what's typically the same for just about all small to medium-sized ERP implementations are the core phases and tasks to get from purchasing your new solution, to going live with it, and beyond. This blog will discuss Visual South's methodology for an ERP implementation project plan.
Our Clear Focus ERP Implementation Methodology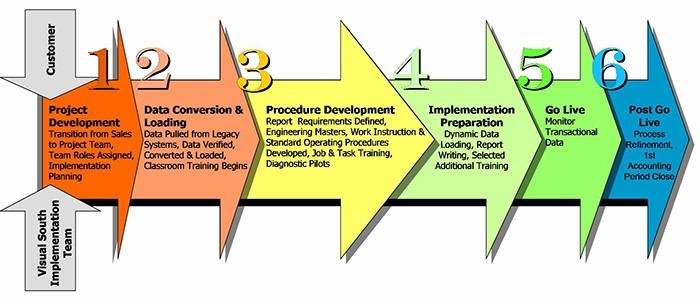 Use these links to jump to a specific phase of our ERP implementation plan:
Phase I: ERP Project Development
Once an ERP solution has been selected, the first phase of the implementation begins. The customer defines the team members who will be involved and responsible for a successful project. Likewise, your ERP vendor defines their role. This can vary widely from one company to the next, depending on the level of support required.
Part of this phase in your ERP implementation project plan also includes network/hardware requirements and installation–unless you've chosen a cloud-based SaaS model ERP such as Infor CloudSuite Industrial.
The implementation planning meeting takes place, led by the ERP vendor and including the core members of the customer's team. This meeting should review the plan, along with expectations, scope, and timeline discussions. After the meeting, the vendor puts together an ERP implementation project plan for the execution of the solution.
Related: Infor ERP: Everything You Need to Know
Related: ERP Implementation Services: How We Help
Phase II: Data Conversion and Loading
Every company implementing ERP software has an existing system. While some think they have no current system, they certainly do. It could be spreadsheets and manilla folders in file cabinets–that IS a system! Not a good one, but that's why we're here.
In phase II, we begin the process of gathering critical data from the existing system, and then scrubbing and cleaning that data, so it's formatted in a manner that allows it to be loaded into your new ERP software. There are many data records we can add, but typically the minimums are customers, vendors, and parts (both finished goods and raw materials). Ancillary data related to these three main categories is also included, such as contacts, bill to/remit to/ship to addresses, vendor pricing, customer pricing, bills of materials, etc.
Data cleansing and migration is one of the most underestimated tasks of an ERP implementation plan, from a time commitment standpoint. But the good news is we don't need to wait for the completion of phase II before beginning phase III.
Phase III: Procedural Development
When discussing an ERP implementation timeline, this is the phase that will undoubtedly contain the most discussion and debate for how long the implementation should take.
In this phase, both the customer and ERP vendor teams will define the current policies and procedures in order to develop the roadmap for the new policies and procedures. Required documentation and reporting will also be part of this phase.
Building out the database to meet the new requirements, and initial simulation of the new processes through the individual departments takes place. Once the new procedures are proven and accepted, they will be documented and approved.
In phase III of the ERP implementation plan, end-user training begins. Until this point, the core implementation team has been developing and proving out the new processes. Now it's time to involve all other users in the system. End users may bring up weaknesses in the processes that may have been overlooked by the core implementation team. This is very normal.
All necessary report modifications and requirements have been met, or delegated if not necessary to move to the next phase.
Related: What Goes Into an ERP Implementation Testing Process?
Phase IV: ERP Implementation Preparation
At this point, the new processes are in good shape, end-user training is complete, and new procedures are documented. Now it's time for everyone to demonstrate they can successfully use the ERP system. Bring on the conference room pilot (or dress rehearsal).
Take several examples of typical orders and run them through the new solution from beginning to end. This includes pulling in different users along the way to do their part–and prove they know how to do it with little or no assistance. If users get stuck, they should refer to their procedural documentation.
After the pilot, determine if you can go live on schedule or not. Were significant issues found during the pilot that can't be addressed in a timely manner to keep the go-live date? Do the end users need more training than planned for? More training is always needed, but it should be minimal and not impact the timeline.
Schedule another pilot if necessary. If procedures were found to be inaccurate or incomplete, they should be updated and republished.
Phase V: Go-Live
With all the pieces in place and pilot runs completed, it's time to turn the new ERP solution on and start using it. Just a few more details before go-live day…
Now it's time to load dynamic data. This is the data that changes and is transaction based, such as open WIP, inventory, customer orders, purchase orders, accounts receivable, accounts payable, trial balances, etc. Loading dynamic data is usually a two to five-day task prior to the go-live date, which should be an accounting period start day. Opening balances in the new ERP should match closing balances in the current system.
Celebrate! Months of hard work have finally materialized. Take a moment to reflect upon the triumphs and tribulations along the way. But don't bask for too long–now the real work begins!
Related: How ERP Customization Can Lead to Major Issues
Phase VI: Post Go-Live
ERP implementation success should be measured in years–not days, weeks, or months. Anyone can be successful immediately after going live on a new solution. The true measure of achievement is how well the processes hold up over the years and withstand inevitable changes, such as employee turnover, business expansion and mergers, and other potentially unsettling events.
As I stated earlier, there's no perfect ERP implementation plan template. Running daily, weekly, and monthly status reports to validate that the correct procedures are being followed is crucial to the continued success realized at the go-live time. Checking that your processes are still valid as time goes on and your business changes should be an ongoing effort.
Related: The 5 Keys to ERP Training Post-Implementation (Whether In-House or Not)
Now What?
Ensuring the success of your investment in a new ERP solution starts with understanding what NOT to do also! See my other blog that explains the common characteristics of an ERP implementation failure, so you can improve your odds of success.
Have questions? We're here to help.