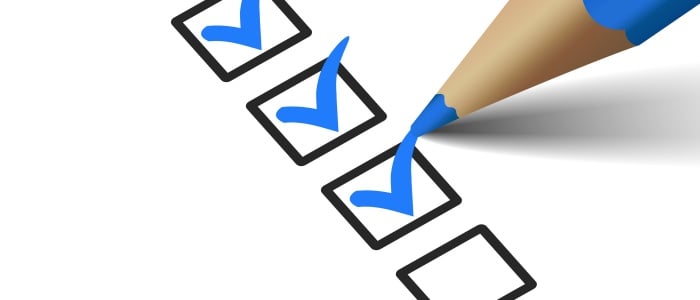 You need a plan to select the right ERP
Visual South has helped thousands of manufacturing businesses evaluate ERP software since we launched in 1994. During all those evaluations, we have engaged in both good and bad experiences.
I can tell you that when the evaluation team has a plan, it's a good experience. The team can articulate their business issues, goals, and the vision they have for a new system. And it's fun for us because we have clarity, and can easily partner with those companies. We work together to discuss solution options, and apply the Infor ERP toolset to address needs. Typically, the companies that come prepared for ERP evaluations are successful with their implementations as well, due to having built a good team and proper structure. They are not guessing and hoping to be successful. They have a plan (and an ERP selection scorecard, which we'll get to next).
However, we have seen the opposite side of the spectrum as well, where the business driver is "we need a new system"; the prospect struggles to clarify exactly what they need in a system, what problems need to be addressed, and how they envision a new system impacting the business. Visual South does our best to assist these companies, providing assets such as our guides on How To Run an Exhaustive ERP Comparison and Top 6 ERP Evaluation Criteria. We also have a detailed and thought-provoking exploratory process that's been fine-tuned over the years to uncover business issues the prospect might not be aware of. In short, it's our role to provide guidance and help those companies without a plan to form one.
From a Plan to a Process
To initiate a proper ERP evaluation, companies first need to define their most important business priorities. What issues are affecting the business? Identifying these items will help focus on the ERP aspects that are meter movers and have a direct impact on the bottom line, versus cool features that are more bells and whistles.
Examples of important business issues or priorities include a need to:
Trust your costing system
Improve margins
Analyze business performance in real time, not after-the-fact
Shorten lead time
Know your resource and material constraints
Increase win rates in competitive situations
Grow the business without growing overhead
Maximize capacity
Address quality issues
Find new profit centers, such as after-market service
Creating an ERP selection scorecard
Once those issues are defined, you can develop some type of ERP selection criteria matrix, or ERP vendor selection checklist. Whatever you call it, this is a process document that clearly outlines how to quantify the performance of the varying systems you are evaluating, relative to what is most important for your specific business.
Don't depend on advice from lead generation websites and their "Top 10" lists to do your vetting. The ERP solution rankings on those sites are often derived by advertising spend, and have false or inaccurate star reviews. For more information, check out "Why 'Top 10' ERP Lists Are Worthless." Your ERP selection template should be tailored for your specific business needs and scored based on reputable user reviews.
Reputable industry evaluations & tools to use
If you have specific criteria for requirements for discrete and process manufacturing, Infor is typically ranked as a top four choice by the major software evaluation consulting companies. For example, Infor is considered one of the four ERP industry "titans" by Panorama Consulting.
Infor CloudSuite is also listed as the top visionary in the latest Gartner ERP Magic Quadrants for SMB manufacturing ERP software.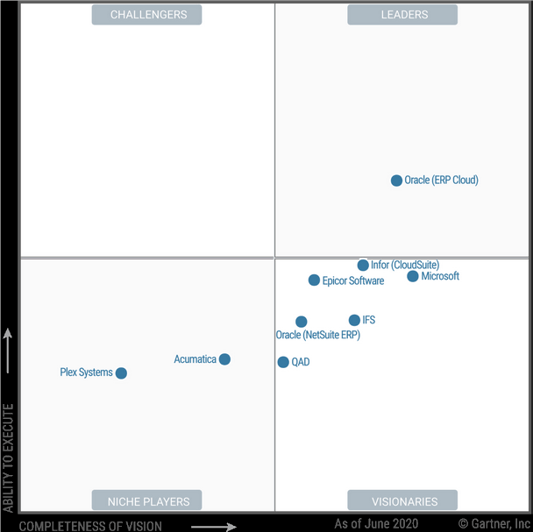 Infor CloudSuite Industrial is scored and validated as one of the highest performing SMB manufacturing ERP applications by Technology Evaluation Centers (TEC) as well. This well-respected firm typically uses a dynamic matrix requiring ERP vendors to not only answer functionality-based questions, but also demonstrate the functionality to validate their answers.
If you want a quick and accurate way to quantify the differences between ERP applications, we suggest you use TEC's comparison tools. You can match other ERP vendors against Infor CloudSuite Industrial with the 3,200 plus functional points that are addressed in the TEC ERP evaluation matrix.
Regardless of which ERP software selection criteria you go with, use an independent company to verify who is truly a leader, and then our team can show you how Infor ERP can address your top business issues. That is a plan that will bring you clarity and provide confidence you are making a good decision.
Please see TEC's certified scoring below where Infor CloudSuite Industrial ERP is ranked in the dominant category for SMB manufacturing when compared with other ERP options. Visual South is happy to provide a copy of the full report on request.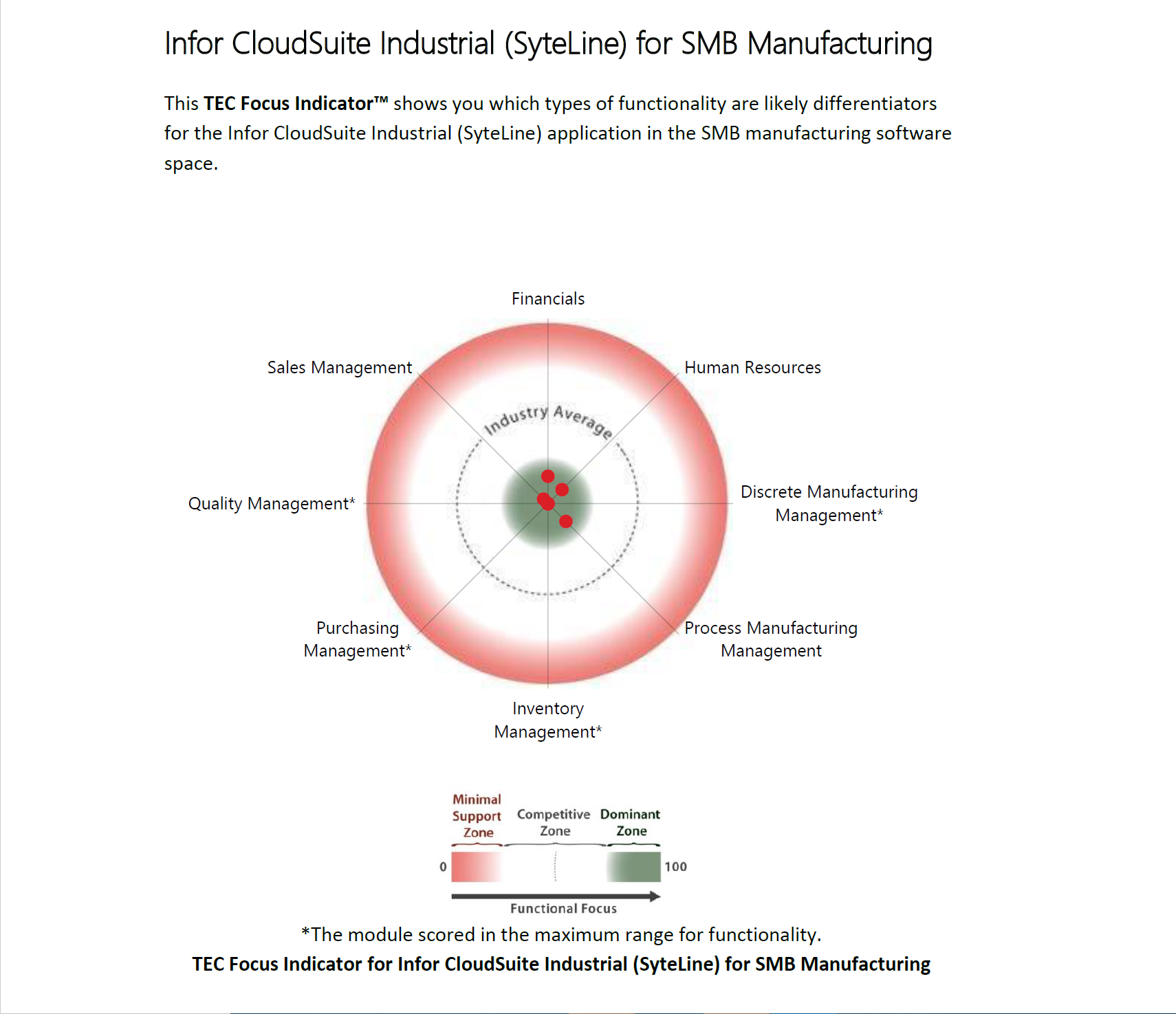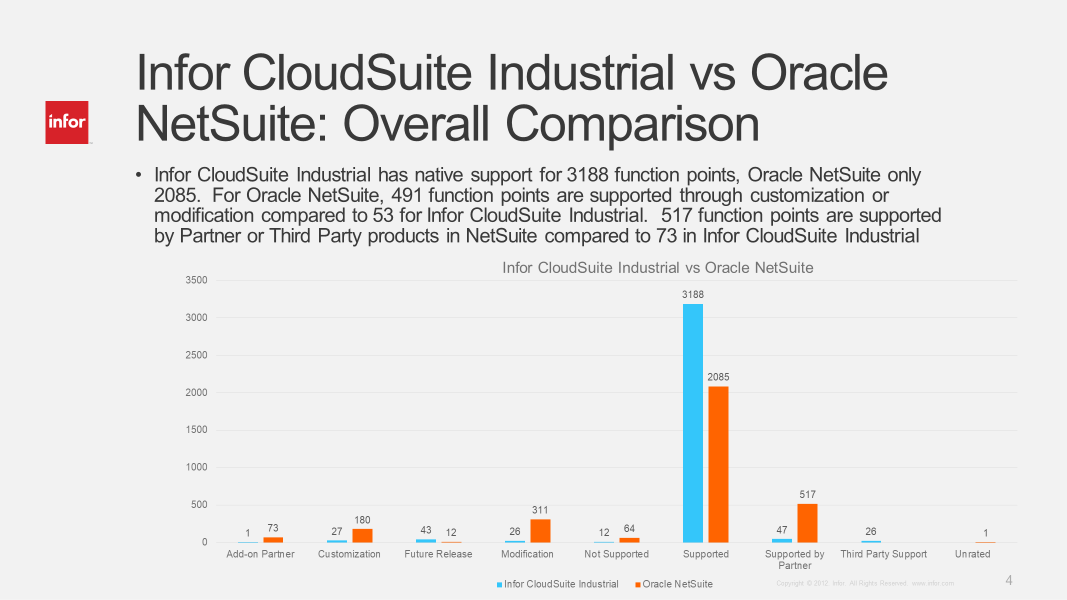 The independent and validated TEC comparison chart shows Infor CloudSuite Industrial/Syteline provides 35% more native functionality than Oracle NetSuite. Others, like Oracle NetSuite, depend on partner products, add-on partners, modifications, and customizations to build out a complete solution.
Summary
Visual South helps SMB manufacturing companies identify and solve problems to improve their operations. Our team understands manufacturing and uses the Infor ERP toolset to address your business needs and achieve your business goals. If you are looking for a new solution, we can provide you with the guidance and tools you need to successfully evaluate and implement ERP.
For more resources, please visit www.visualsouth.com or reach out to schedule a free assessment here.