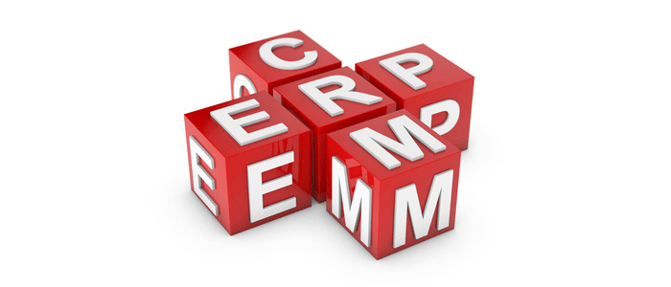 What is the difference between ERP and CRM?
There is no shortage of three-letter acronyms in the software industry. Sometimes it can be confusing to try to figure out what they mean, much less what the solutions do. Let's take a closer look at both.
Why don't we start with simple definitions first. Enterprise resource planning (ERP) is basically a software system that manages major processes within an organization, such as financials, procurement, inventory, production, and sales. It encompasses a very broad footprint of operations that requires collaboration between people and technology. And as time has gone on, that footprint has grown into areas such as maintenance, service management, employee time keeping, and workflow management.
The term customer relationship management (CRM) is a bit misleading because a lot of CRM systems manage processes that take place before someone becomes a customer (e.g. marketing to potential customers) and help companies track communication with these prospects, be it phone calls, direct mail, email campaigns, and website visits. CRMs sphere of influence has grown as well, and adoption has grown quite a bit over the years due to the low cost of entry and the large market size. With the emergence of cloud subscriptions, increase in mobile device use, and robust health of the economy, these solutions have broadened and deepened quite a bit.
CRM is much more focused on customer information and the processes of acquiring and maintaining customer relationships, whereas ERP is more of an internal, "back office" tool covering a wide range of areas that may or may not have to do with customers.
ERP vs. CRM: What problems do these tools solve?
Although these terms are not necessarily tied to software solutions, they are often associated with software. If you are reading this, it is highly possible that you have been tasked to "research CRM" or "research ERP"—meaning it's your job to find a software solution compatible with your company's needs.
Typically, when business leaders go in search of ERP solutions they are trying to solve the inefficiency issues that arise from maintaining disparate solutions to perform daily tasks. For example, they might have a financial software, and a ton of Excel spreadsheets to manage everything else. ERP systems basically pull all these processes into one integrated system.
Conversely, those in search of CRM solutions are usually trying to standardize their sales processes, gain visibility into sales activity, and capture customer information. Their current solutions for managing customer information are most likely limited to Excel spreadsheets and/or an email client like Outlook. With sales resources becoming more mobile, the ability to have the latest information at your fingertips is becoming a necessity as opposed to a luxury. A sales person cannot walk in to a meeting with a customer without having up-to-date information on the account's activity.
Is there overlap?
The concept of ERP vs. CRM isn't quite accurate; one can't really be pitted against the other because they do different things. But there is some overlap in function.
A lot of ERP software solutions have CRM "built in." (But the reverse is not true; you wouldn't see many CRM systems with ERP functionality.) The built-in solutions typically meet the basic needs of most companies and can be easy to implement. (An example of a "basic need" would be tracking conversations you have with a prospect, but not something advanced like mobile sales funnel reporting.) You may require more sophisticated functionality that a separate CRM system would provide. A lot of CRM systems are built with ERP in mind and have ERP integrations readily available.
The lines between ERP and CRM are becoming increasingly blurred as software companies fight for market share. ERP companies have their own CRM solutions, and some CRM companies are developing functionality that potentially competes with ERP. At Visual South, we always recommend you educate yourself prior to contacting vendors so you can have an informed conversation. Researching features and technological capabilities will help you make a sound decision!
Have more questions about ERP vs. CRM?
Visual South helps companies determine their software needs all the time, and also helps them figure out the value of implementing (or not implementing) one of these solutions. It's challenging to search the internet and get good, solid advice on how to evaluate software solutions. There are so many vendors, so many solutions, and so many different sets of terminology that it's hard to make sense of it all.
Take a look at the Visual South website; we have lots of information to help. If you're searching for an ERP solution, I suggest downloading our ebook called How to Select ERP and Not Regret It. Or, if you'd prefer to have a common-sense conversation with someone who is not a salesperson, click here to schedule a free consultation with our president, Jack.