A leading ERP for small-to-medium-sized manufacturers
Visual South has sold and implemented Infor ERP for over 25 years. The Infor CloudSuite Industrial/Syteline solution is the most technologically advanced and functionally rich application that we have worked with. Prospects note that it is far superior in regard to manufacturing-centric functional depth and user experience (the Infor OS).
But ultimately, manufacturers choose CloudSuite Industrial/SyteLine because of four pillars that we leverage: The solution has purpose-built functionality for manufacturers, is easy to learn, is easy to implement, and is easy to use.
In addition, manufacturers benefit from the financial strength of Infor and Koch Industries, a rabid research and development program that's constantly pushing out more tools, and the option of using Syteline on premise or CloudSuite Industrial hosted on the powerful Amazon Web Services (AWS) cloud hosting infrastructure.
Let's examine in more detail the four dominant reasons manufacturers choose Infor CloudSuite Industrial/Syteline ERP:
Functionality
The core application almost always has more native functional attributes than the competition. Of course, Infor has strong competitors such as NetSuite, Dynamics, and a bevy of other applications. But the fact is that most ERP applications rely heavily on third-party applications, or partner solutions to provide a complete solution. Infor chooses to provide our customers a smarter and safer option by providing a pure Infor solution. For example, companies using NetSuite's application for manufacturing scheduling have to depend on a third party if they want to do finite scheduling. It makes no sense, but it's easy to get wrapped up in process alignment versus solving business issues when evaluating software and listening to marketing pitches from technology providers. The Visual South team focuses on using our ERP toolset to solve business problems and fulfill business goals. There is a difference between that approach and those who simply address process alignment.
To explain more, take a look at this comparison between Technology Evaluation Center (TEC) Infor CSI and Oracle NetSuite: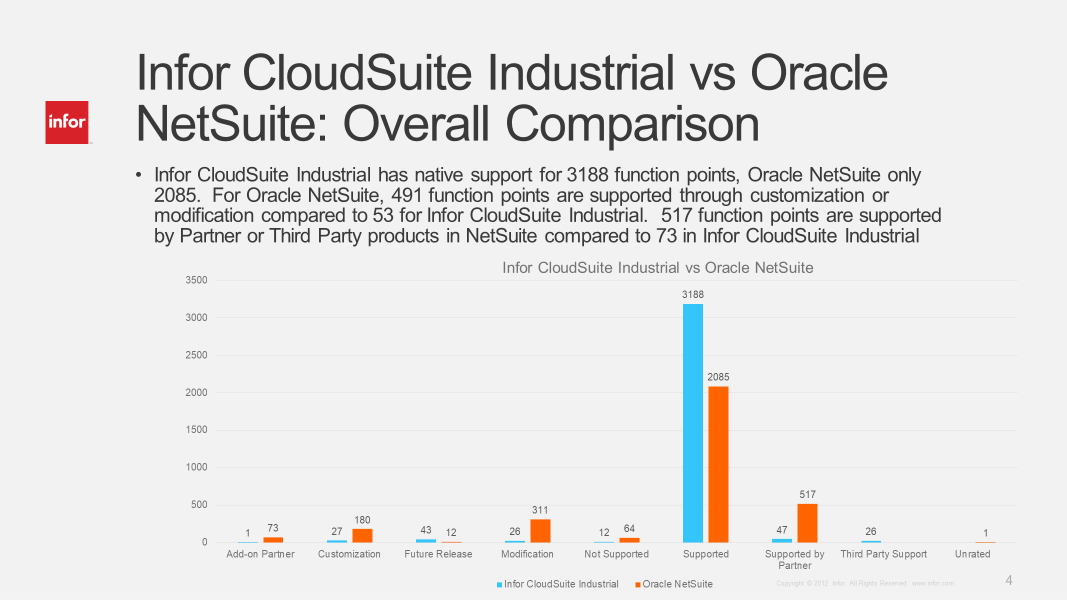 Infor CloudSuite Industrial/Syteline provides 35% more native functionality than Oracle NetSuite. Others, like Oracle NetSuite, depend on partner products, add-on partners, modifications, and customizations to build out a complete solution. Infor provides a significantly more complete out of the box solution.
Common sense dictates that native functionality is easier to implement, teach, support, and is a safe and smart strategy when compared with alternative ERP solutions.
Easy to learn
Infor has built the finest e-learning program in the small-to-medium-sized manufacturing space. Many companies offer antiquated classroom training like Global Shop. Infor provides over 400 hours of modern e-learning through its Infor Campus Enterprise system, which all Infor customers can access. A full role-based curriculum for all users is provided. The beauty of this program is that users can:
Start learning the system immediately
Watch the videos over and over
Access live web training
Access class instructors with office hours
Plus, Infor Campus is a great onboarding tool for new hires, which removes the typical knowledge erosion often seen with customers. Our implementation team integrates Infor Campus with our educational plan to lay a framework for proper procedural development.
Easy to implement
Infor continually offers the best infrastructure by providing Infor CloudSuite Industrial/Syteline Implementation Accelerators. Infor partners with leading consulting companies provide the optimum core process maps, so that our customers will have common processes ready to be implemented.
Pair this with having well-educated users by virtue of Infor Campus, and with the guidance of our veteran and outstanding implementation team members, and it is easy to see why our users choose Infor.
Easy to use
A key component to making things easy is to have a process in place before any work begins. We educate our users with the best e-learning system available; we leverage best practices to implement time-proven processes; and then we leverage the user-friendly Infor OS, along with Infor Hook & Loop.
The Infor OS is a consumer-grade, web-based platform providing users with a highly personalized role-based user interface. Infor provides user-specific analytics with both the Ming.le homepages and Infor Birst Analytics. The Infor OS has a complete document management system allowing for PC access, tablet access, and mobile access to documents and analytical data. Users have mobile access to their own personalized user environment which they can have a role in creating.
Related: Benefits of Cloudsuite Industrial on the Shop Floor
Summary
The Infor CloudSuite Industrial/Syteline ERP application offers the best of all worlds for manufacturers. It's a complete system to meet all business needs, but also balances robust functionality with tools that make it possible to implement on time and on budget. Finally, customers themselves have a great user experience, which allows for high adaptability and usage.
For more information about how Infor CloudSuite Industrial/Syteline can help your manufacturing organization, please reach out for a free 30-minute consultation or visit www.visualsouth.com for additional information.