Infor continues to rapidly develop CloudSuite Industrial/SyteLine ERP
The development team for Infor's CloudSuite Industrial ERP continues to follow the well-planned product roadmap, and is executing the plan efficiently. The roadmap enriches and extends the highly ranked and widely accepted application, which now has well over 5,000 manufacturing sites running it worldwide.
In this article, we'll highlight our favorite features that have been released since the CloudSuite Industrial/SyteLine 10 core application debuted in 2018.
Since the initial release of Version 10, there have been well over 400 functional enhancements. Best of all, there is only a single version of the software application. That means many of these core enhancements are available to the Infor customer base and future prospects, whether they choose the SyteLine on-premise application with hybrid cloud Infor edge applications, or Infor CloudSuite Industrial's true multitenant cloud solution.
Enhancements are led by Infor's product manager, Michelle Rydeman, with input from the massive Infor CSI/SyteLine customer base. Customer community enhancement requests and market-driven functional attributes are all taken into consideration during road mapping and development to ensure Infor's products continually meet the needs of manufacturers and their changing requirements.
Some highlights of our favorite features from CloudSuite Industrial/Syteline 10
Service Management
A good example of how Infor is working to meet the expanding needs of manufacturers is the growth of the Infor CloudSuite Industrial/SyteLine Service Management module. The Service module currently has no functional gaps and is competitive with stand-alone, service-focused applications. A field tech can use a mobile device to: dispatch, route, view unit configuration history, capture labor, issue materials, buy materials, use standard job templates, take pictures and videos, check warranties, collect credit card payments, and have electronic sign offs. Plus, techs can now print and share completed transactions from the field.
Print Service Repair Orders (SROs) from mobile devices to mobile printers, whether connected of disconnected. The beauty is the SRO can be initiated and completed with a mobile device. The customer can electronically sign the order and amount. Then, the signed copy can be shared electronically or printed—in other words, you can offer both paper and paperless options.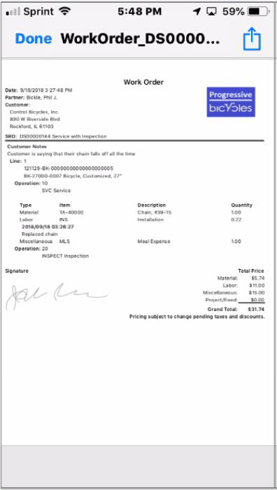 User experience
Another ongoing effort from the Infor team has been web form development. Providing all forms in an uplifted fashion allows new users to adopt an improved look and feel, yet doesn't force those who are happy with the traditional CloudSuite Industrial SyteLine classic forms to change. Infor focuses heavily on offering the best user experience possible, and this effort is indicative of that.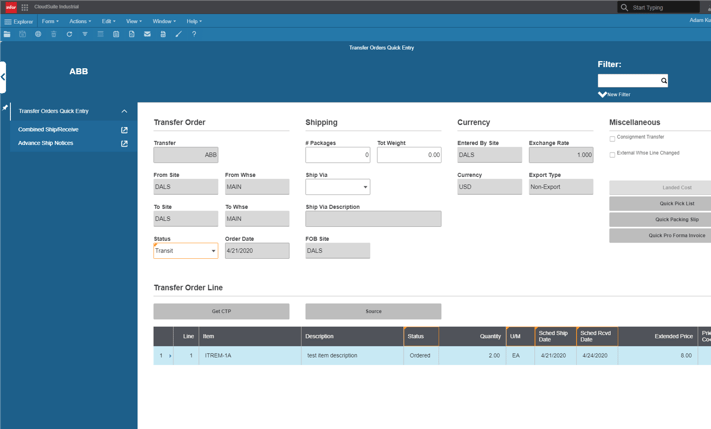 Highlights include:
Infor Hook & Loop Soho design model has less white space and is easier to read.
Forms surface the most commonly used fields to users.
Tabs on forms have been removed and replaced with drop-down lists and slider sections.
Birst and Infor CloudSuite Industrial analytics
Another major highlight in Version 10 is the continued leverage of Infor Birst, which powers the Infor CloudSuite Industrial Analytics. Infor continues to push out more and more pre-built content. The content includes standard financial data, such as:
Income Statement
Trial Balance
Balance Sheet
Cash Flow Statement
Comparative Income Statement
And sales information, such as:
Profit Over Time

Sales Margin Percentage

Gross Margins by Product

Revenue Over Time

Sales Forecast Analysis

Top 10 Customers

Sales by Product Code

Top Sales Bookings

Percent of Leads Closed

SG&A (per $1000 in revenue)
There has also been a significant focus on sales data with new out-of-the-box analytics, including:
Performance Reports:
Sales Margin Percentage Analysis
Sales by Product Code
Sales by Sales Channel
Top 10 Customers
Performance KPIs:
On Time Delivery
Commission Due
Total Sales
Total COGS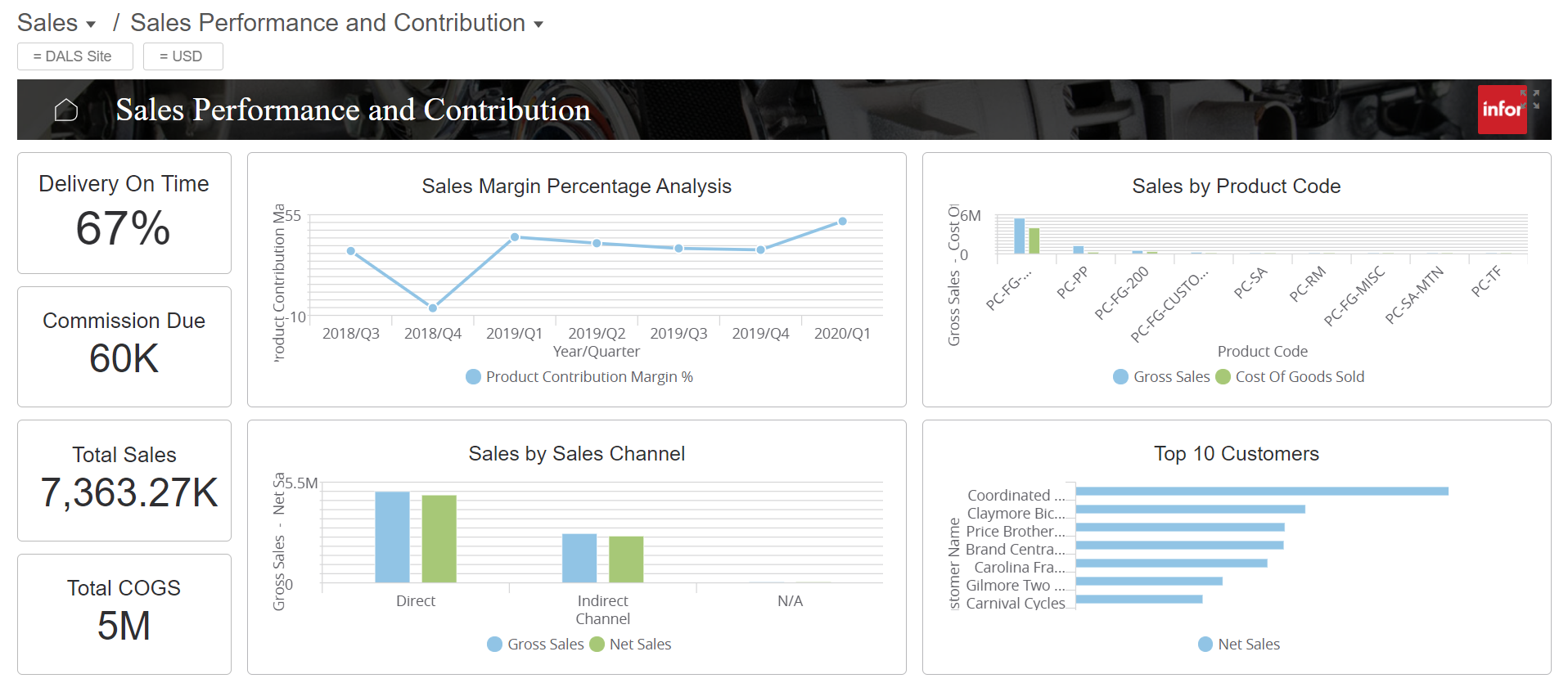 Sales Quoting Reports:
Estimate Win vs. Loss
Total Number of Estimates
Top 5 Performers of Estimate
Estimates Over Time
Sales Quoting KPIs:
Open Estimates
Total Estimates
Open Estimates Percentage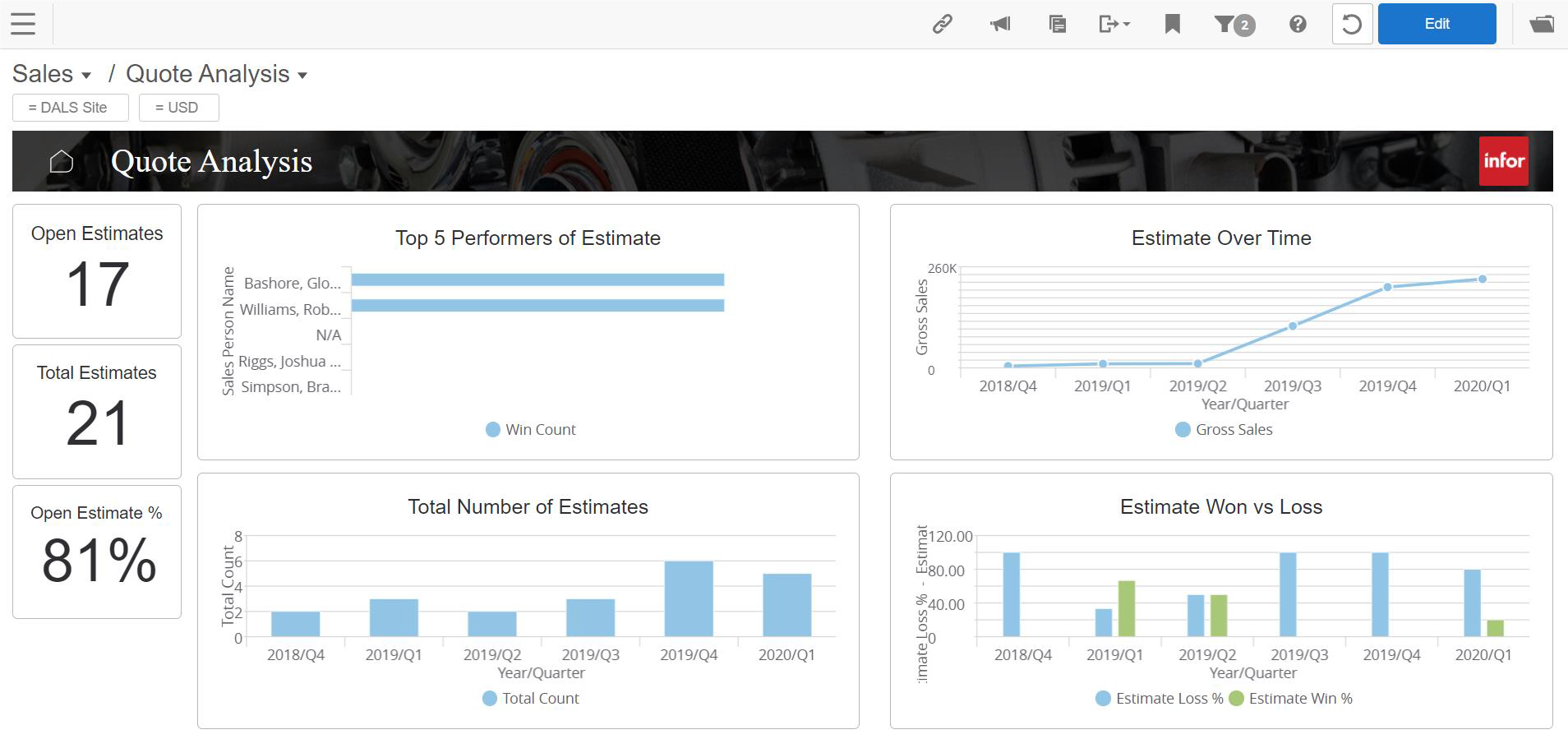 Sales Pipeline Reports:
Sales Pipeline vs. Backlog
Opportunity Value by Close Percent
Lead Count by Status
Sales Forecast Analysis
Sales Pipeline KPIs:
Forecast Amount
Deals Closed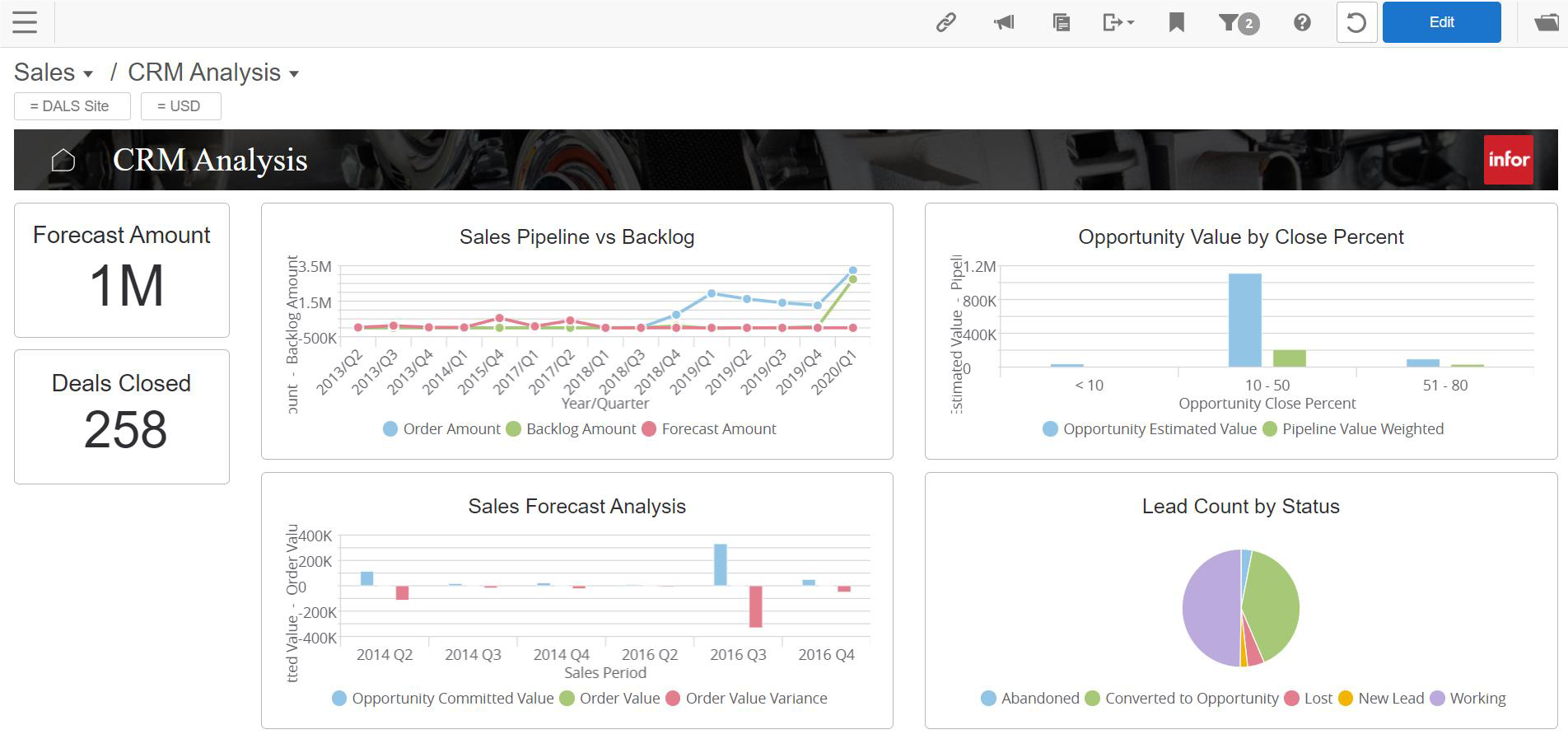 Sales Booking Reports:
Booking Per Sales FTE
Percent of Leads Closed
Total Sales Bookings
Average Order Value
Top 10 Customers to be Shipped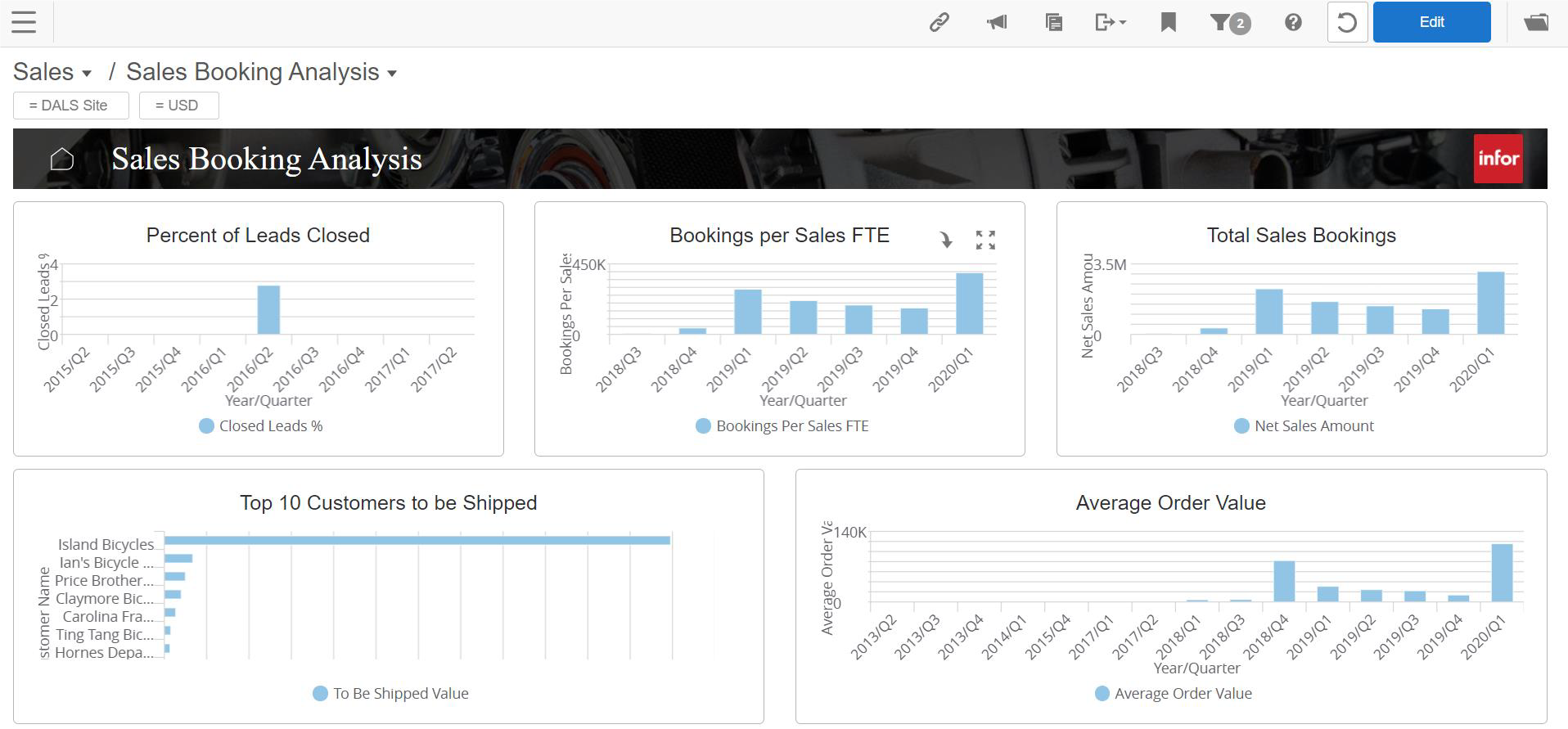 Additional standard metrics continue to be rolled out, including analytics on many operational areas:
INVENTORY: On Hand Cost by ABC Code, Top 10 Products by Cost, Cost by Warehouse

INVENTORY: KPIs for WIP Cost, Raw Material Cost, Finished Goods Cost, Total Cost

INVENTORY: Avg Order Turns, On-time Shipments

INVENTORY: KPIs for Average Turnaround Days, On Time Delivery, Total Orders

PRODUCTION: Machine Utilization %, OEE, Scrap % over time, Labor Utilization %

SERVICE: Closed incidents by Region, Service Orders closed, Top 10 Units by Service Cost, Open Incidents

SERVICE: KPIs for Open Service Orders, Late Service Orders

SERVICE: Hours Worked v Billed, Workforce Utilization over time, Billing Efficiency over time, Hours Billed by Dept

PROJECTS: Actual Cost v Total Actual Cost, Top 5 Projects by Planned Revenue, Revenue v Cost,

Project Cost Components, Actual Cost % over time, G&A Cost % over time

PROJECTS: % Complete over time, To be Billed over time, Invoice/Revenue Milestones

HR: Employee Total Pay, Recruitment Cost by Source, Top 10 Costs, Training hrs/week, KPIs
Having the Birst Business Intelligence application as a core component of Infor CloudSuite Industrial is a significant benefit for new customers, as well as Infor on-premise customers looking to switch to the cloud deployment.
Summary
Infor will continue to add new functionality to CloudSuite Industrial/SyteLine ERP as it is one of Infor's flagship ERP solutions, especially for the SMB space.
There are too many functional enhancements, Infor edge application integrations and improvements, localization improvements, and user experience enrichments to list.
What's important to note is that Infor cloud customers get these improvements pushed to them on a regular cadence. All improvements can be adopted without an upgrade, due to the Infor CloudSuite subscription. However, Visual South is a great resource for the large install base that still have servers and need to manage upgrades.
For those interested in getting an estimate for upgrading the on-premise SyteLine application, please visit our upgrade page.
If you'd like to learn more about Infor CloudSuite Industrial/SyteLine Version 10 enhancements and upgrade options, please visit www.visualsouth.com or reach out to schedule your free consultation here.