Aerospace ERP must have traceability
Aerospace and defense customers need ERP with industry-specific functional attributes to help them comply with mandatory regulations. For that reason, ERP for the aerospace industry includes the standard functionality provided in general manufacturing systems, plus additional tools. In this article, I focus on one of the most important functional areas for those who are evaluating or seeking to improve their aerospace ERP software.
Traceability
The most commonly emphasized functional area for aerospace ERP systems is traceability. This requirement is not as unique as one might think—many medical device and electronics manufacturers have similar trace requirements.
Having "cradle to grave" traceability for both lot and serialized items is one of the most critical components of a high-performing aerospace ERP system. Why? First of all, traceability is a requirement by aviation regulatory agencies, and many aerospace customers have to prove their ERP system properly addresses this during customer audits.
Having traceability is also critical for aeronautical finished goods because all components need to be inspected if there's a mechanical failure. That includes the source of the component, the component's lot or serial number, and all crafts that contain those components (in the event of a recall).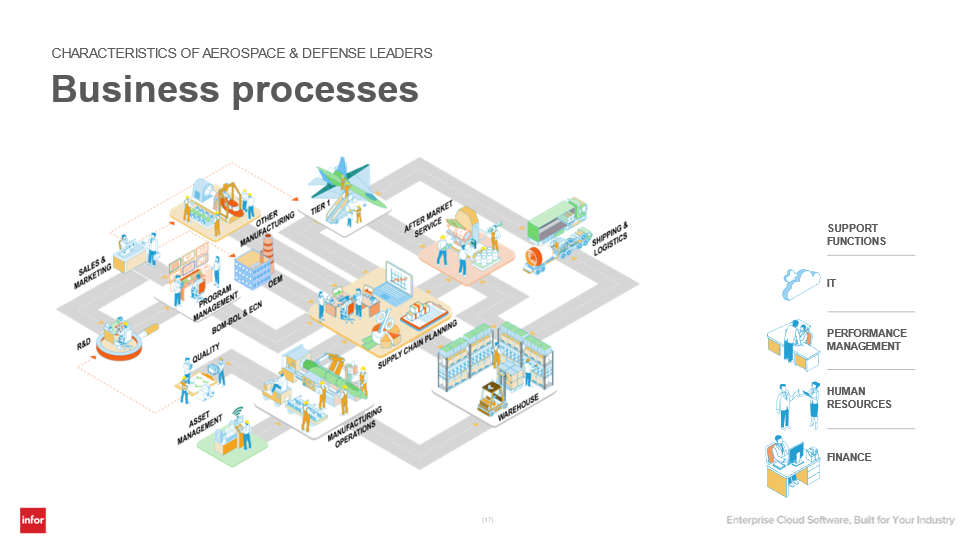 Documentation
The aerospace ERP software has to track the incoming material and associated vendor documentation. All material movements of that lot or serialized component have to be captured in the ERP system, whether via manual entries or material barcoding transactions. A proper aerospace ERP system will have a document management tool that can associate relevant documents for items such as material certs, from arrival to shipping.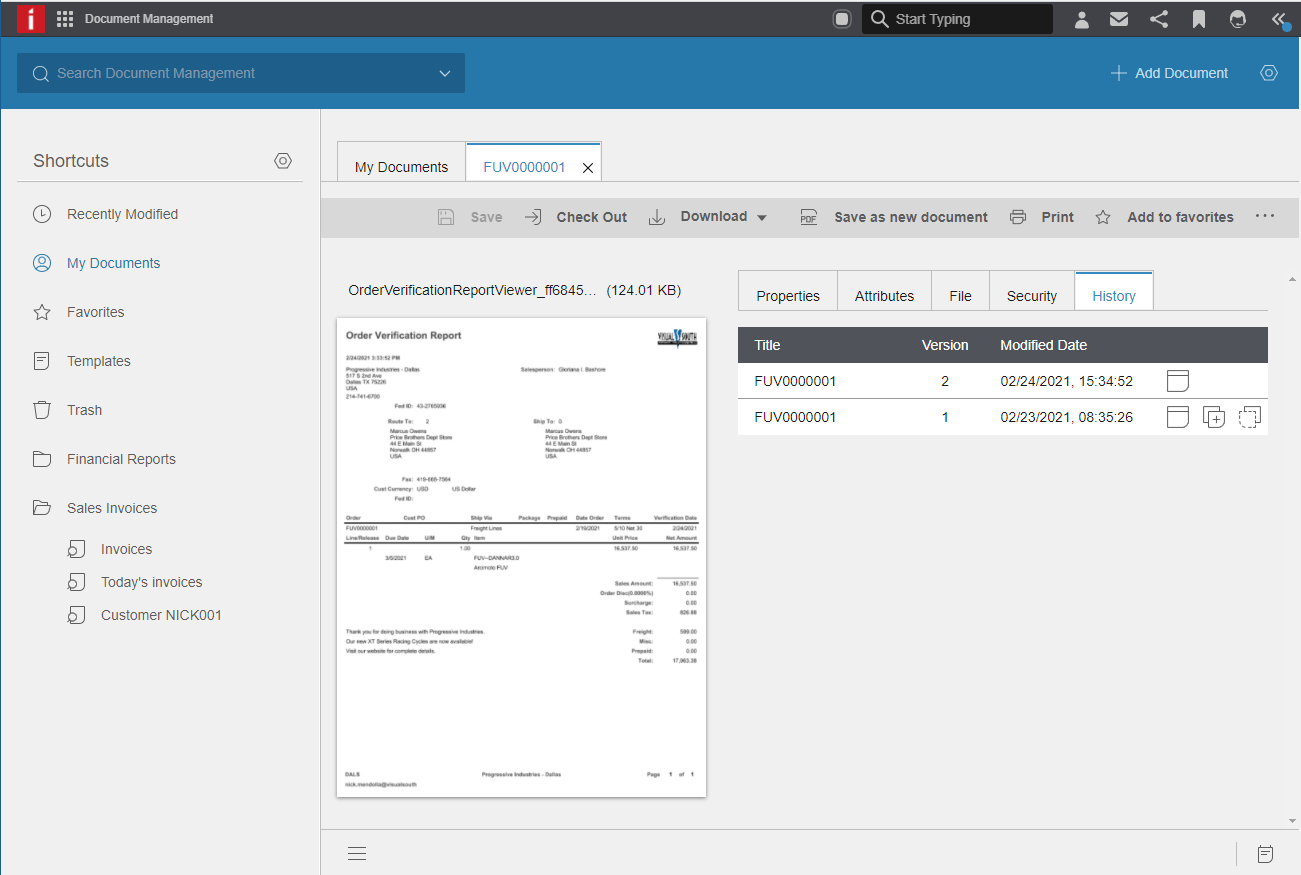 Infor ERP comes with the robust Infor Document Management application, which provides aerospace manufacturers with a central repository for storing and managing all drawings, material certs, inspection plans, and relevant documentation.
For finished goods, your aerospace ERP should include all lot and serialized components, the associated work order, and those who performed work during that work order. The ERP system must have the ability to record these transactions. These records should be readily accessible with quick searches using the lot or serial number.
Auditability
Furthermore, the ERP should provide a complete audit trail to prove compliance. Companies with siloed information and an unintegrated ERP system—transactions recorded by hand on paper, and then entered into Excel spreadsheets or Access databases—will face challenges. Non-integrated transactional capture can result in data entry errors, lost transactions, and issues with non-real-time information. There may be incidents where urgent trace information can't be expedited because you're searching through non-integrated manual systems to find and tie the information together. It is much harder to pass quality and customer audits without an infrastructure to provide date- and time-stamped activities, which should be readily available in your aerospace ERP system.
Typically, quality and vendor audits are arduous for companies not using integrated and aerospace-centric ERP systems. Using systems that aren't built for the aerospace industry can not only be expensive and time consuming, but can also results in lost business and hinder new business growth.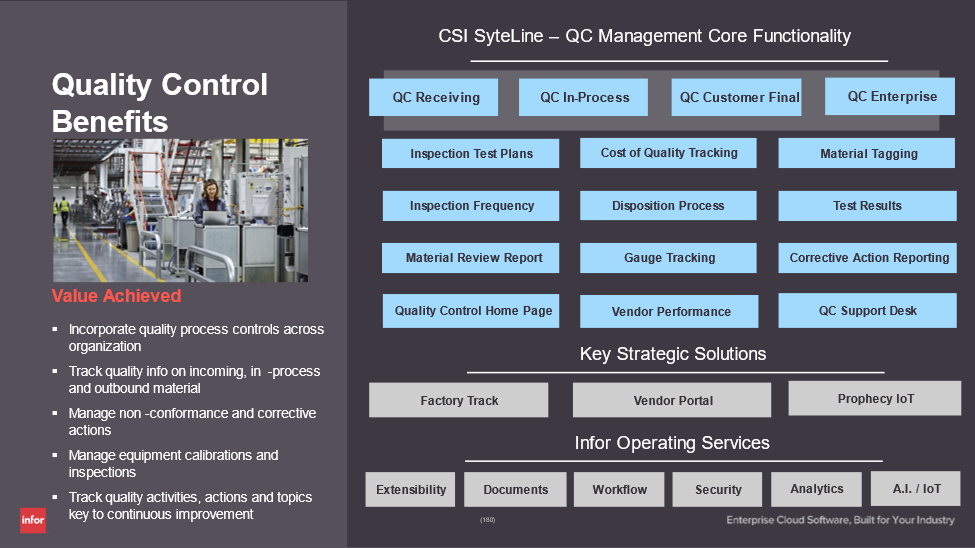 Infor Aerospace ERP solutions provide full quality management systems with the foundation and tools to meet AS9100 AQMS.
Aerospace ERP systems should quickly and easily provide visibility of where lot and serialized components were used, including supply parts, sub-assemblies, work orders, projects, shipment destinations, and customers. The easiest way to pass audits is to have a strong lot/serial trace module in your aerospace ERP.
Engineering Change Control
Engineering control is another critical area—your bill of materials, routings, outside processing, and quality inspections must all be defined by your ERP system. The ERP's document management system should be tightly integrated with the engineering process, managing drawings and revisions in a controlled environment. Engineering change control is a critical functional requirement for aerospace manufacturers, who need their ERP to provide a validated workflow of the approval process, and audit of those approvals, and in-process visibility.
There's more than traceability
The aerospace industry requires that you address many other areas, in addition to traceability, with your ERP software. Other important areas include production scheduling, quality, program management/project costing, and service management.
Infor ERP includes all the functional attributes needed by aerospace manufacturers, such as lot/serial trace, document management, and quality.
Summary
Aerospace manufacturing ERP systems have deep functionality to address the complex quality requirements for the industry. Please ensure you thoroughly review ERP options to obtain a system that not only handles traditional manufacturing requirements, but also many of the specific requirements discussed.
For more information about how Infor ERP applications can help aerospace manufacturers, please visit "Products" tab at www.visualsouth.com or reach out to schedule a free 30-minute consultation addressing ERP for aerospace manufacturing.