Manufacturers have made the move to cloud-based ERP systems
It seems like just yesterday that the concept of cloud-based ERP for the manufacturing industry was far-fetched. But today's reality is manufacturers are choosing cloud deployment over on-premise deployment virtually every time. That is a paradigm shift for those of us who have been working with enterprise applications in the manufacturing sector.
There are numerous reasons for this shift, and just as many proven benefits of using cloud-based ERP systems for manufacturing. In this article, we'll explain everything you need to know about cloud ERP, so you can make an informed technology decision for your business.
Getting out of the hardware business
Many of Visual South's customers and prospects express disdain for dealing with hardware and maintaining the system's infrastructure. Hardware costs, Microsoft database and operating system software, possible Terminal Server or Citrix licenses for remote connectivity, and compatible clients are expensive. One of the primary benefits of going with a true cloud deployment is that these costs are alleviated.
Also, on-premise customers often outsource their hardware. They typically pay ridiculously expensive fees to host their manufacturing ERP on a server. The hosting scenario will always lose in a cost comparison to subscription cloud. When you have perpetual on-premise software, you have to pay annual maintenance costs, plus the hosting costs. Add those together, plus the costs of upgrades, and it can be a significant expense. Many manufacturers using on-premise systems don't realize that annual maintenance charges are typically included in the subscription for true cloud applications. (I say "true" cloud because we still see some ERP providers claim to be cloud-based, but they are actually providing single-tenant hosting with maintenance costs added on.)
Other benefits of cloud manufacturing ERP include never having to worry about being on the latest version of your system. Many on-premise ERP applications have exceptionally expensive and time-consuming upgrades. It can be a struggle for companies to commit to a version upgrade because they have done customizations, created bolt-on programs, added third-party products, and created a Frankenstein system—all due to not having a properly implemented and supported manufacturing ERP.
Compatibility is another issue that can stem from not upgrading to the latest version of your ERP. For example, an upgrade to Windows 10, which may not be compatible with your out-of-date ERP system can cause system malfunctions. Your ERP provider won't support any issues because you're using an old version past the support window. This happens often, and then upgrades are forced upon companies.
None of these hardware, software, and compatibility issues are a concern with a true cloud-based manufacturing ERP system because all you need is a web browser. It's the ultimate thin client, with access anywhere.
Superior functionality with cloud-based manufacturing ERP
On-premise systems are traditionally sold with quite a few "a la carte" modules and applications. This can be expensive by the time you configure an application to meet your manufacturing requirements. Companies like Infor provide a "base package" that includes what most are looking for from a manufacturing ERP system.
The Infor CloudSuite Industrial/SyteLine (CSI) cloud bundle with a SaaS deployment includes all the basic modules previously mentioned that come standard with the on-premise offering, plus a lot more; the only "nice-to-have" functionality optional module that may be required is Factory Track. Our Infor CloudSuite/Industrial SyteLine review finds the cloud bundle to be one of the most comprehensive offerings available in the SMB market.
The Infor SaaS offering includes the core offering, plus modules not included in the on-premise package, including the Infor OS, Infor Implementation Accelerators, Advanced Planning and Scheduling, Service Management, and Quality.
Infor has also added industry packs as part of the core offering at no additional charge with the CloudSuite Industrial/SyteLine SaaS bundle. Industry packs included are Printing and Packaging, Automotive, Process, and Molding packs.
What types of manufacturers need a cloud-based ERP system?
The answer is: all manufacturing companies. Cloud based ERP like Infor CloudSuite Industrial/Syteline addresses all the various modes of manufacturing, including but not limited to, make-to-order, configure-to-order, make-to-stock, engineer-to-order, build-to-print, project based, and mixed mode.

Advanced technology like the Infor OS
The Infor strategy of developing common applications that extend to vertically focused ERP solutions has streamlined the SyteLine integration with the Infor OS.
Applications included in the Infor OS include:
Infor home pages and social collaboration tools. Infor leverages the home pages and collaboration tools to ensure the best possible user experience. The Infor home pages consist of "widgets" that let users personalize the home page, leveraging the Mongoose toolset. Widgets are a combination of smaller pre-built Mongoose forms or user built. There can be up fifteen widgets presented on a home page at one time. A home page is where a user personalizes with specific information and links to forms, reports, graphics, and drill downs to relevant information that assists them in performing their job function. Additionally, Infor has invested in providing users with the option to communicate in a collaborative format where they can follow business objects, see updates, and send approvals, in a chat style contextual environment.
Infor Document Management is included in the Infor OS. Infor has leveraged its tool as the document management system for SyteLine.
Infor's Analytics powered by Infor Birst Business Intelligence are also included, as well as pre-built business intelligence content which is ready to go, versus traditional offerings that come with a blank pallet.
A near-term goal is to roll out Infor Coleman AI (Artificial Intelligence) with the vision of providing a conversational user interface, in addition to traditional key stroke interaction.
All these applications within the Infor OS are accessible on mobile devices in a native format. Infor's Mongoose framework provides the foundation for numerous mobile applications.
Looking at the entire Infor ecosystem, it is hard not to appreciate Infor's emphasis on the user experience and functionality.
Related: Infor ERP: Everything You Need to Know
What is included in the Infor CloudSuite Industrial/SyteLine ERP software package?
Our review finds that the SyteLine functional footprint is larger than that of most ERPs. Infor has chosen an all-inclusive approach, versus the modular a la carte methodology of other ERP providers. Infor SyteLine's on-premise bundle has most everything a company needs to run smoothly, as Infor is doing what it can to make the SaaS offering as attractive as possible. SyteLine provides users with the ability to manage their business from sales opportunities to cash collection on orders… and with plenty of room to expand as business requirements dictate new needs.
Also of note is that relative to other ERPs, Infor requires few third-party tools. This is an area often overlooked when comparing and reviewing ERP systems.
Some leading ERPs require numerous third-party applications to deliver an all-encompassing solution. Relying on third-party solutions is fine in some cases, but oftentimes it requires third-party or nonaffiliated professional services groups to work together and coordinate activities, which can make both implementation and ongoing support difficult. I have seen one too many "break-ups" between primary ERP providers and third-party suppliers. A notable example was when Fourth Shift and SAP teamed up to provide a manufacturing solution using SAP Business One. Infor acquired Soft Brands and Fourth Shift, and those who had purchased that third-party combination were left in an unfortunate situation.
Finally, there are issues when the third-party products are required, but do not have development paths. The lack of development coordination can result with non-compatible products, rendering the third-party product useless with the newer ERP version.
Infor CloudSuite Industrial/SyteLine ERP software:
Highlights of modules include:
Customer Relationship Management (CRM)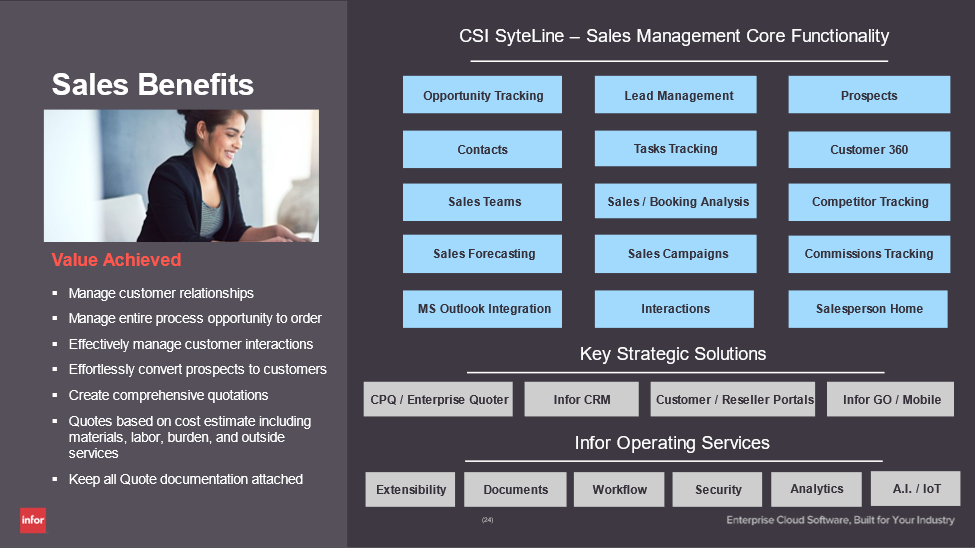 Estimating
Customer Order Entry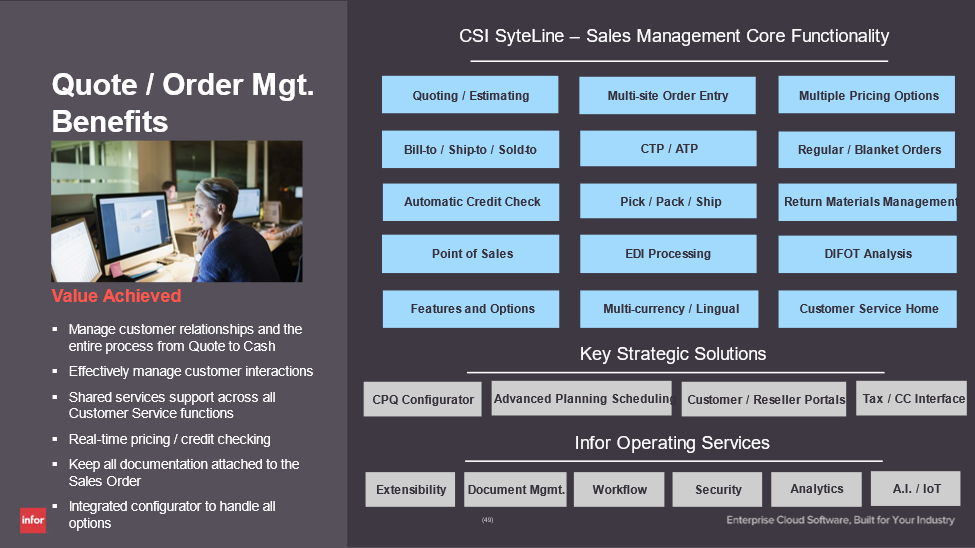 Multi-Company and Multi-Site Operations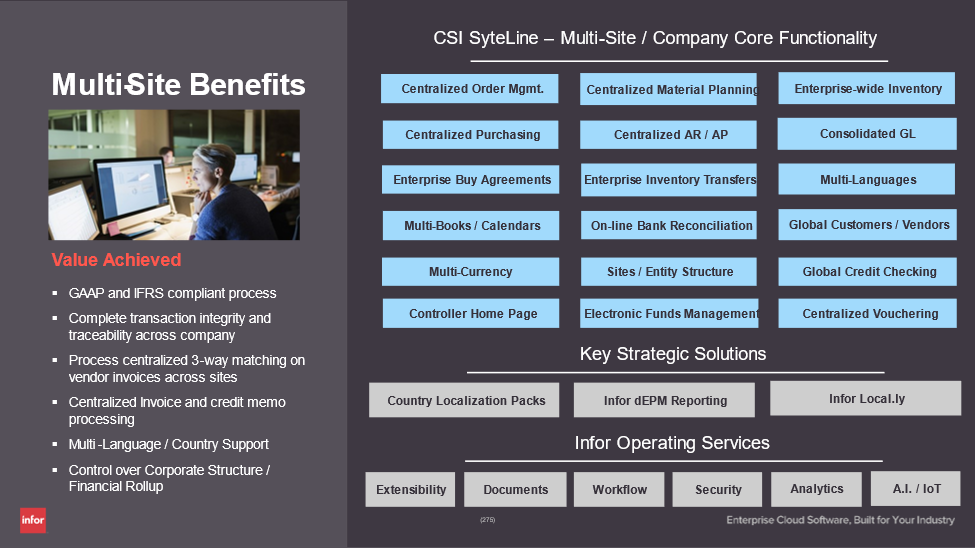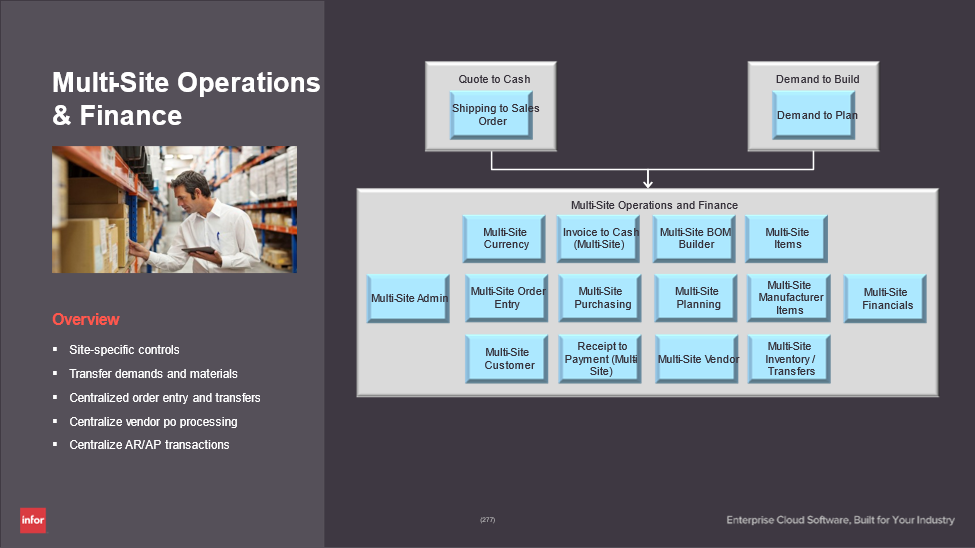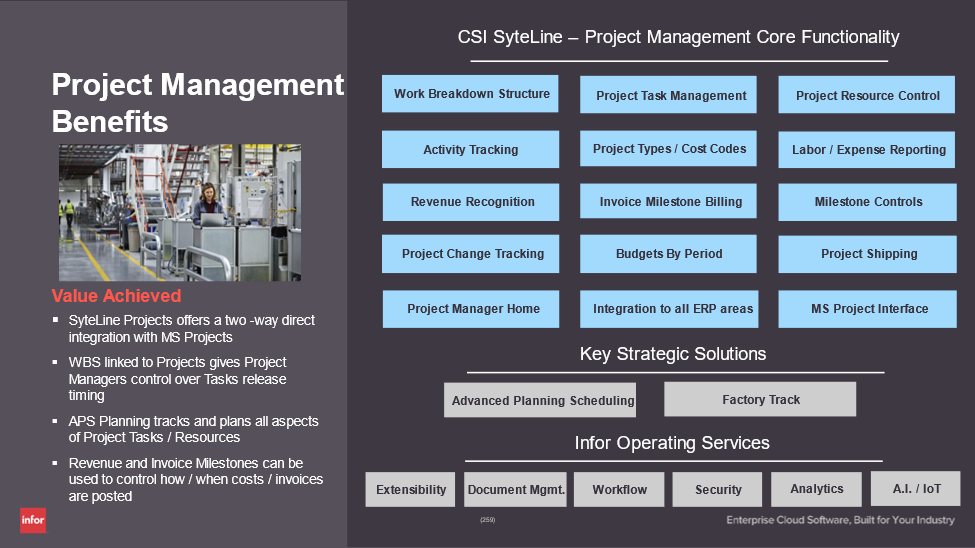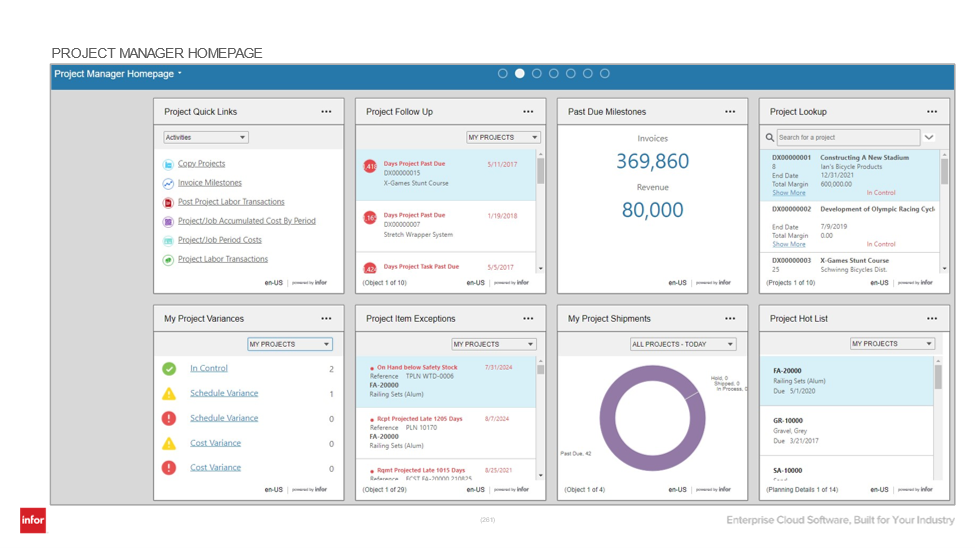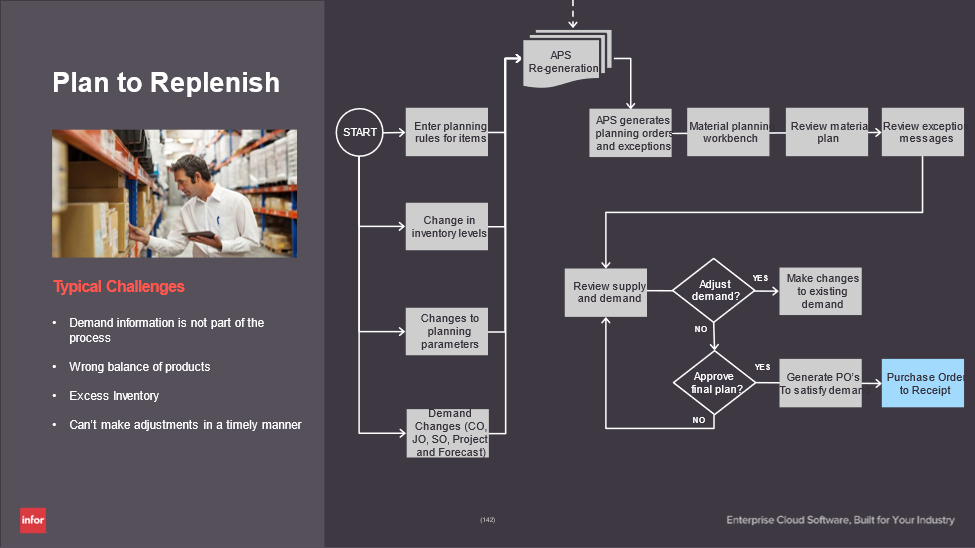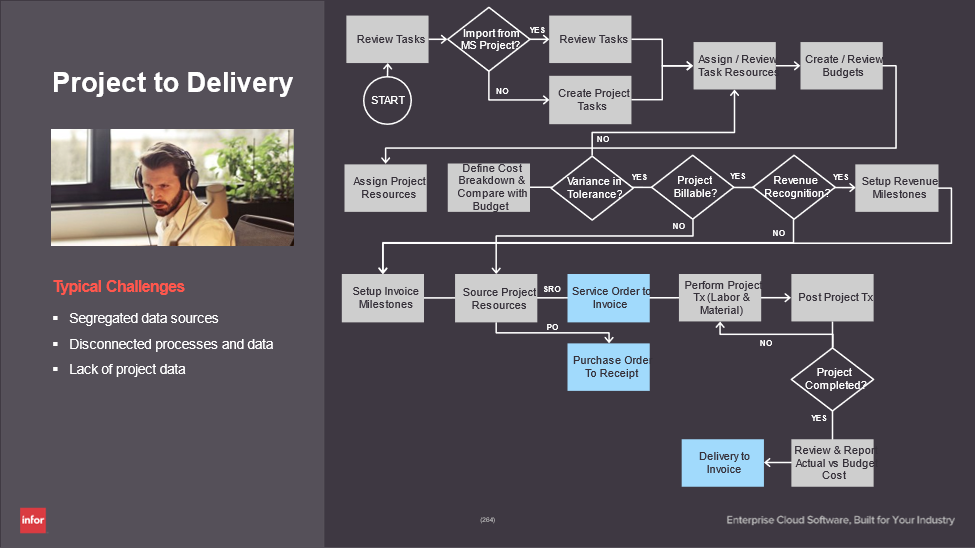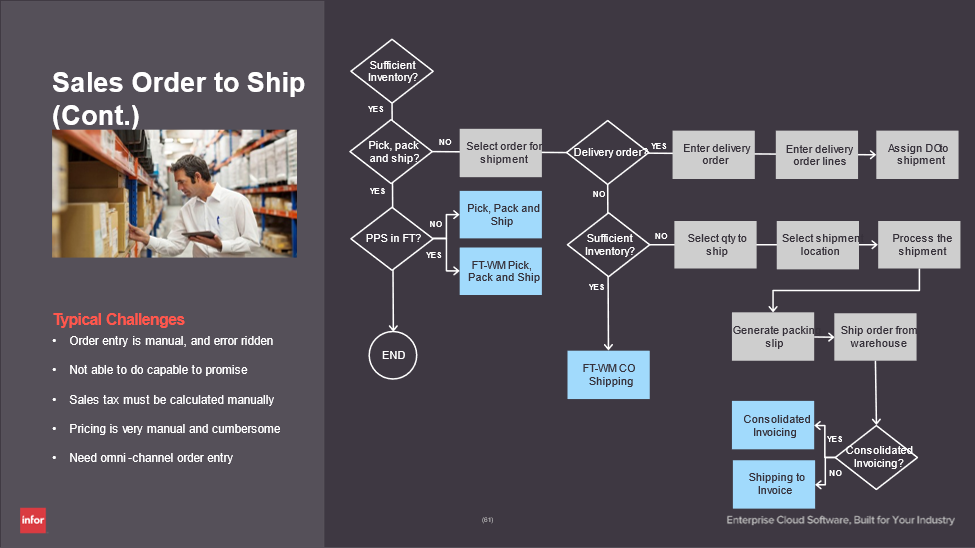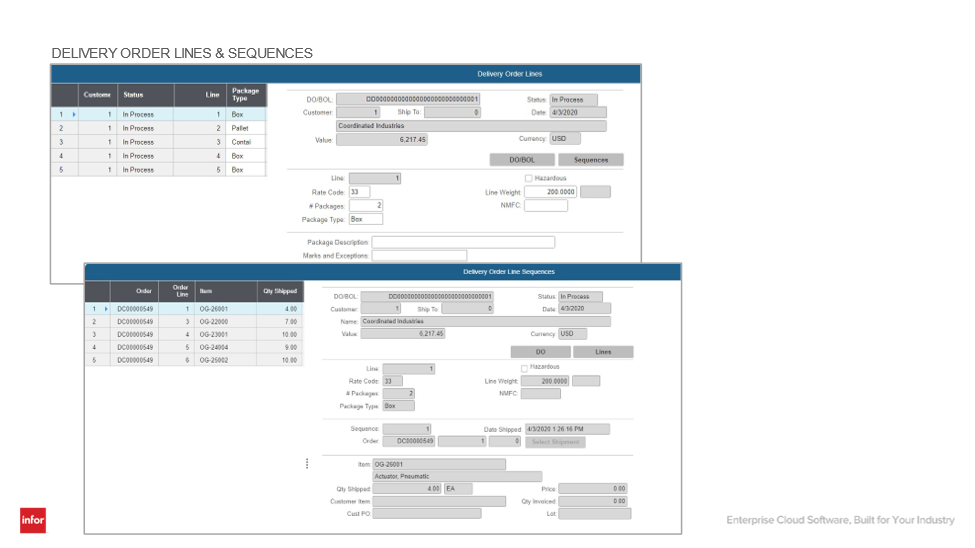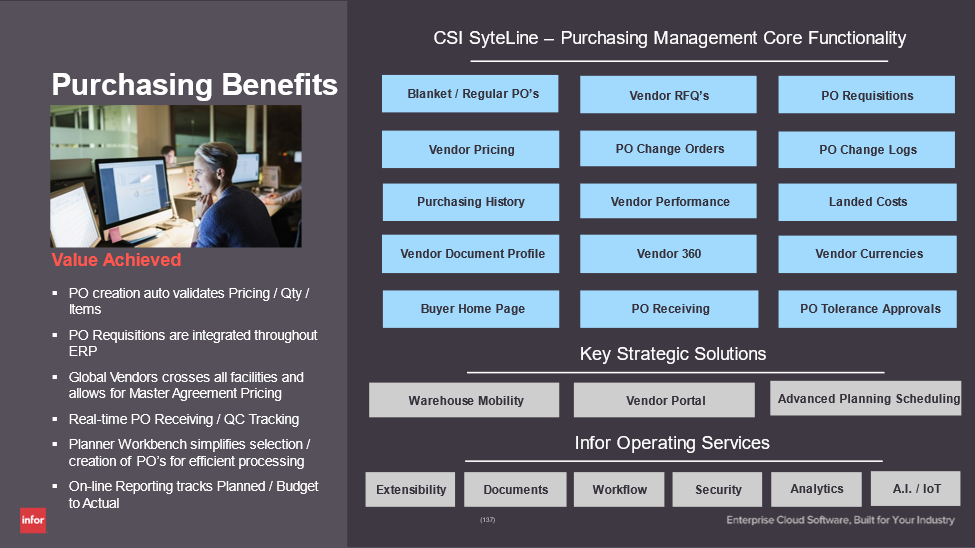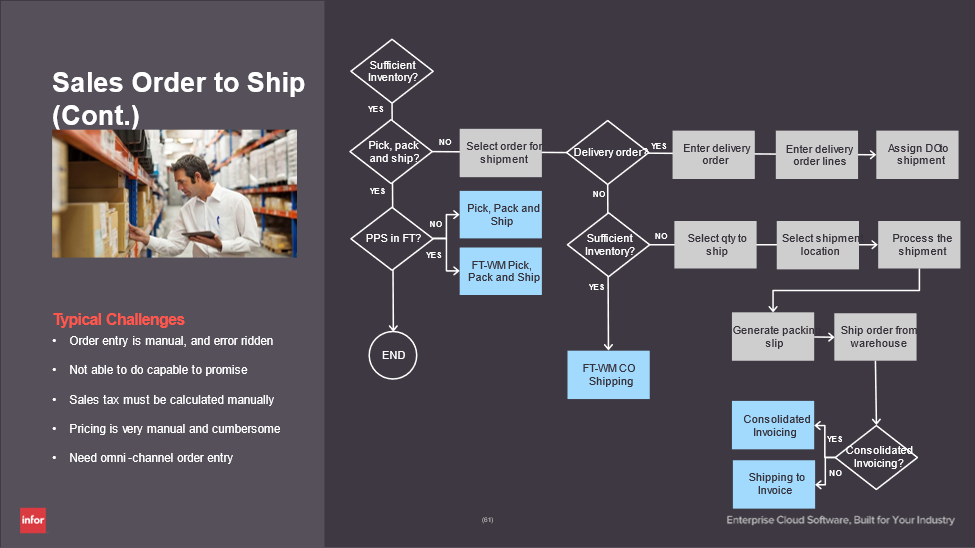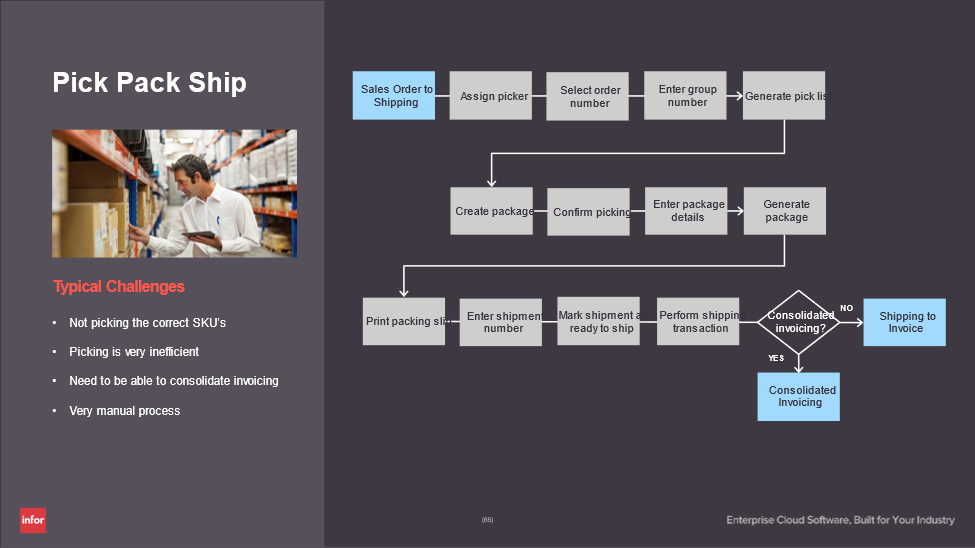 Engineering and Master Data Management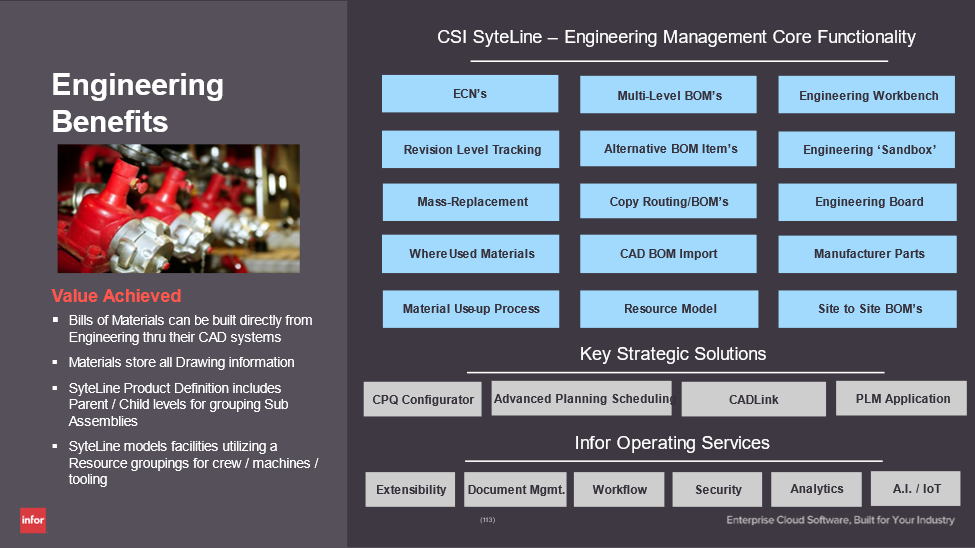 Engineering Change Notice (ECN)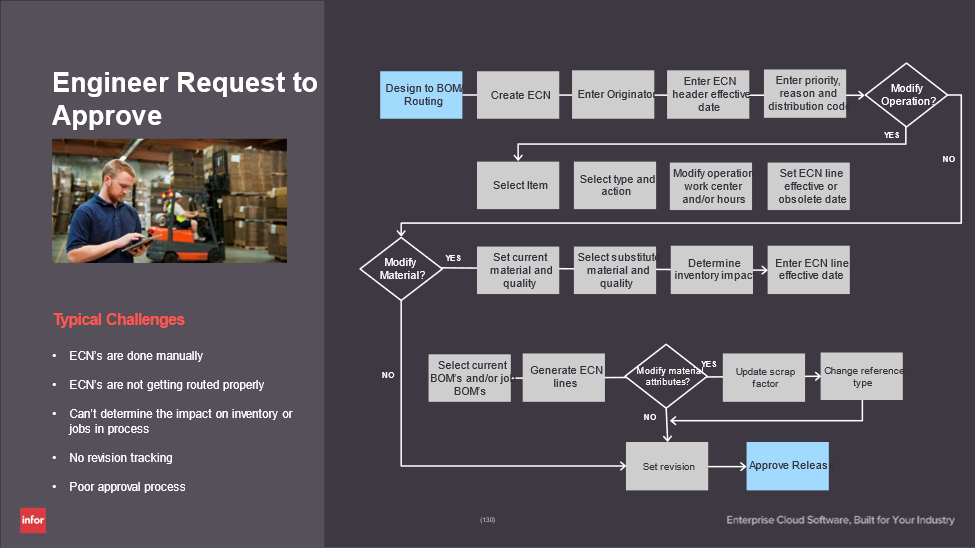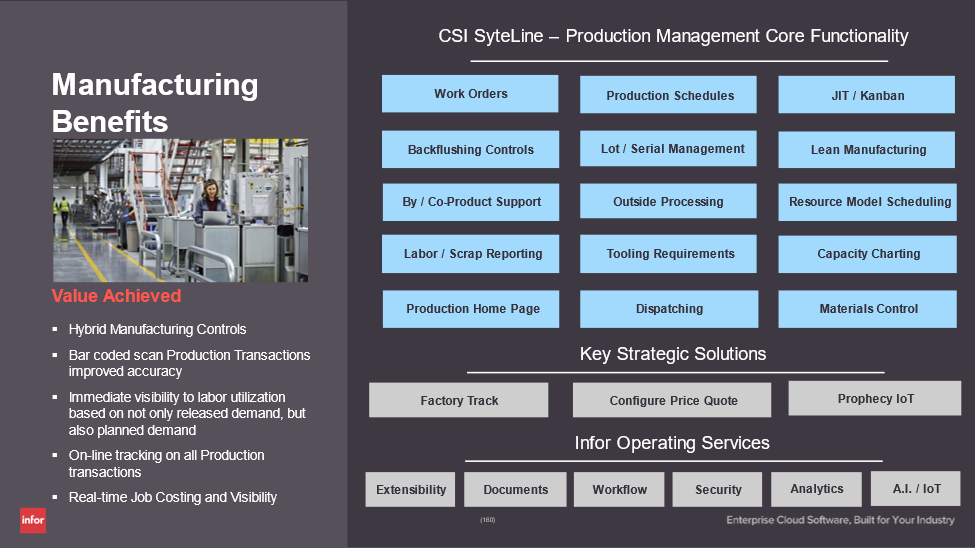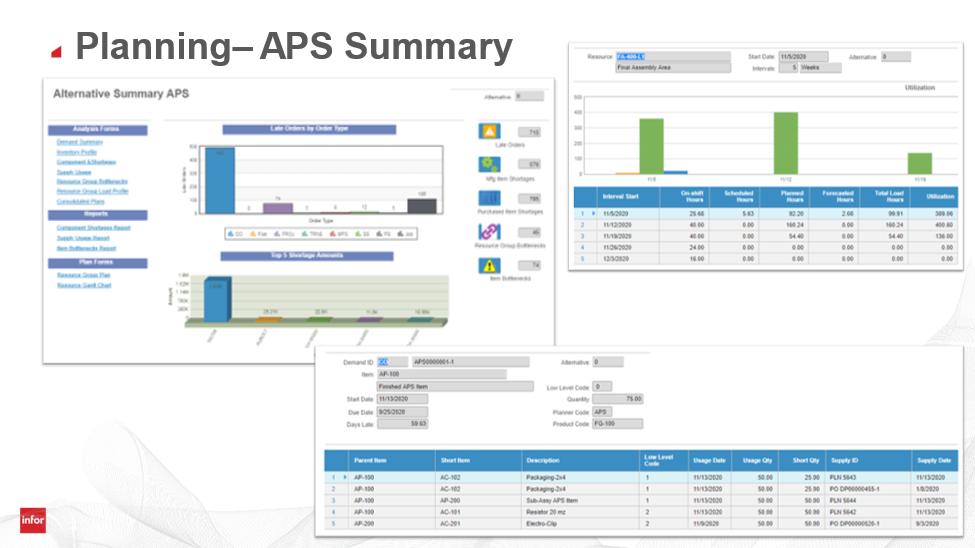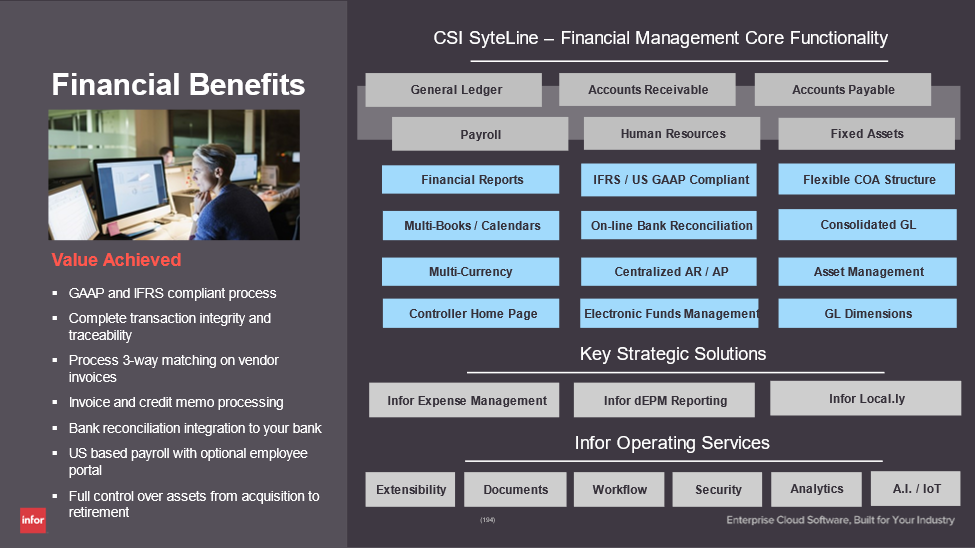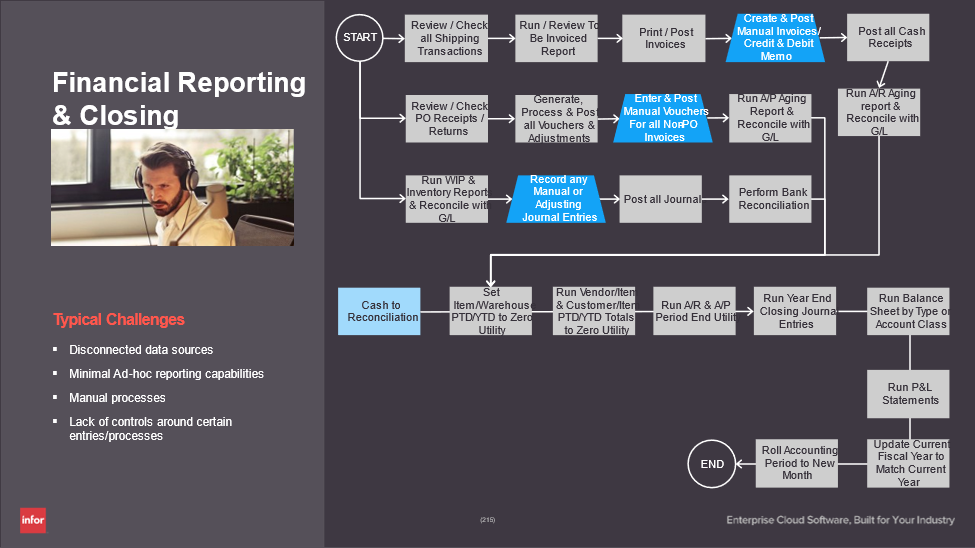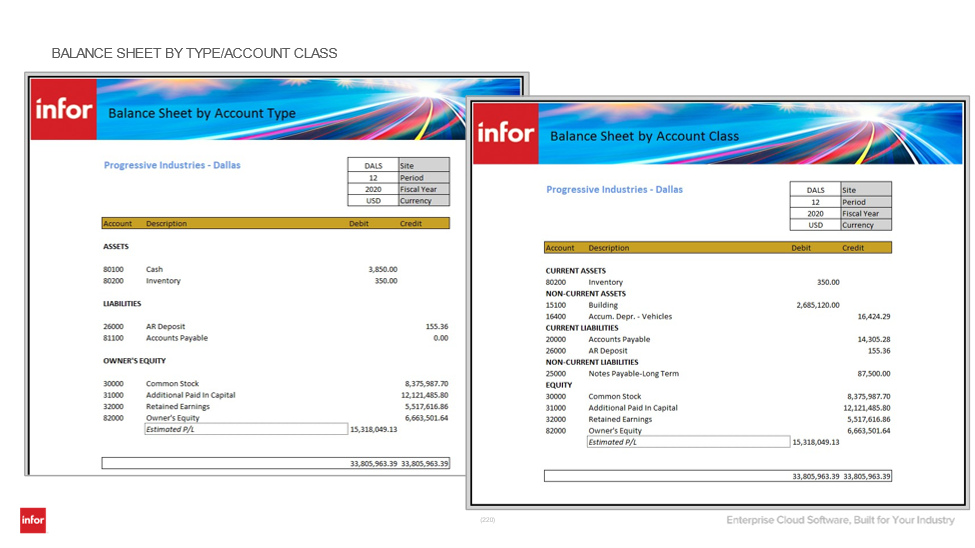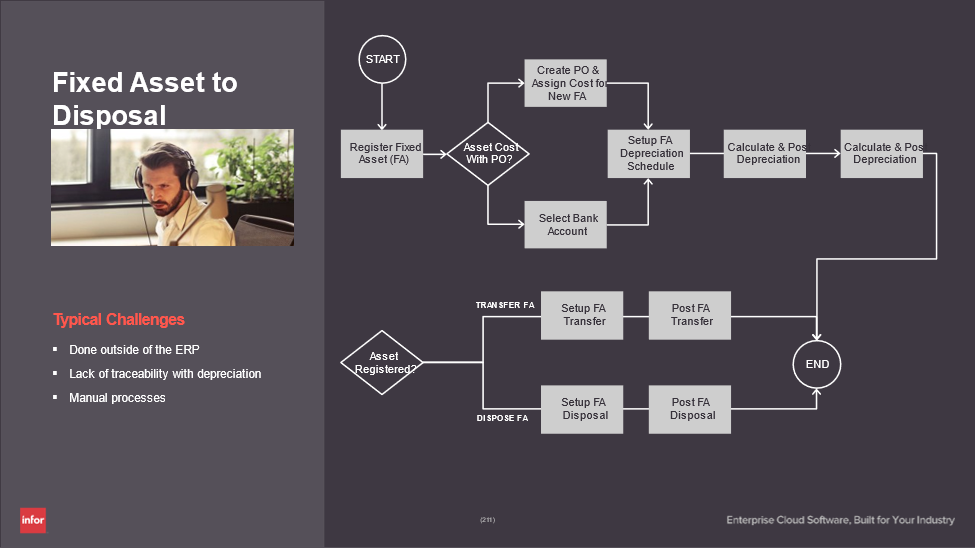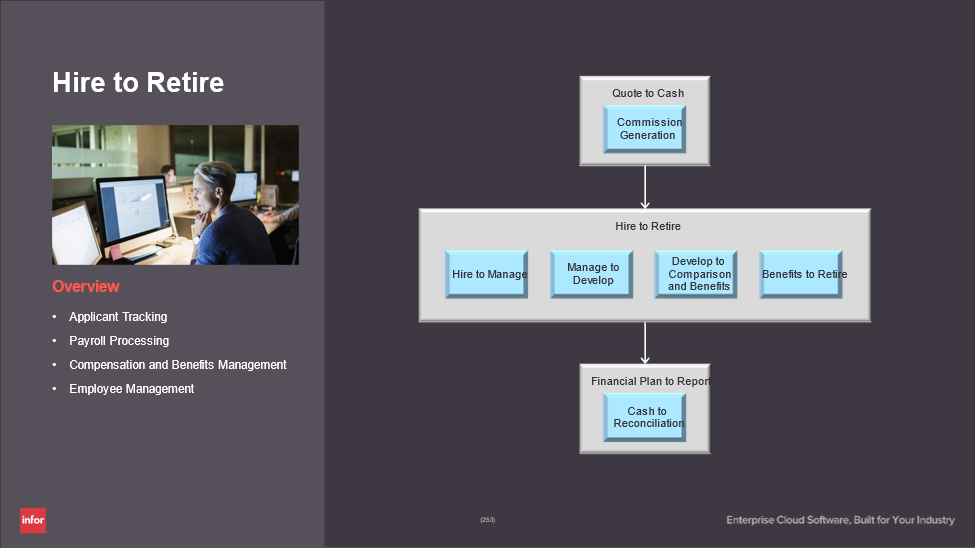 Additional nice-to-have functionality includes interoperability with Microsoft Office tools: email and task integration with Outlook, exporting and importing spreadsheets to Excel, financial reporting with Excel add-in (which provides for pulling ERP data directly into Excel), and the ability to do reporting on premise using Microsoft SQL Server Reporting Services (SSRS).
Infor has provided a healthy offering of optional modules as well. A sample of the most used optional modules are:
Factory Track for time and attendance, labor collection and shop floor execution, and material handling, including barcoding. Infor leverages its use of the Mongoose toolset in the Factory Track application allowing for the use of multiple mobile devices in a user-friendly environment with an attractive user interface.
CloudSuite Quality Management Suite is for those concerned with certification and compliance. Highlights include incoming inspection, production inspection along with NCM and CAR, calibration, and supplier quality performance. (Included in core package with cloud subscription.)
Advanced Planning and Scheduling has multiple scheduling options, including Capable-to-Promise (CTP) and backward finite scheduling. It includes multiple what-if scheduling options and easy identification of resource and material constraints that could affect completion dates. (Included in core package with cloud subscription.)
Infor CloudSuite Industrial/SyteLine Service Management is a highly functional service management module compared to other ERP standard offerings. It makes it easy to service customers after the sale, which has become an integral and profitable activity for many companies. The ability for the SyteLine users to provide service contracts, maintenance, and repair both internally and with mobile technicians, allows SyteLine users to be more competitive. (Included in core package with cloud subscription.)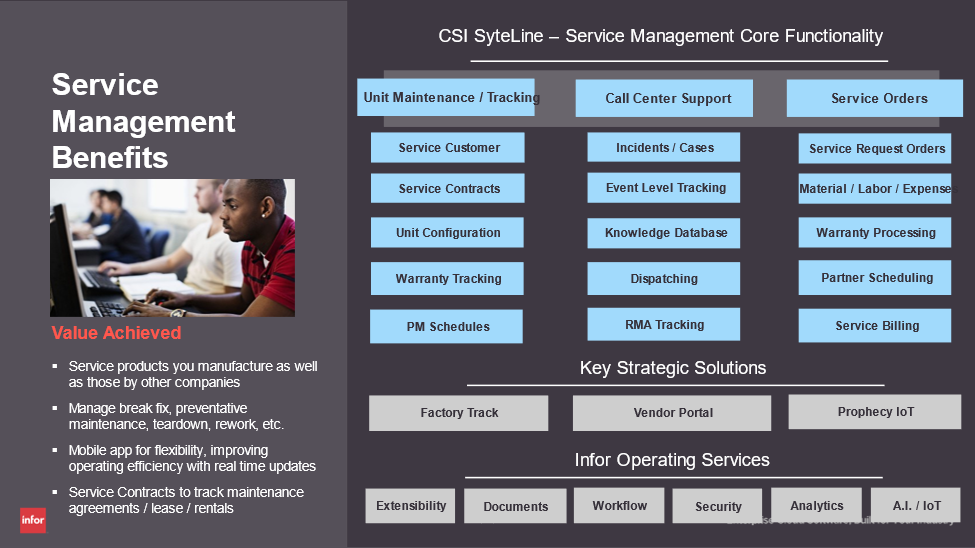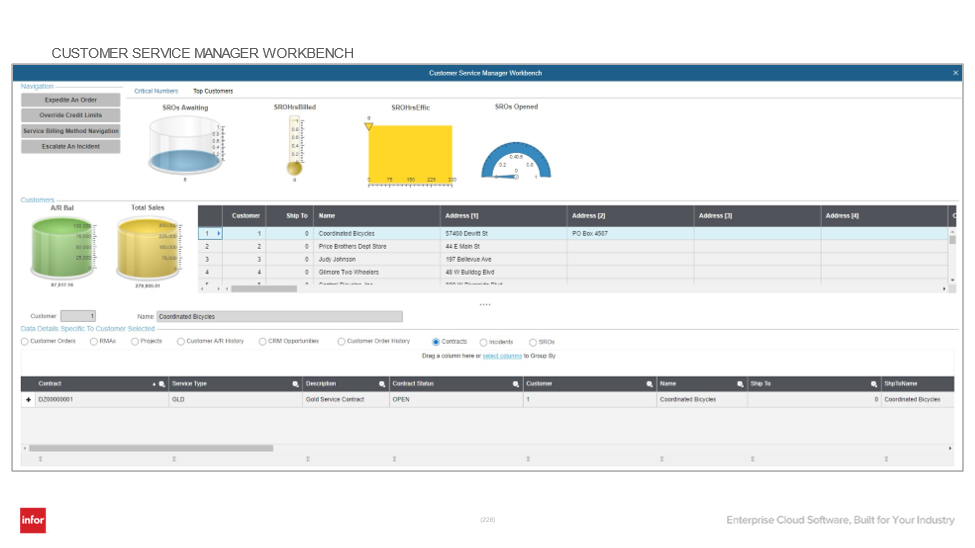 Education and Implementation Tools
Infor Campus is a virtual training offering available by subscription. Subscribers get access to live classes, recorded classes, and workbooks with detailed CloudSuite Industrial/SyteLine curriculums. There are over six hundred classes available on CloudSuite Industrial/SyteLine. Positioned as an industry leader, Infor has the resources to provide SyteLine users with comprehensive information about the product.
Infor CloudSuite Industrial/SyteLine Implementation Accelerators are unique to Infor in that Infor collaborated with leading consulting firms to build optimized process flows and swim lanes. The value to those implementing the application is that you already have processes modeled that can be adopted or adjusted to meet specific business requirements. The result is shorter time to value during the implementation, and a documented procedure enduring no degradation in use and adoption.
Extensible products for Infor CloudSuite Industrial/SyteLine ERP
Infor makes it easy to extend functional capabilities outside traditional ERP boundaries with Infor ION middleware. Infor ION is the Infor Intelligent Open Network. It is Infor's middleware which allows for integration with the other Infor products and Infor SyteLine ERP. Because of ION, SyteLine customers can fulfill business requirements using other Infor products without having to use third-party software.
Infor Configure Price Quote (CPQ) is a powerful configurator and pricing application for configure-to-order manufacturers. CPQ is also great for manufacturers with complex pricing, as well as manufacturers that depend heavily on dealers and manufacturer's reps. CPQ and Enterprise Quoting will allow you to extend the ability for dealers to do their own configured quotes and bill of materials and routings. To learn more about Infor CPQ please visit Benefits of CPQ.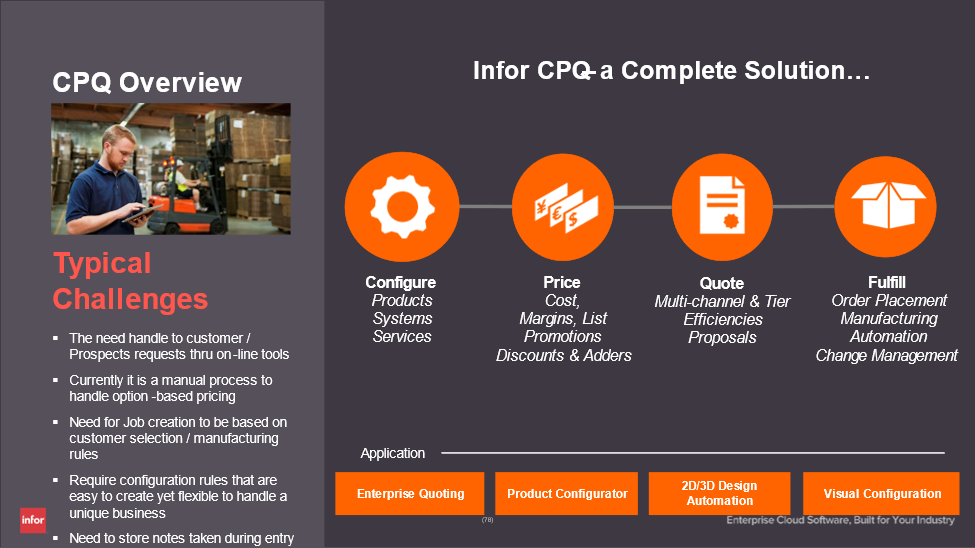 Infor CRM is for companies with demanding sales management and customer interaction requirements.
Infor Product Lifecycle Management for companies that have stringent engineering requirements and want to integrate the engineering activities with SyteLine ERP.
Summary
A proper cloud-based manufacturing ERP system should be able to address all facets of a manufacturer's business requirements, with minimal need for third-party products. Infor CloudSuite Industrial/SyteLine is a good example of a potent cloud-based manufacturing system.
Additionally, consumers need to fully understand cloud-based deployment options - their strengths and weaknesses, as well as functional attributes of the ERP. Functionality, technical infrastructure, and cloud offerings need to be fully understood when looking at cloud-based ERP for manufacturers.
For more information
Visual South specializes in Infor ERP software, supporting services, and business solutions. For more information on how an Infor ERP software system can help your business, visit the Infor ERP Solutions page on our website.
Visual South offers guidance on all things ERP for small to medium-sized manufacturers and production companies. We are also more than happy to provide a free consultation about managing your ERP implementation, evaluating ERP, or just wanting to get better with your current ERP. Please reach out to us for a free assessment.