Customer success with Infor CloudSuite Industrial
Infor CloudSuite Industrial (Syteline) ERP is specifically designed for manufacturers. The greatest benefit, as well as differentiator of the system, is that it can address almost all business needs. Providing a complete, integrated, and single-sourced application is an important—and rare—asset to have as an ERP provider.
Vantage Power is a good example of where Infor CloudSuite Industrial's large functional footprint is being successfully leveraged. Vantage Power is an engineering-centric manufacturer with hundreds to thousands of items on their complex bills of material. Before choosing Infor CloudSuite Industrial, Vantage Power had too many different systems in place to run the business. The company was looking for:
A solution that could house all the data used by sales, engineering, supply chain management, and finance
A true cloud-based system where Vantage could focus on the business, instead of maintaining their ERP
Infor CloudSuite Industrial was the best choice for Vantage because it's an all-in-one platform that spans multiple divisions. It is also a true multi-tenant cloud application, hosted by Amazon Web Services and fully maintained by Infor. Being cloud-based means Vantage Power always has the latest functionality and version.
Most, if not all, of Vantage Power's existing systems were replaced with Infor CloudSuite Industrial. Watch the Vantage Power Success Video to get more details on why they chose Infor CloudSuite Industrial.
Requiring strength in native functionality
A quick review of the Infor CloudSuite Industrial functionally overview here will reveal that it is one of the highest functioning ERP applications in the SMB manufacturing market.
Using the well-respected Technology Evaluation Center (TEC) ERP comparison tool, Infor CloudSuite always scores higher in native functionality than its competitors (such as NetSuite or Dynamics). The TEC methodology has ERP providers answer 3370 functional questions and scores the product's abilities based on those answers. Infor CloudSuite Industrial scores much higher than both Oracle NetSuite or Microsoft Dynamics Business Central, as both systems rely heavily on third-party and partner-sourced applications to build out the functionality needed for work-order-driven discrete manufacturers.
In fact, Infor CloudSuite Suite has 54% more native functionality than Oracle NetSuite for discrete manufacturing. CloudSuite Industrial provided support for 3188 requirements, whereas NetSuite could only address 2085 functional requirements natively:
Information provided from Technology Evaluation Centers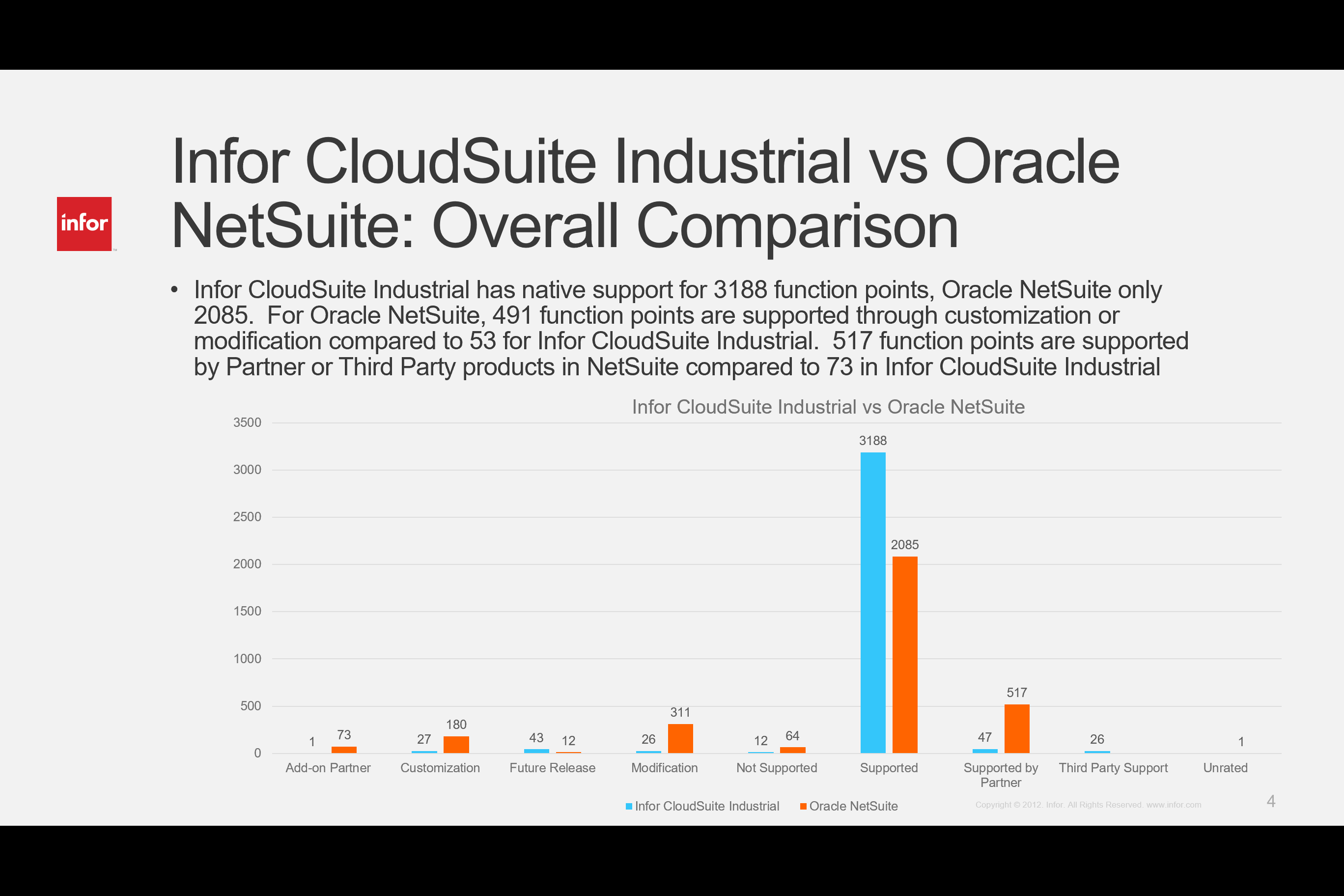 CloudSuite Industrial is stronger than NetSuite in all of the following categories: sales management, manufacturing management, inventory management, purchasing management, HR and finance.
The strength of Infor CloudSuite Industrial in all facets of the business is why enterprise-level companies like Vantage Power and thousands of others choose the application.
Additionally, CloudSuite Industrial has many other strengths and differentiators that are not included in the TEC evaluation. A primary area for engineer-to-order customers is Project Management/Project Costing. CloudSuite Industrial has an exceptionally strong Project module that comes as standard functionality. For more information about using CloudSuite Industrial in an engineer-to-order environment please visit here.
Another great strength of CloudSuite Industrial is the Service Management module. Manufacturers that offer service or maintenance agreements can leverage the highly effective Service Module to drive profits on repair work, service, and replacement parts. Your field techs can use their mobile devices to connect to CloudSuite and collect real-time labor and material transactions, as well as integrate with the Project module and have visibility into CloudSuite CRM.
Summary
Infor clearly demonstrates what a tight, purpose-built, manufacturing-centric ERP application like CloudSuite Industrial can do to help its users simplify their jobs and operate the company more profitably.
Visual South can give you options for removing multiple systems in your current environment and help make the change to a fully integrated ERP system that addresses all your business requirements. With an application like CloudSuite Industrial, you can pull information from a single data source you trust, and then make business decisions on credible data.
If you want guidance, or to simply discuss ERP options, please reach out for a free assessment.