What is it?
VISUAL Shop Floor Mobile (SFM) is a solution that provides mobile functionality in the areas of Labor, Attendance, Materials, and Scheduling from a web application that allows you to deploy it on mobile devices such as scanners, tablets, and mobile phones. It takes the existing VISUAL functionality in these areas, and gives them a technology overhaul which provides a variety of benefits. Better yet, there is a licensing option that gets you UNLIMITED licenses. These exciting new developments allow you to become more efficient by putting the solution in the hands of more users. The technology uplift allows more cost-effective hardware options, and provides a streamlined, modernized user experience.
How can I use it?
Shop Floor Mobile is available to customers who are running the VISUAL ERP solution. There are a few prerequisites that need to be met, so every customer's situation is different. At a minimum, you must be running a 9.x version of VISUAL (but we recommend a minimum of 9.06 since new features were added in that release). If you are not, and are interested in understanding the path to upgrading, access our upgrade page. I am going to talk about some of the Shop Floor Mobile functionality below, but from a licensing perspective, we have a blog to help understand the licensing entitlements.
Scheduling
If running a 9.x version of VISUAL, you are entitled to the scheduling solution automatically. The scheduling solution provides you with a real-time view of the shop floor from a mobile device to help understand what jobs are being run and not run, who is working on them, and what material issues are present. In addition, there is the ability to manipulate the dispatch reports in the solution, so users can see work in a way that makes sense to them. On the subject of scheduling, if you want to use the scheduling functionality in VISUAL, but struggle on where to start, a Scheduling Workshop may be the answer. Visual South has helped several customers this way. This isn't a session that talks just about how scheduling works, it is a formula for how to make it work at YOUR company.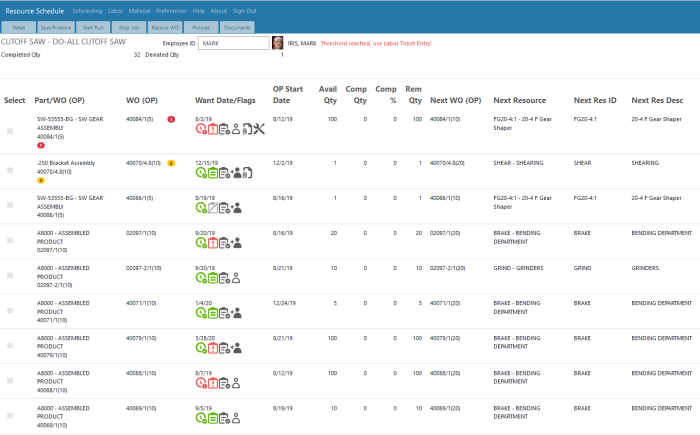 Labor
The labor solution effectively replaces the labor barcoding capability in VISUAL, and adds more functionality on top of that. Users can clock in and out of jobs, track indirect/direct time, and also see the jobs they have logged in to.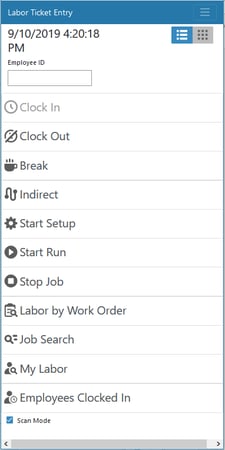 Attendance
The Attendance solution is used in conjunction with VISUAL Time and Attendance and includes attendance tracking capability along with electronic supervisor sign off.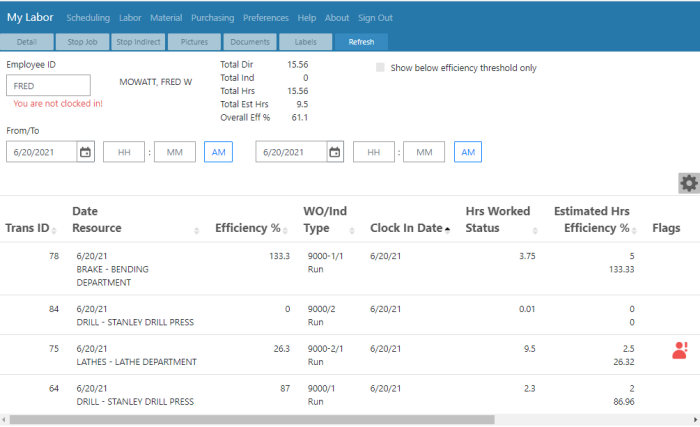 Material
The Material solution allows users to perform material transactions for shop floor requirements. It fully supports the lot/serial tracing capability in VISUAL.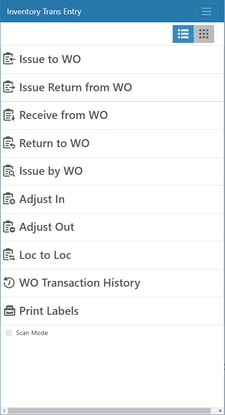 Technology and licensing
From a technological standpoint, the infrastructure compared to VISUAL Labor and Material Barcoding has changed to a direct connection via a web application allowing for real-time transactions and a more streamlined connection.
And, perhaps one of the most attractive benefits is that once minimum licensing requirements are met, the license becomes UNLIMITED DEVICES, meaning you can deploy this cost effectively, and place devices in as many hands/places as you want on your shop floor (or virtually, depending on your needs).
In conclusion
VISUAL Shop Floor Mobile is a robust tool that virtually every single company that runs VISUAL can take advantage of in some way. As you can see from above, there are quite a few things to consider from a hardware, licensing, implementation, and cost perspective. Visual South is here to help! We can look at your company's specific configuration, and help you understand what parts of SFM you currently own, or if you don't own them, what you need to do in order to license them. We can coordinate resources to help you understand what hardware options are available. We have resources that can help implement any or all of the solution. Contact us to discuss.