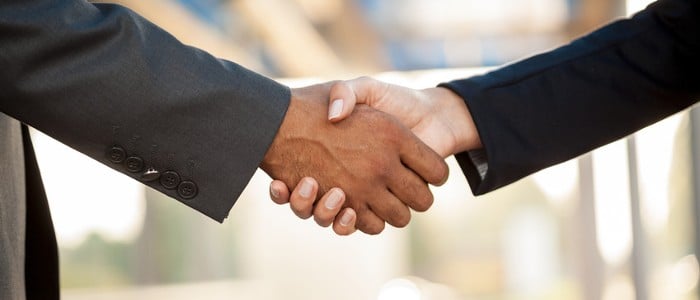 What should I be thinking about?
If you are in the process of choosing an ERP, it's important to consider the company you could be partnering with. An ERP selection is a big decision in many ways, one that will affect your company for years to come. But it's not entirely about the product itself (although making sure it has a good evaluation is important). The partnership you enter into with the vendor must also be the right move for your company. You should be comfortable on a variety of levels with this partnership, but here are the top three things to consider as you shop around:
1. Company Size
How large is the ERP development company? Your ERP system will be the backbone of your company, the central engine to all business processes, thus its longevity is critical to your success going forward. If the vendor that supports your ERP is unstable, then your ERP is unstable. (Implementing ERP should reduce risk in your company, not increase it.) If you are partnering with a vendor that has a long track record of stability and is healthy from a revenue standpoint, this is a good thing. You want a company with a big footprint and many satisfied customers to vouch for the fact that it isn't going anywhere anytime soon.
2. Strategy
What is the ERP vendor's overall strategy for the product? Do they have one? ERP software is so central to a company's success; it's critical to choose a vendor that continually invests in the product to make it better from a functional standpoint, as well as keeps it updated to the latest standards in technology. You want your investment to "live and breathe," evolving as the marketplace changes.
You can find out what an ERP company is doing with its software by understanding what it has done in the past. Ask how many releases have been put out in the past five years, and the planned frequency of future releases. If you choose on-premise deployment with annual maintenance, what is the retention rate of current customers on maintenance? These types of questions can give you an idea of the company's product development strategy.
3. Sales & Support
After you "sign on the dotted line," how does your relationship change? That's an open-ended question, but one a lot of people overlook. An ERP system is an investment; if done right, it becomes a 20-year relationship with the ERP development company. So it's important to know if the ERP vendor sees things the same way, or whether a sale is viewed as a once-and-done transaction.
At some companies, you'll get a salesperson for the sale, a new contact for implementation, and yet another contact after you go live. Others have a single point of contact who stays with you through the entire process—from becoming a customer to going live to a path of continuous improvement. It may seem like a small thing, but the companies with one contact for the life of your relationship treat you far differently than those who employ a salesperson just to get a sale. Think about what kind of partnership you want to have!