Sign manufacturers have specific business system needs
What sign manufacturers have in common with other types of manufacturers is that they have to plan for material requirements, schedule jobs, and execute the production of those jobs. That being said, sign manufacturers have numerous requirements and needs that are unique to their industry. In this article, we'll review how those unique requirements can be addressed with sign industry software, or sign manufacturing software.
The sign manufacturing process
For the purposes of this article, we'll focus on the two primary types of signs that are manufactured: architectural signs and electric signs. Both of these signs are typically made-to-order, either as one-off, custom jobs or repetitive jobs where a manufacturer has a contract to build multiple signs for a specific company. Even in the case of repetitive jobs, the sign components may vary due to local zoning ordinances and other requirements.
Let's take a look at functional requirements that are unique to the sign manufacturing industry and how sign software like Infor CloudSuite Industrial/SyteLine ERP can be used to address those specific needs.
Project management
Using sign industry software, all the activities that go into the entire process of building a sign are tracked as a project. Typically, sign manufacturing companies have project managers who coordinate and track the vast array of activities involved in the process of making and installing a sign.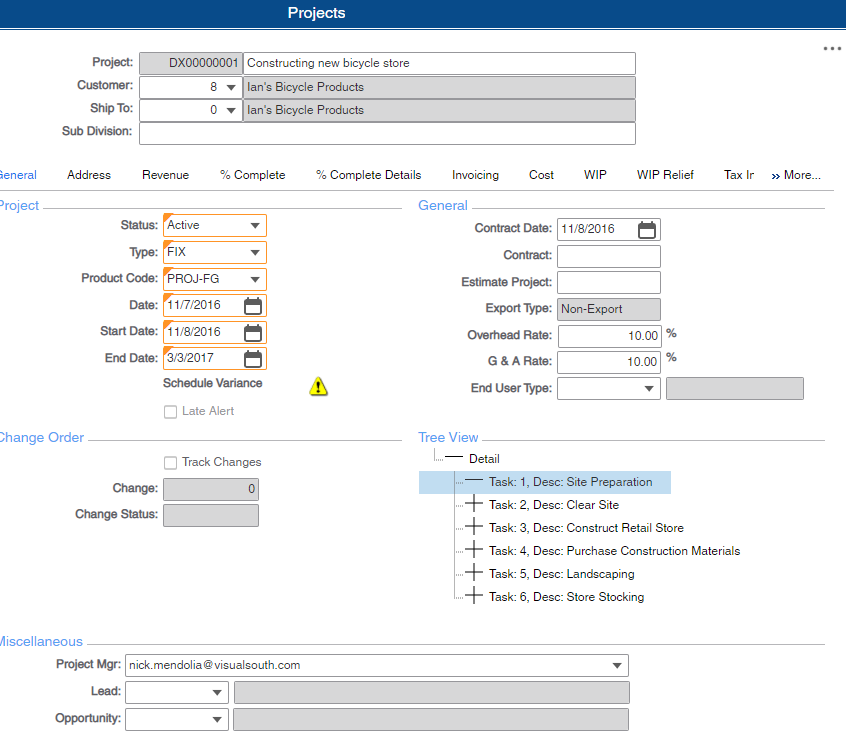 Infor CloudSuite Industrial ERP provides sign manufacturers with tools to manage, track, and cost all project-related activities.
The ability to create a project within your sign software system is extremely important. Having a centralized project with enterprise-wide visibility is critical for ensuring tasks get done and project timelines are kept. Project visibility allows for improved communication with not only the customer, but also with the multiple parties involved in production as the project progresses.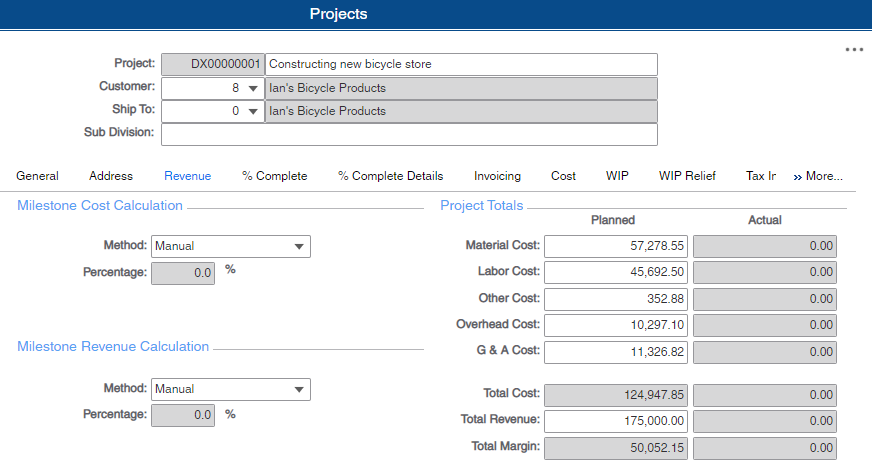 Project managers can plan the project with a focus on planned costs.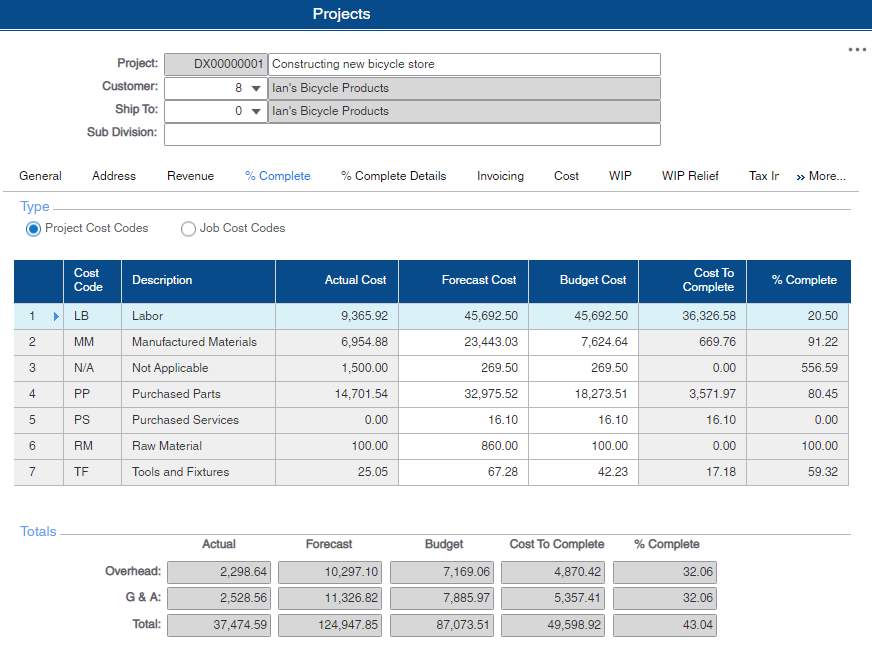 Project managers using Infor CloudSuite Industrial ERP can see all project costs as they occur, as well as percent complete, forecast to complete, and expected costs to complete.
Artwork and approval management using CRM
A big part of a sign manufacturing project is creating drawings and artwork for customer approval. This process can be a component of a project, and the native CRM functionality can be used to track approvals, including communications with the customer, art department, engineering, permitting, sales, and project manager.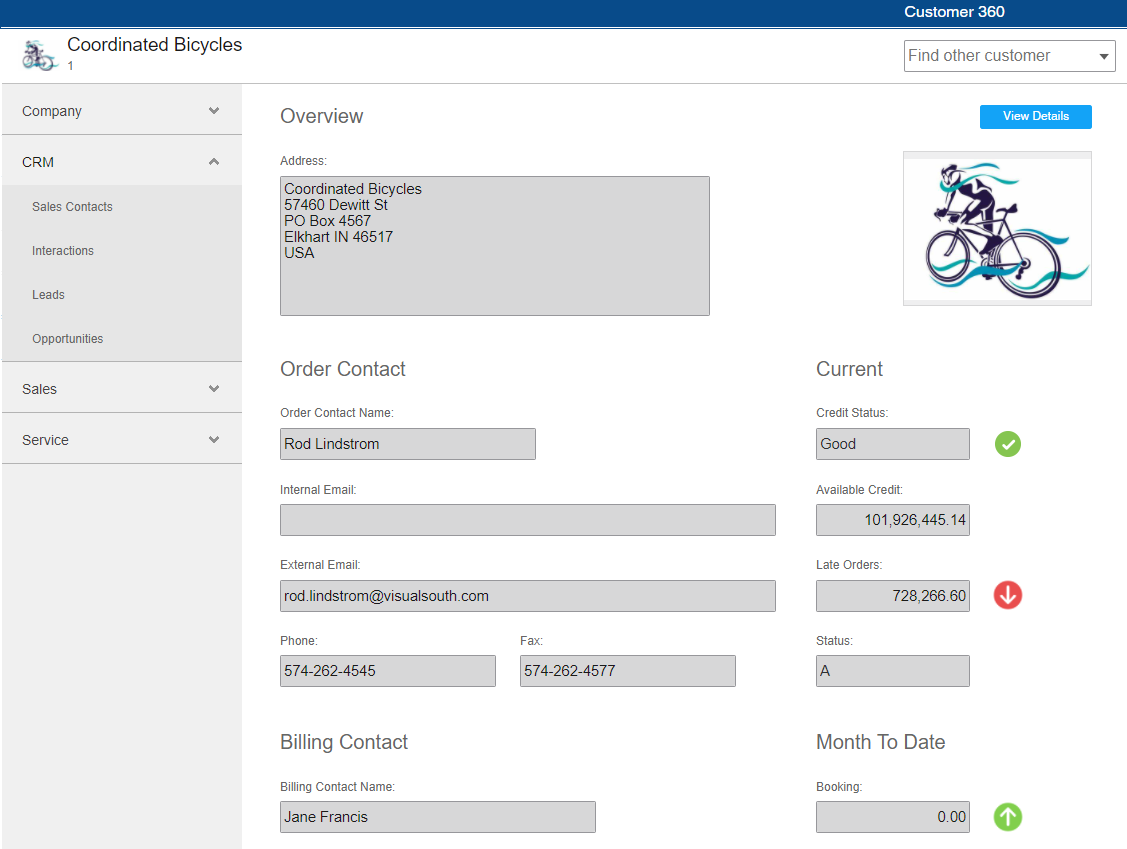 Infor CloudSuite Industrial ERP provides sign manufacturers with a complete 360-degree view of all customer and prospect activities. CloudSuite Industrial CRM allows all communications and interactions to be easily viewed and captured.
Outlook email integration
In addition to having a CRM system as part of the sign software, you can integrate other tools like Microsoft Outlook to track all email communications between the manufacturer and customer. Capturing these email interactions in the CRM provides history for that account, and valid audit trails if there are any discrepancies on approvals.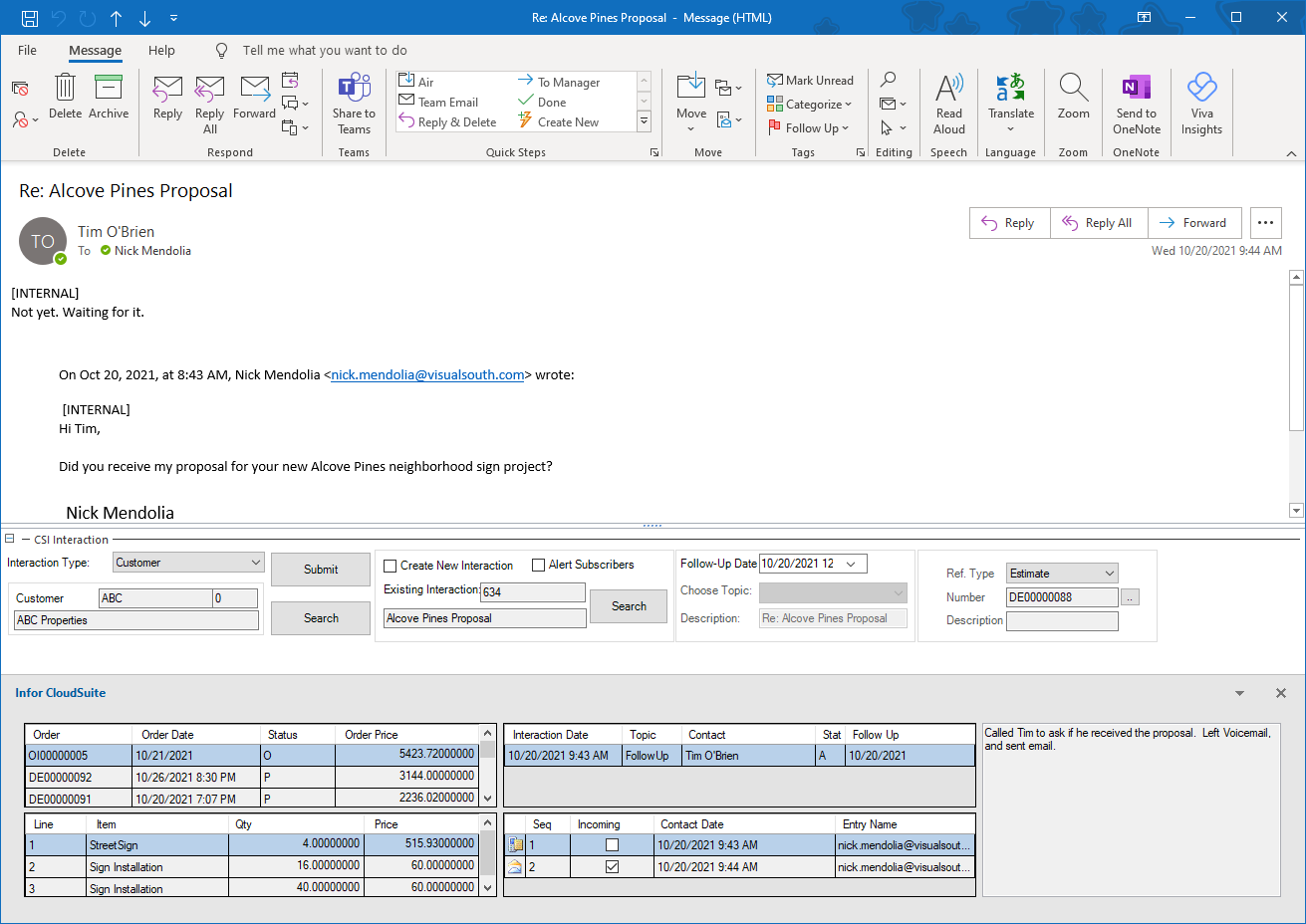 Infor CloudSuite Industrial ERP provides a complete Outlook integration for tracking all communication within the ERP, as well as an add-in for users to see account information directly within Outlook.
Document management
Another important feature that is often overlooked is the ability to have a document management system as part of the native sign industry software. Many ERP systems do not have a true document management system and this results in using an outside system to keep up with the artwork, renderings, permits, and other associated documents. Sign manufacturers benefit on many fronts by having a system with integrated document management: manufacturing, service, and support have quick and easy access to documents; plus, there is document check-in and check-out capabilities, as well as revision controls.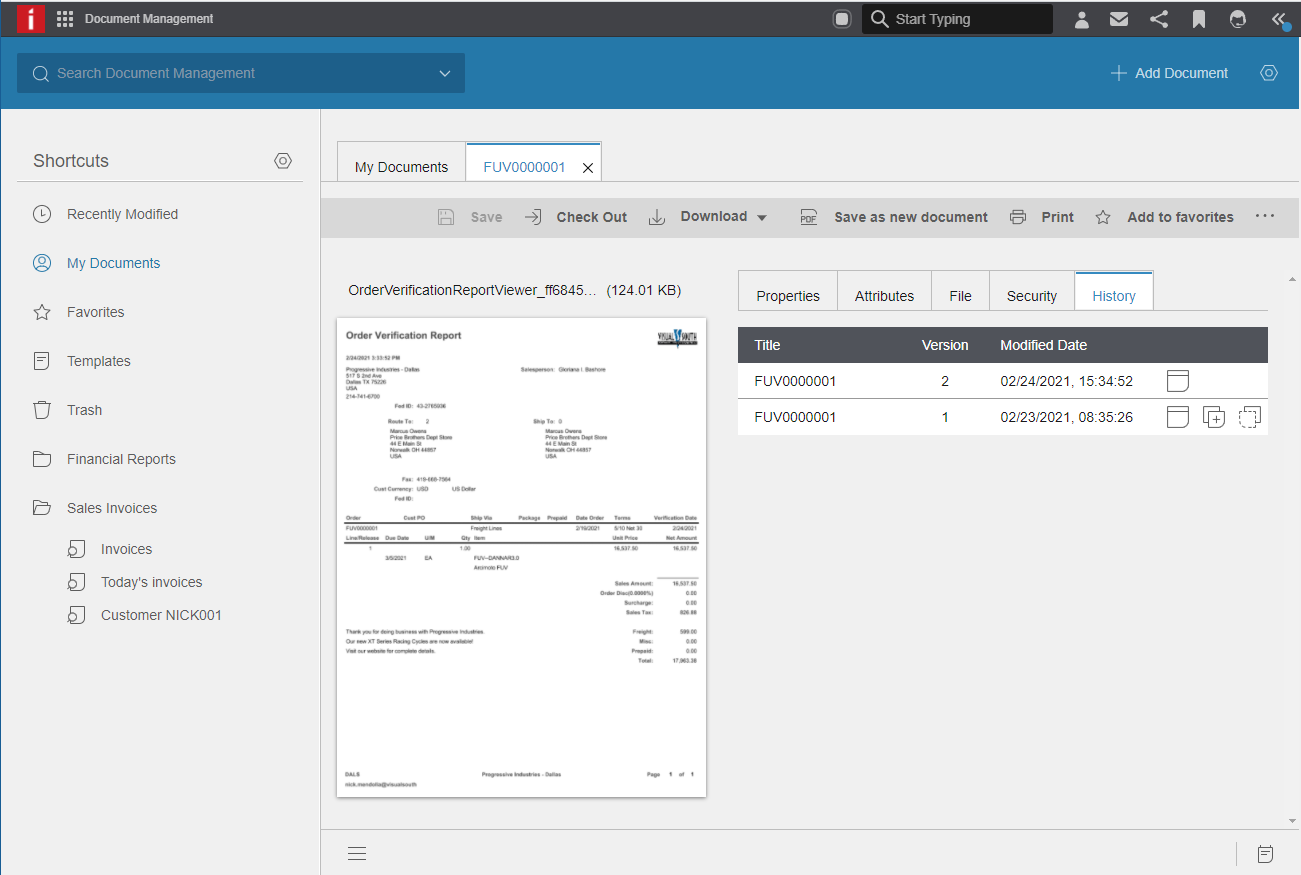 Infor CloudSuite Industrial ERP comes with the robust Infor Document Management application, which provides sign manufacturers with a central repository for storing all drawings, permits, instructions, warranties, and UL listing information.
Site survey and electrical requirements
Something unique that manufacturers in the sign industry need to do is site surveys. Sign manufacturers take measurements and pictures to address a few important aspects of sign placement. Placement considerations include accounting for:
Zoning ordinances
Easements
Utilities (whether above or below ground)
General visibility
Traffic count
Distance from the road (size of the lettering needed for optimal effect)
Environmental/weather conditions (e.g. need for materials that can withstand sun or wind exposure)
It benefits sign manufacturers to have sign software with functionality that supports capturing this information, as well as the ability to engineer an optimal signage solution.
Zoning ordinances and permit management
Large sign manufacturers have a team dedicated to ensuring proper compliance with zoning ordinances. Additionally, the process of erecting a sign requires many construction permits. All these activities fall within the Project component of your sign industry software, with related activities tracked in the CRM and documents stored in the document management system.
Engineering and material planning
Once artwork is approved, zoning requirements are completed, and weather and visibility factors are accounted for, the sign is engineered. Create the bill of materials, including electrical and other materials, in the sign software using various CAD programs. Also, the engineering team can create the manufacturing routing. Build material requirements and demand are in the system as well—the purchasing department can see the parts to be purchased and production sees demand for fabricated items and assemblies.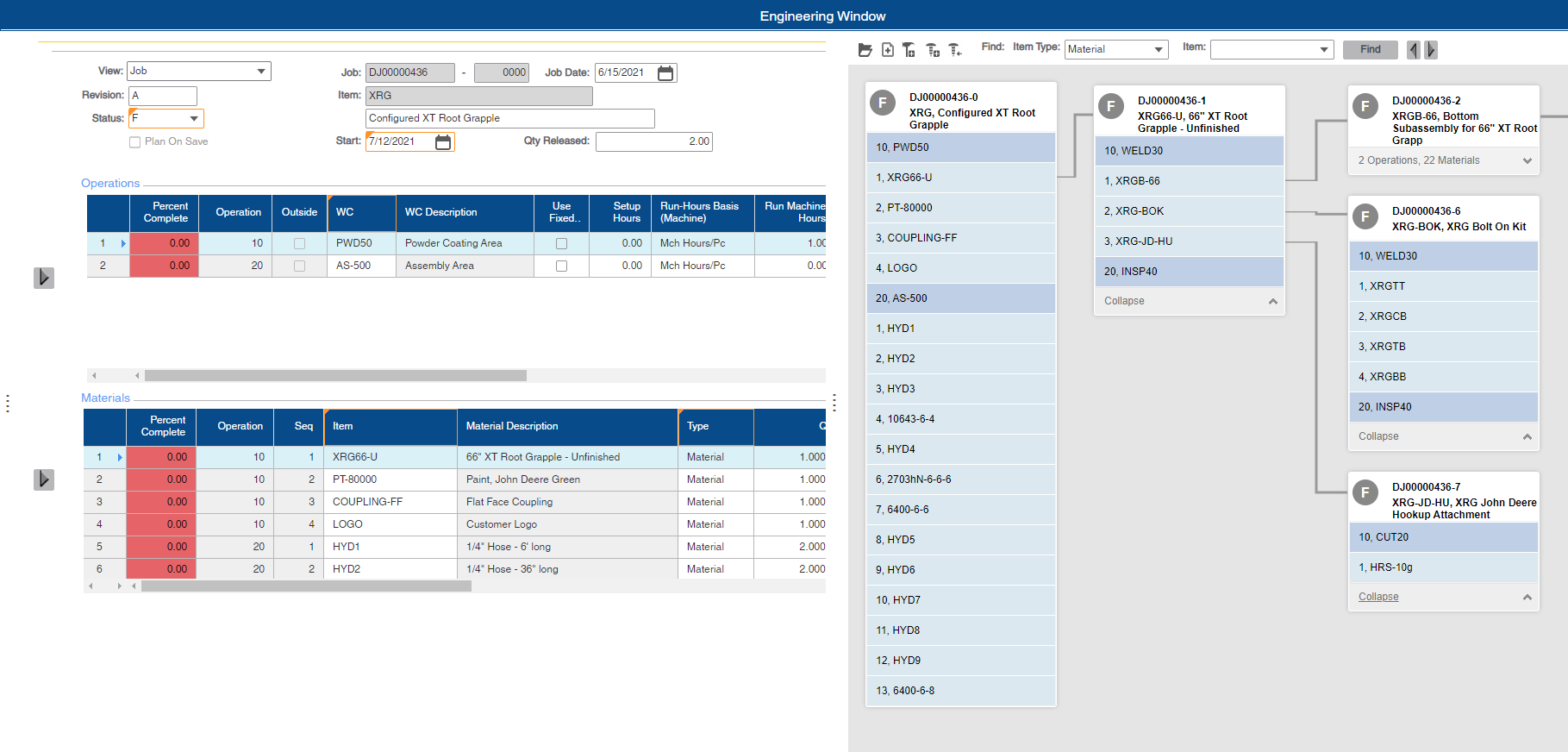 Infor CloudSuite Industrial ERP's Engineering Window makes it easy to manage and create the complex engineering masters for sign manufacturers.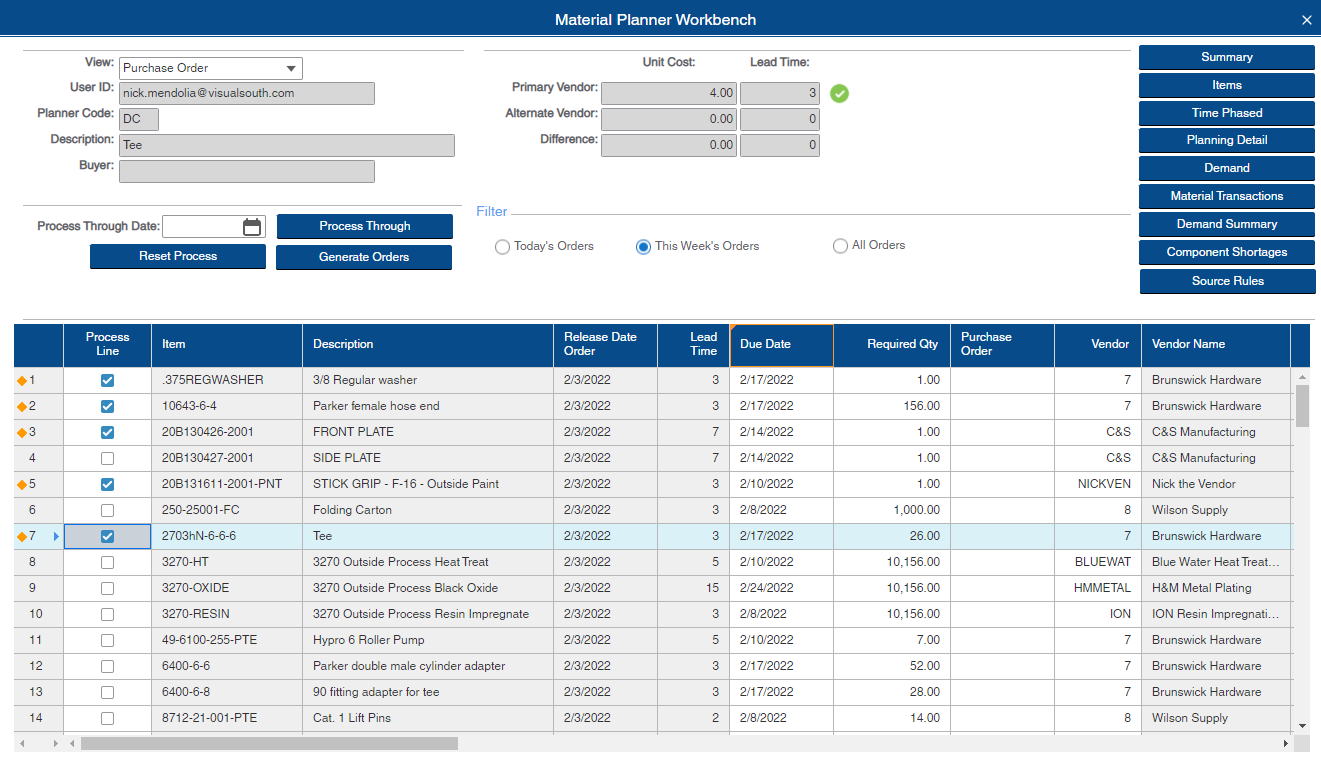 The Infor CloudSuite Industrial ERP application provides the Material Planner Workbench for easily managing material demand and orders.
Production planning
Production Scheduling releases the job or work orders to fabricate the varying assemblies, marry with purchased parts, and perhaps even send some parts to outside processors. The sign manufacturing ERP system should have a robust scheduling engine, like Infor CloudSuite Industrial Advanced Planning and Scheduling (APS), to take into account the desired finish date, available capacity, material availability and arrival, outside processes, and even transfer times. A quick word of warning: When considering an ERP system, exclude any that are reliant on third-party scheduling engines. Scheduling is too important to the overall efficiency of the organization to not be part of the native sign software system.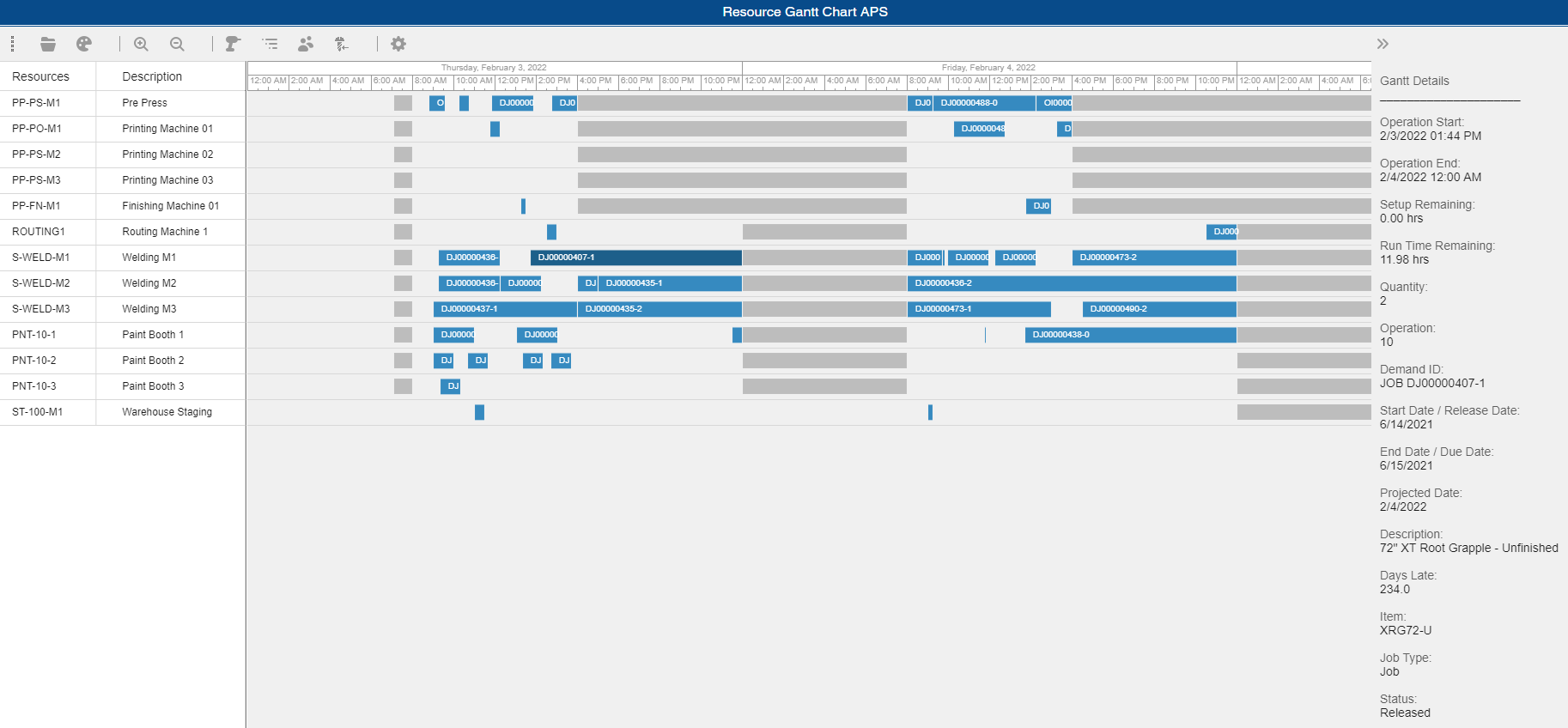 Infor CloudSuite Industrial ERP comes with Advanced Planning and Scheduling (APS), allowing for managing all production and ensuring orders are completed on time or as early as possible.
Shop floor and material transaction management
The traditional manufacturing component for signs requires tools for capturing labor transactions and material transactions. The benefits of capturing actual labor time are numerous. The three most important benefits from labor barcoding are that you capture actual labor costs, actual labor time used provides valuable information for run rate data, and labor completion relieves the production schedule. Capturing actual labor costs are so essential for customer sign manufacturers as the ability to see costs during the job are important as well as rolling up to the overall project costs. Other benefits of a modern shop floor execution system include the ability to: be paperless; have an electronic dispatch; get easy access to drawings and work instructions; and capture quality inspection data.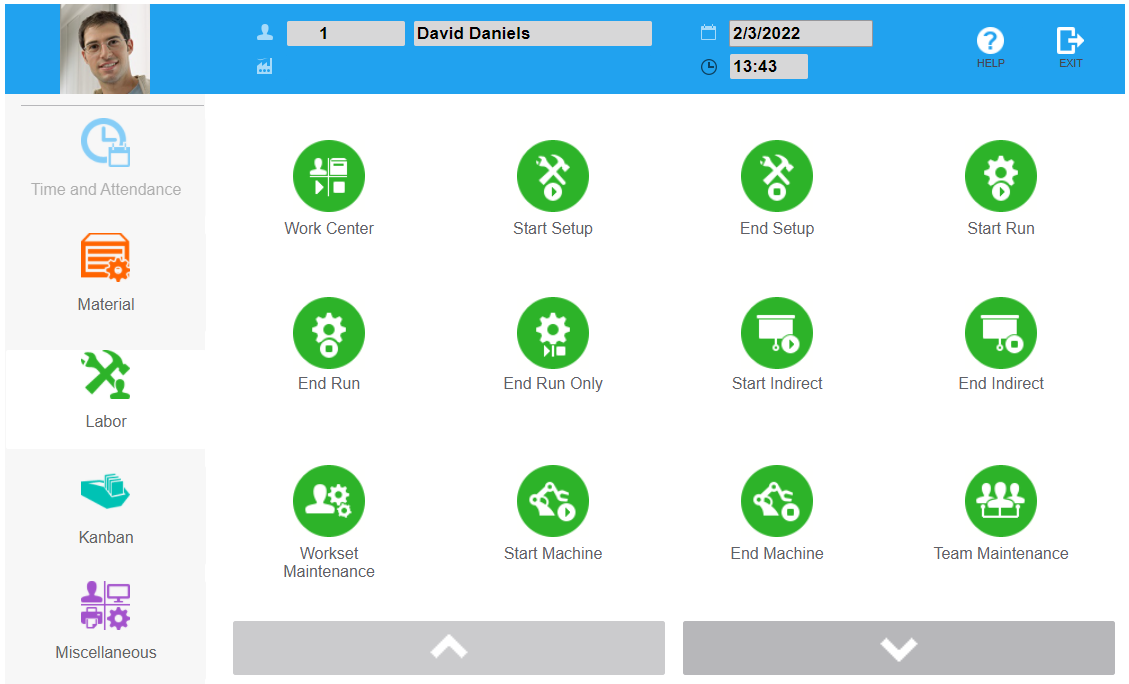 Infor CloudSuite Industrial Factory Track captures and tracks all labor transactions on the shop floor using mobile devices.
Capturing material transactions are critical as well. Ideally, you tell your system what you did, when you did it—not after the fact. Provide decision makers with real-time information, including material transactions, so that you benefit from actual material costs applied to the work order and rolled up to the project, accurate inventory counts and values, and the ability to track material transactions with barcodes or material issues.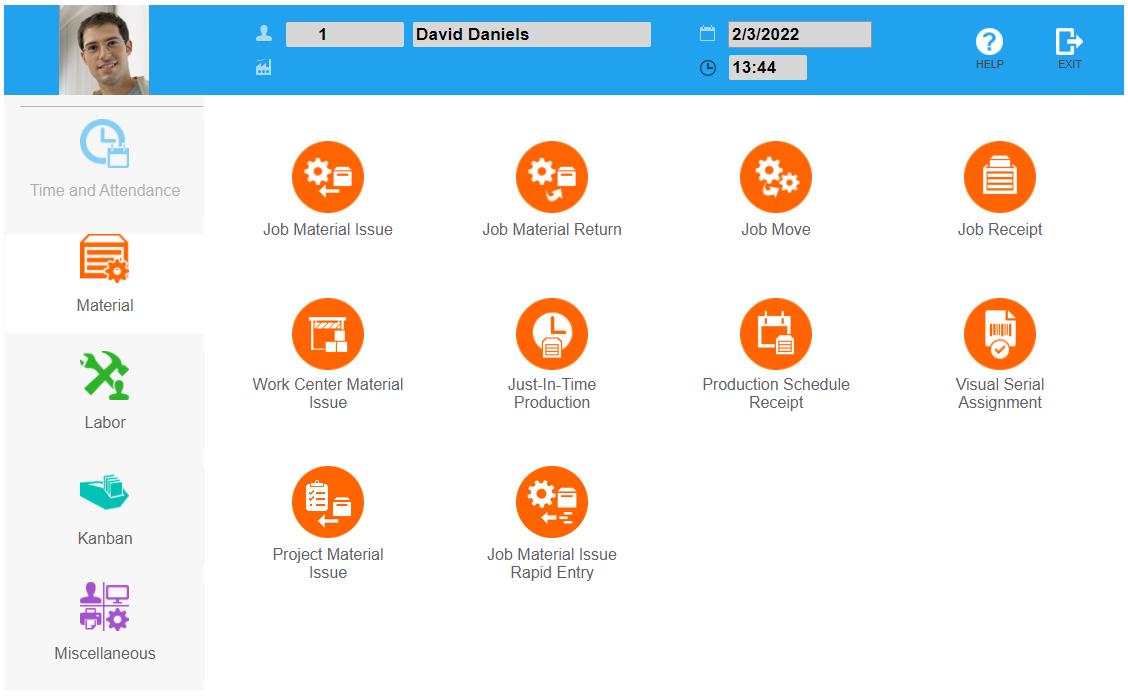 Infor CloudSuite Industrial Factory Track captures and tracks all material transactions, including material barcoding on the shop floor and warehouse, using mobile devices.
Quality control
Quality control is especially important for electrical sign manufacturers. Their signs need to be tested and inspected, and this data should be captured in a system of record. Many electrical signs have to be UL Listed—having a native Quality Control System as part of the sign manufacturing ERP will help meet these needs. The Quality system can be used for incoming inspection, in-process inspection, and final acceptance testing.
Infor CloudSuite Industrial Factory Track allows for quality inspections on the shop floor using mobile devices.
Installation
A big part of the overall sign manufacturing project is managing the installation component. The project manager needs to ensure all permitting is in place and then work with local contractors for site prep (e.g. excavation, readying concrete sign pad or footers, etc.).
Some ERP applications have a Service Management module to address the installation requirement. Schedule all crews, get routing information, capture travel and expenses, and have GPS map visibility of crew locations.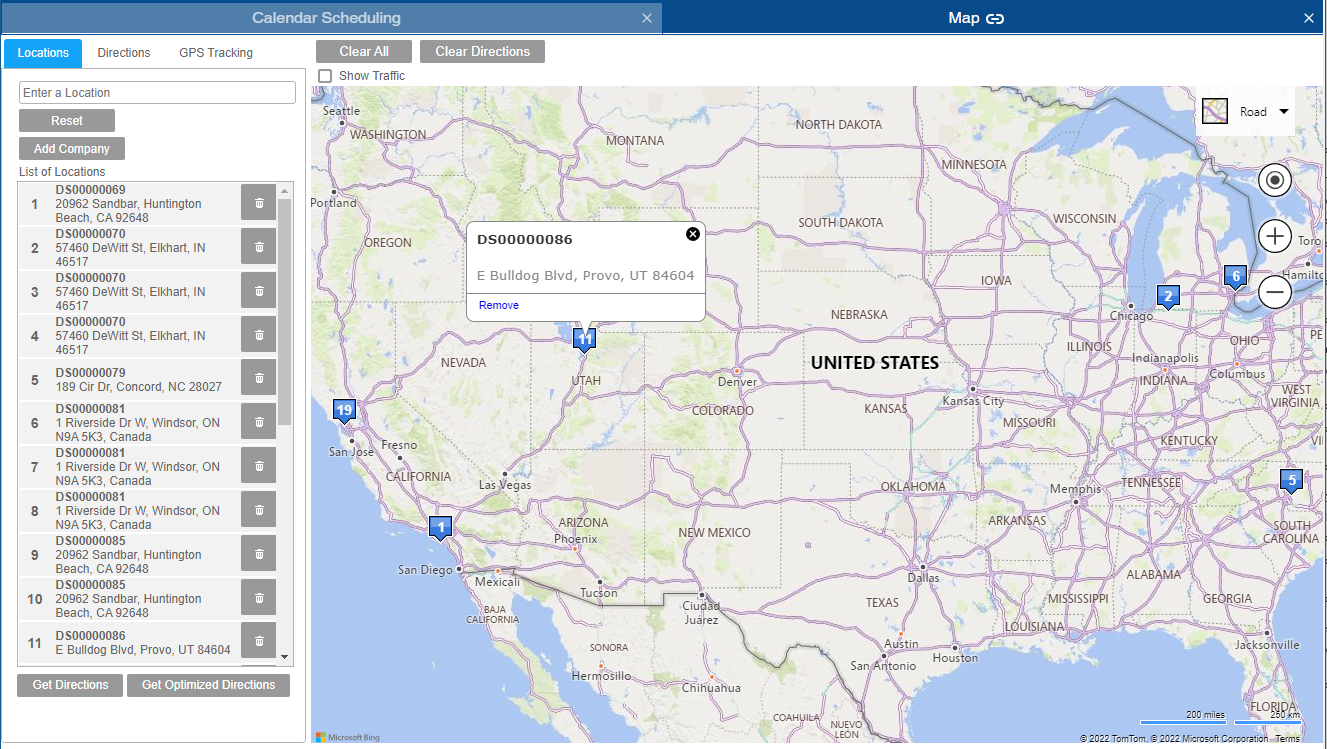 Infor CloudSuite Industrial ERP includes a full-service management dispatching and scheduling system with GPS mapping.
Oftentimes, cranes are needed for sign installations. Many of the larger sign manufacturing companies have their own installation teams and cranes. Others have to schedule rentals and crews to assist.
Transportation is another item to be scheduled. Once again, many of the larger companies have their own trucks, flatbeds, and low boys that are available for transport. Other companies have transport companies they need to schedule.
A proper Service Management application can handle these requirements, from crane rental to flatbed scheduling. The prep, transport, and installation costs also need to be captured as part of the project, so that true profitability can be measured and analyzed.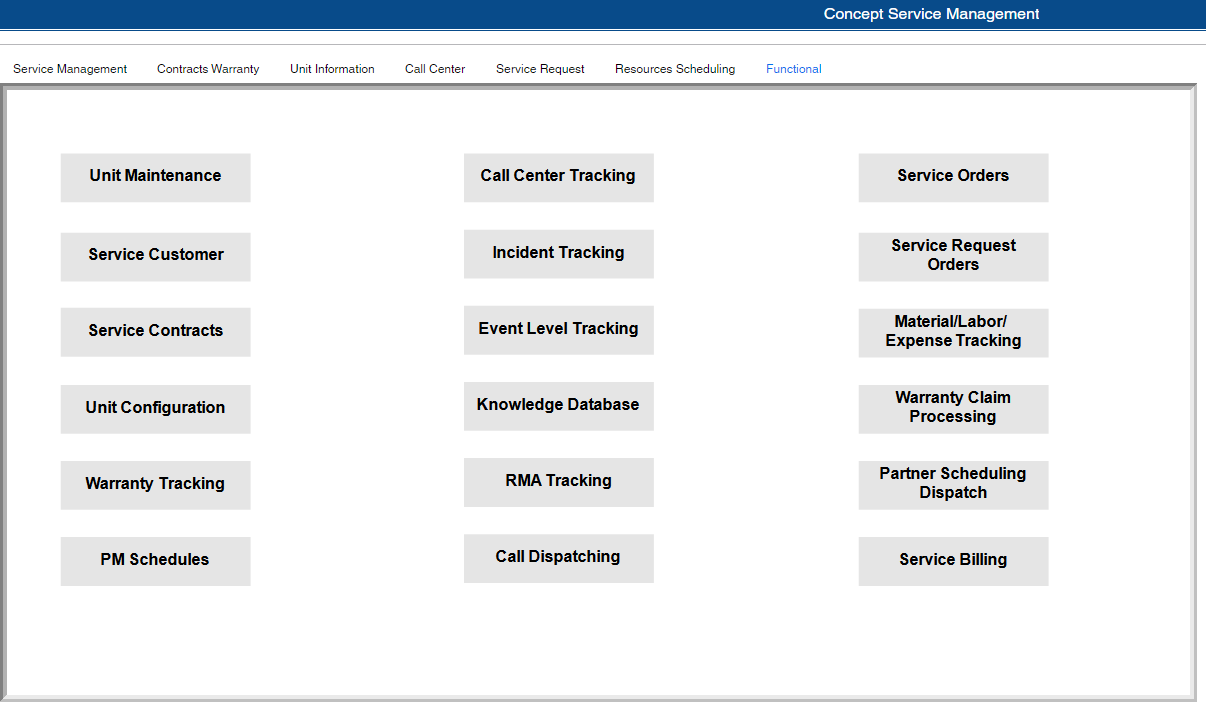 Infor CloudSuite Industrial ERP provides sign manufacturers with a robust Service Management toolset to manage service activities, from install to maintenance.
Warranty and service
Once the signs are installed, many manufacturers have warranties, service contracts, or perform break/fix maintenance. The Service Management module within the ERP can assist with scheduling warranty work. The field service teams that perform corrective actions, repair work, and parts replacement on signs, can access complete unit configuration via their mobile devices. The as-built unit configuration is available to the service team because of the completeness of integration with the manufacturing part of the sign software system. Not only can the field techs see the original configuration, but they can also see the history of repairs and current unit configuration where new parts have replaced existing parts. They can see serialized components, as well.

Infor CloudSuite Industrial ERP's Service Management provides visibility into unit configuration and current configuration from previous repair and warranty work.
The Service Management application can facilitate field techs taking pictures, getting electronic sign off by the customer, and recording the labor and materials used on the service repair order. These costs can be attributed to the warranty or against a service contract, or billed to the customer for repairs. The billing can happen instantaneously due to the accounting integration, which leads to increased cash flow and fewer days outstanding for the service department work.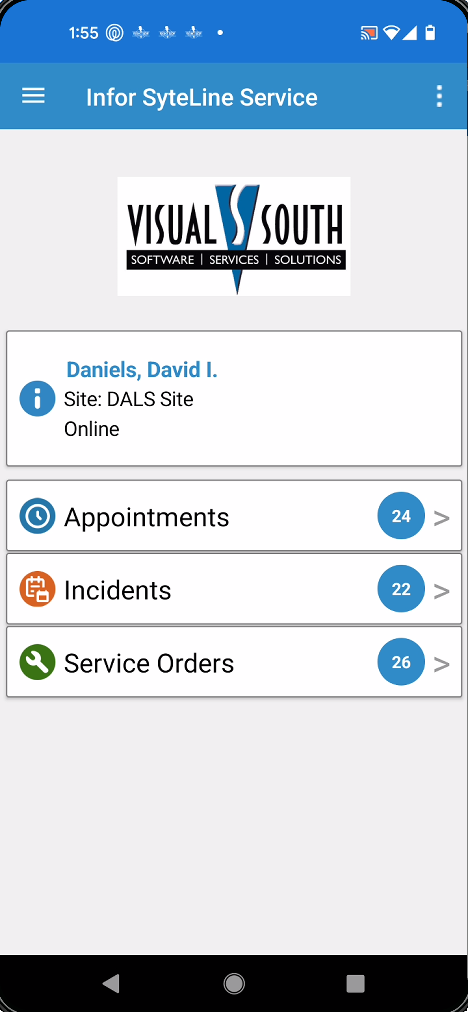 Infor CloudSuite Industrial ERP's Service Management also includes full mobile capabilities for field techs doing installs, warranty work, service and maintenance contract work, or unscheduled repair jobs.
Multi-site accounting
Financial management should not be discounted when considering an ERP system for sign manufacturers. Many of the larger sign companies have multiple branches and even different manufacturing locations. Some even have multiple financial entities to manage. Given these possible complex requirements, it is imperative that sign manufacturers validate the software's ability to effectively address your company's needs from an accounting and performance management perspective.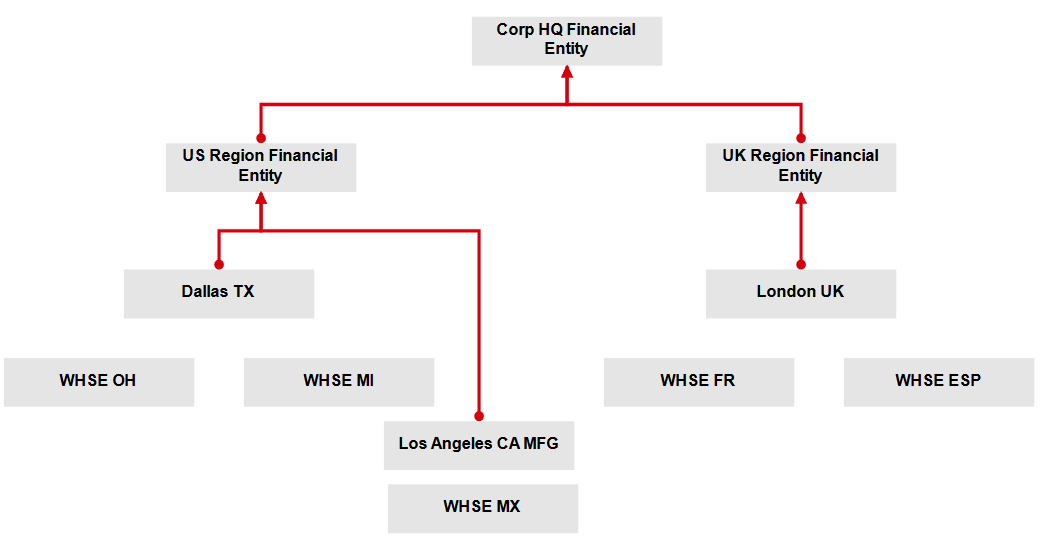 Infor CloudSuite Industrial ERP provides multi-site and multi-company operational and financial capabilities.
Performance management
Your sign manufacturing business system should have a robust reporting toolset and Business Intelligence toolset. Being able to gather data, trust the data, and access it in a timely manner is often a challenge, given the large business footprint of sign manufacturers. This challenge can be addressed by having a fully integrated, single system and single database to help your company make better business decisions. Then you need analytical tools to mine this data, and a user-friendly system to help easily see the metrics and data visualizations.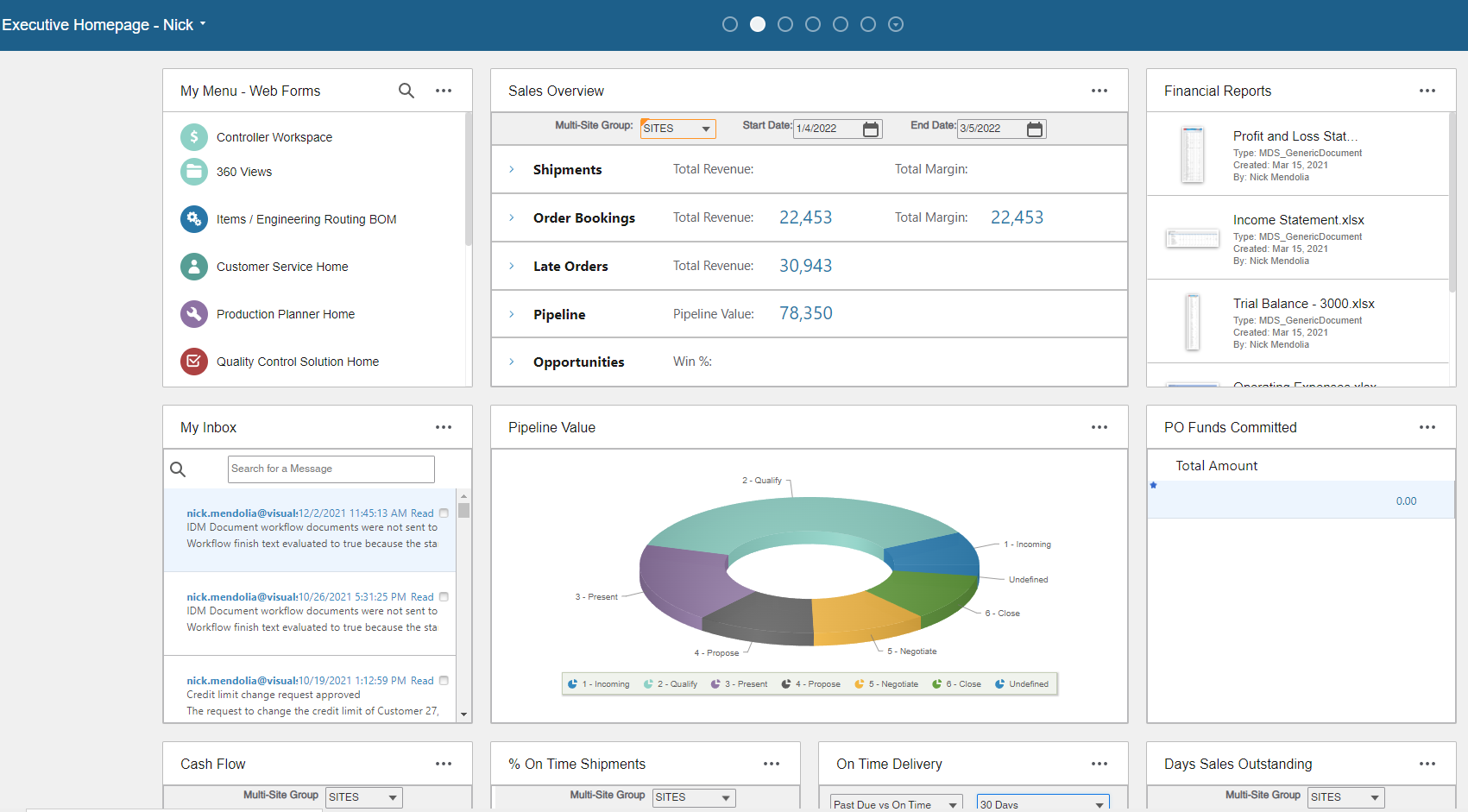 Infor CloudSuite Industrial's Role-Based Home Pages include performance management indicators, reports, and graphics.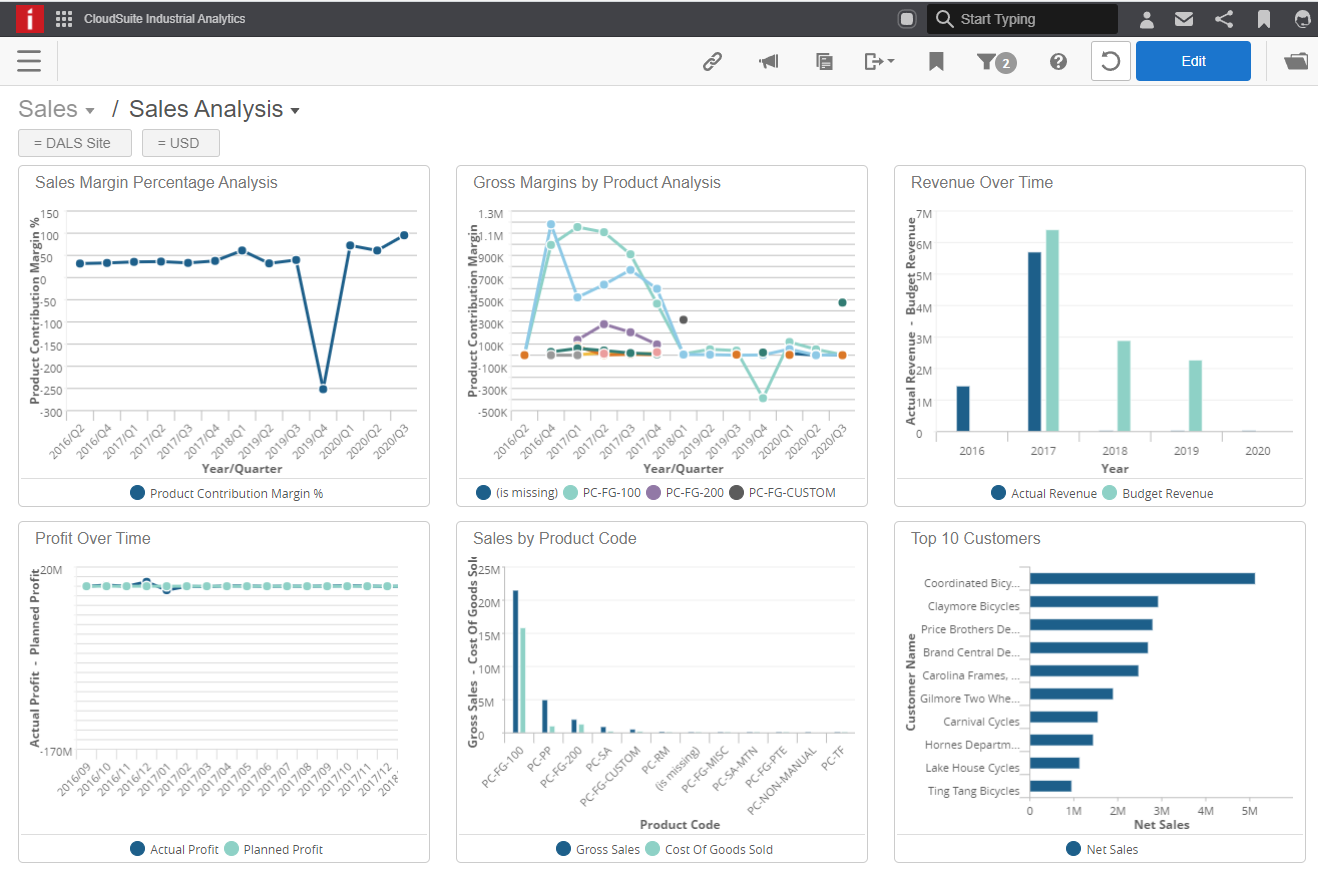 Infor Birst Analytics are included with Infor CloudSuite ERP
Summary
Sign manufacturers have specific requirements that are different and much more encompassing than traditional manufacturers. It is important when looking for a new sign industry software system to validate that it has the many functional characteristics outlined above. Otherwise, it will be a challenge to improve your business and address those unique requirements.
If you are beginning a search or considering a new ERP to help your sign manufacturing operation, please reach out and schedule a free consultation here. Visual South has helped hundreds of manufacturers leverage Infor ERP to improve their competitiveness and grow their business. Click here for more information about Visual South.