Project-based manufacturers have specific needs
Overwhelmingly, project-based manufacturers have a requirement for a physical project plan to execute against, where costs can be captured at many levels. That is why Infor CloudSuite Industrial/SyteLine ERP provides a good solution for traditional build/engineer/configure-to-order manufacturers who need to manage a more complex series of events to manufacture finished goods.
Using Infor ERP for project-based manufacturing, the project structure can include all activities from the engineering effort and tasks to sourcing; then to production (including unlimited work orders tied to the top-level project); quality inspections and tests; shipping; and finally, installing, training, and piloting from the service team.
Having this infrastructure provided by the Project module in CloudSuite Industrial/SyteLine is beneficial in many ways. It offers:
Detailed real-time capture of all costs and activities throughout the entire project lifecycle
Additional Project summary and visibility with option to use Work Breakdown Structures (WBS) not often seen as part of many commercial manufacturing-focused ERP applications
Project Manager Homepage with high-level Project related KPIs, alerts, tasks, and indicators, with rapid drill down to detail
Project/Program Manager Workbench with added indicators and rapid access to transactional forms and all Project details from one form
Enterprise-wide visibility of all aspects of the project while in progress
Costs by period and by labor, material, burden, and G&A
Actuals to budget, forecast (estimate at complete), costs to compete, and percent complete
Percent complete revenue recognition directly in the CloudSuite ERP application, versus many systems where this has to be attempted outside the system in Excel
A powerful Service Management module where install and training can be included in the overall Project.
Plus, another useful project manufacturing ERP tool included with CloudSuite is Infor Document Management (IDM). Submittals, prints, contracts, change orders, drawings, inspection sheets, user's manuals, and virtually any kind of object can be housed in IDM, Users are allowed to make and track object changes with engineering change control. Users are allowed to check documents in and out, print, attach, and have document visible on the shop floor with Infor Factory Track. IDM provides for remote and mobile access of drawings, warranties, and instructions visible to Field Service Techs with CloudSuite Service Mobile. There is also an IDM mobile app where documents can be accessed anywhere with a smart phone or tablet, whether Apple or Android.
Infor CloudSuite Industrial/SyteLine has many purpose-built project manufacturing ERP tools, but it's important to note Infor also focuses on the User Experience (UX). The streamlined UX features project-related role-based homepages that can be heavily personalized, demonstrating Infor's ability to meet all needs of project manufacturers, in addition to offering robust functionality.
Here is an example of a Project Manager Homepage: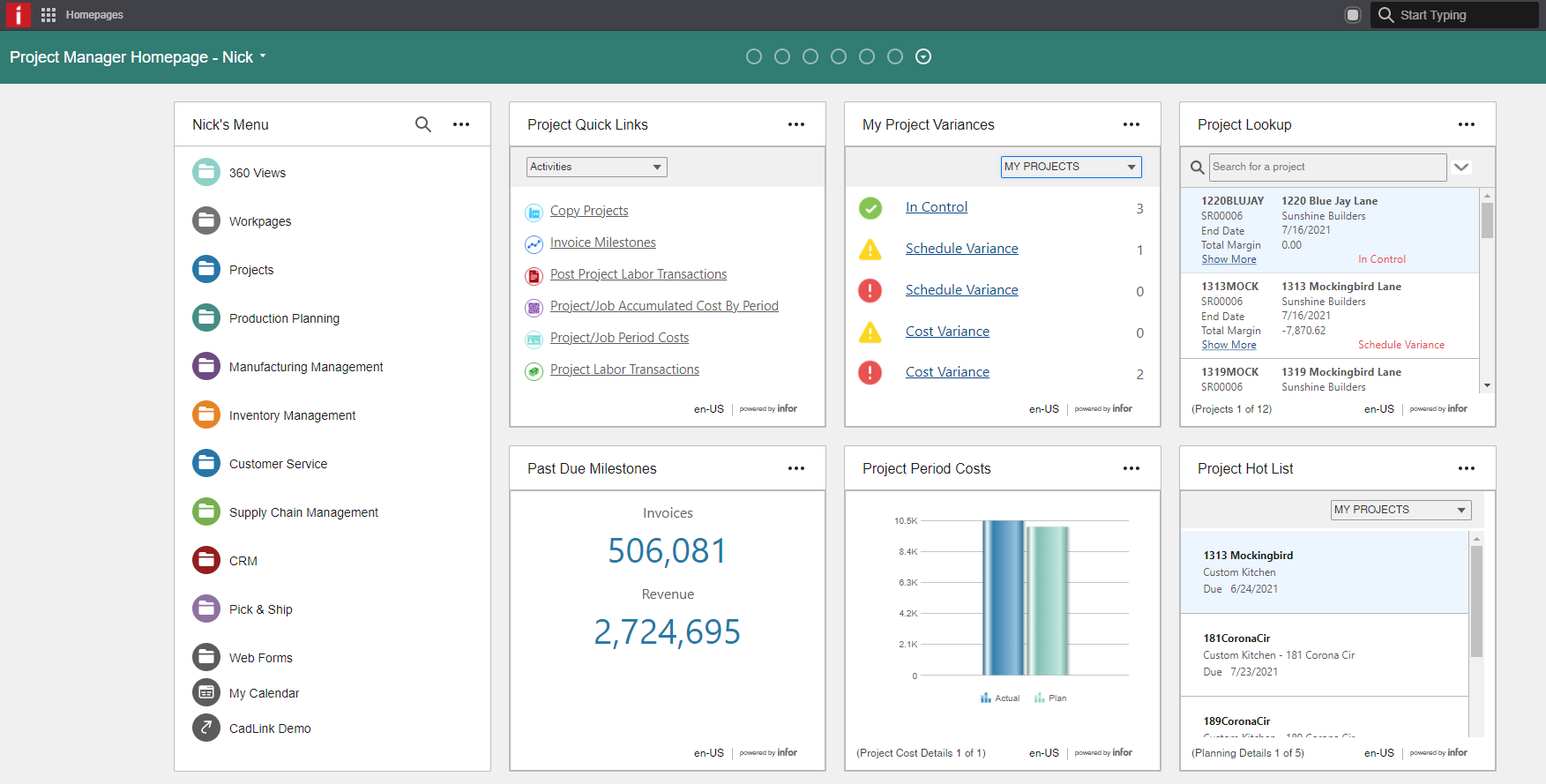 The Project/Program Manager Workbench is as added option for quickly accessing all project-related forms and metrics: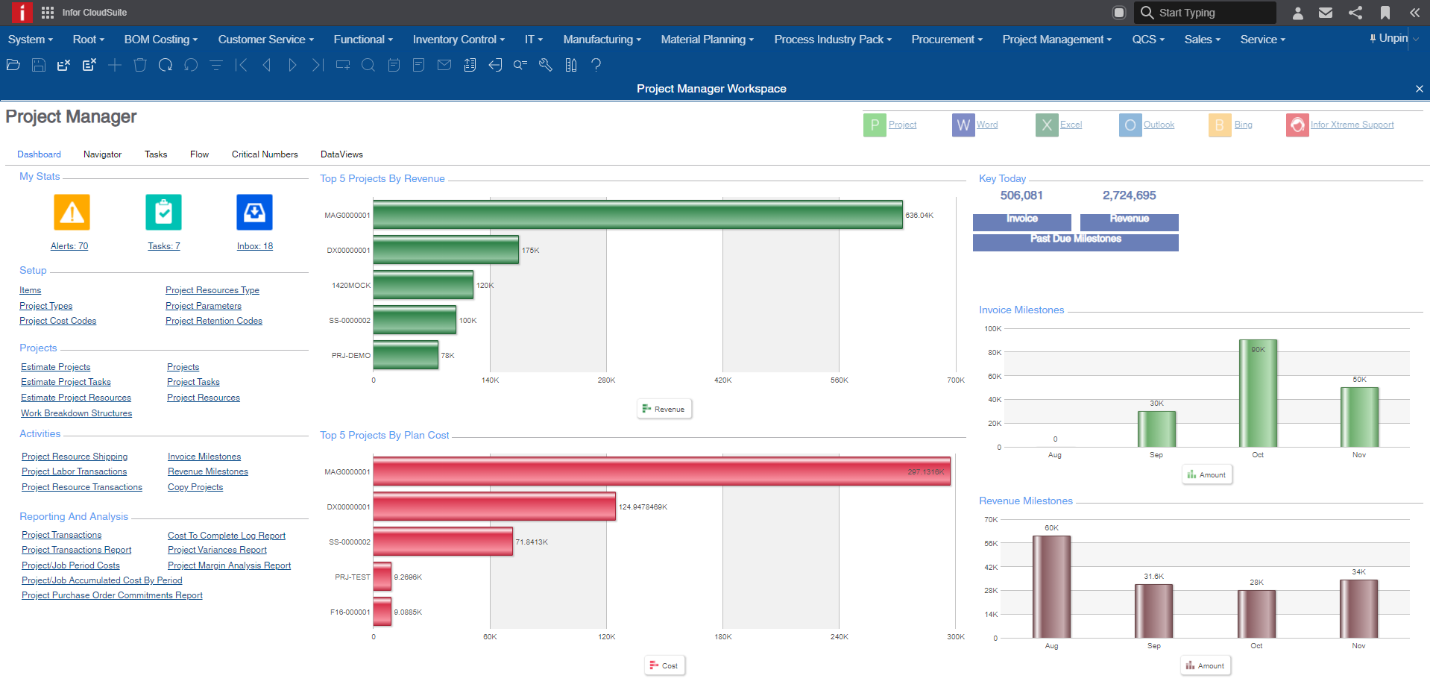 Further examples of the details that can be accessed from the Project/Program Manager Workbench include:
The Project header, including Project Tree view: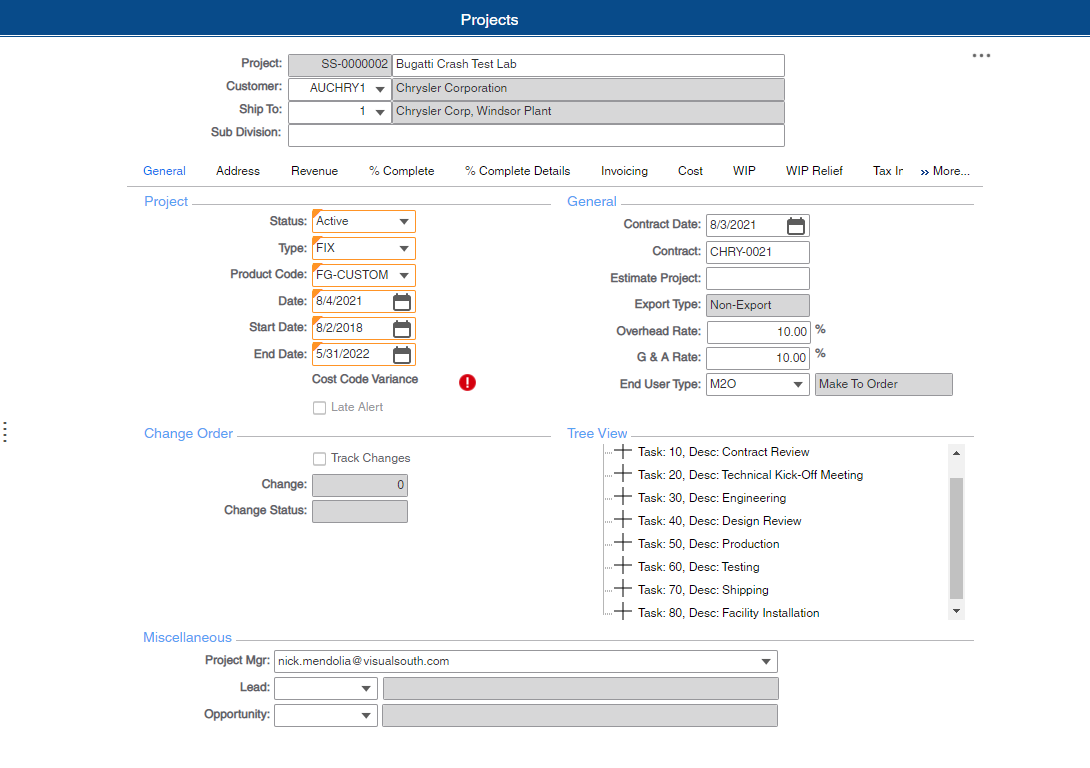 All Percent Complete costs information: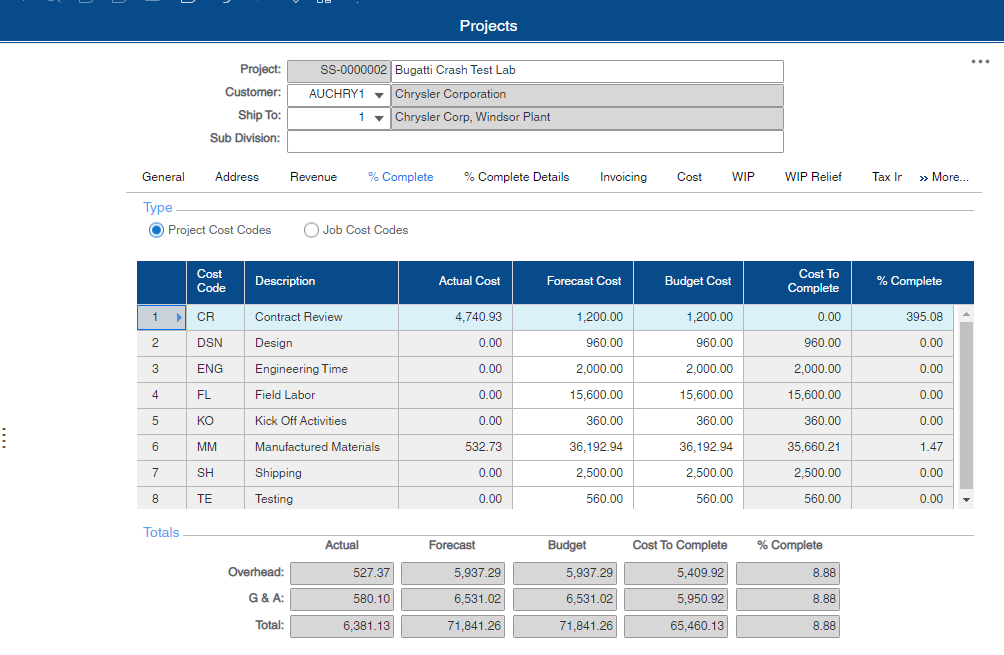 Revenue and revenue recognition: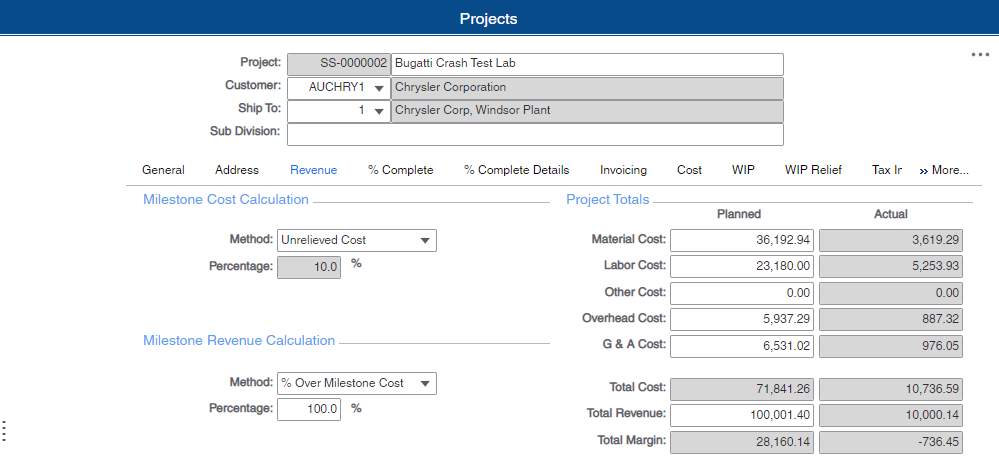 The CloudSuite Industrial/Syteline ERP application has been continually developed and improved for over 30 years. There are several newcomers to the manufacturing ERP space, but very few have a completely built out Project module. This completeness is due to input from the SUN User's Group and vast Infor development resources. The development effort is why items like a two-way integration with Microsoft Project is included, along with having the option to use Work Breakdown Structures. All Projects roll seamlessly to accounting, as well as provide for drill down and audits as needed. Infor is everything project manufacturers need in one system.
For validation on the completeness of the Infor solution, please see how Technology Evaluation Centers scored CloudSuite Industrial/SyteLine versus other ERP providers in these critical manufacturing-related areas: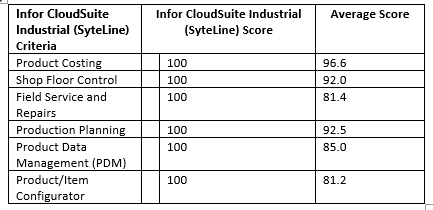 Additionally, Infor CloudSuite boasts an extremely powerful Scheduling engine, with Advanced Planning and Scheduling (APS) included as part of the core application. Project manufacturers typically have numerous work orders to schedule, varying from small fabrications to large subassemblies with complex bill of materials and varying routings. Outside services and processes are often needed, and are handled well with Infor ERP. CloudSuite APS will generate planned POs for materials, as well as RFQs as needed for the procurement side. Purchased parts can be received directly to the project, immediately hitting WiP as many project-based manufacturers traditionally try to limit inventory.
The APS module provides production managers with an in-depth set of tools, including multiple scheduling strategies for different products, multi-site capabilities, what-if capabilities, drag-and-drop scheduling, and mulitple graphical performance metrics and analytiics.
Infor Factory Track provides a world-class shop floor execution system, where this single application can manage several functions, including Attendance, Labor Collection, and Warehouse Mobility. Quality team members can also use Factory Track for inspections and data collection. Factory Track is a native, web-based application that can be used on virtually any mobile device.
A full Quality Control System is part of CloudSuite and provides deep Quality related functionality whether you are ISO or AS certified or compliant. No outside systems or Excel-based workarounds are needed.
Your service management team can use Infor CloudSuite Industrial/SyteLine to address the service type needs we usually see with project manufacturers. Whether it is activities that can be included as part of the project, like site prep, install, training, and testing, or after-sale service contracts, maintenance agreements, warranty, break/fix, or parts replacement sales, all can be handled with the CloudSuite Service module.
Summary
Infor CloudSuite Industrial/SyteLine ERP provides project manufacturers with all the tools they need to run their businesses, from opportunity to after-market service and sales. One system. One provider. That is the Infor value proposition. You do not have to cobble together a variety of disparate products to attempt to make a solution. You also don't have to accept a Frankenstein-type system from vendors who are reliant on third-party and partner solutions to sew together an unified solution. Infor provides a pure and complete application to address all your project manufacturing ERP needs.
If you are having issues trying to manage the complex nature of non-integrated systems for project manufacturing, project costing, or related project activities and want to address the situation, please reach out for a free assessment. The team at Visual South will discuss options for improvement and address your business issues.