Applications for field service management software
There are multiple uses for field service management software, across many different industries. This type of platform is widely used by companies that do service and repair work in HVAC, electrical, commercial, and industrial maintenance industries. It's also used in the repair industry itself, where work is performed onsite and remotely.Our focus in this article will be on how field service management software can be used by manufacturers. We're highlighting manufacturing because it is a less mature use case; many manufacturing companies have yet to formalize processes and supporting applications for this growing and profitable area of the business.
We are seeing more and more project-based manufacturers have a requirement for service management software, or have it as part of their native ERP application (like it is with Infor CloudSuite Industrial/SyteLine software). Project-based manufacturers are building their service activities into the overall project itself, allowing for full visibility from engineering to the install, training, and testing of the finished good.
Additional service activities that can be tied to the project include permitting, zoning ordinances, site review, site prep, electrical install, inspection, and final sign off.
There are four primary areas of operation we will review to explain how field service management technology can benefit manufacturers: training and installation, warranty work, service agreements, and break fix work.
Training and installation
The Visual South team works with a variety of engineer, configure, and make-to-order companies that require their products to be shipped, sometimes in varying stages of completion due to size or where the product has to be assembled. This could be part of a project or standard customer order, but individuals or entire teams need to be scheduled to do this remote work, as well as be able to report work completion, hours worked, materials used, assembled product pictures, and documented inspection and testing, and customer sign off.
Those are a lot of activities to track, but the fact is that most of those activities are already being loosely collected in a non-formalized fashion.
The field service management software should allow the remote technician a way to easily capture all these activities, and push that information to the ERP system.
Robust field service management systems allow remote users (whether connected to the internet or not) to be dispatched and scheduled for a job, which includes receiving driving instructions to the location. The mobile device can be tracked, giving the service department visibility into where everyone working in the field is located.
Field Service Mobile Application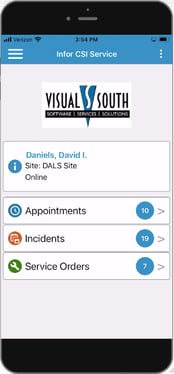 Once the service team members are onsite, they can use a mobile app to log into the job and access documentation like drawings, unit configurations, instructions, and manuals.
Additionally, the mobile app allows you to:
Track material issues and purchases, so labor and material costs associated with the work can be captured and rolled into either the service order, or both the service order and overall project
Capture travel and expenses, providing full costs that may or may not be passed to the customer, based on contract terms
Capture inspections and inspection data
Record testing data
Take pictures after installation activities are complete and upload to the ERP
Capture customer sign off to show proof of user acceptance
In summary, the mobile application for field service management is a valuable tool, allowing the capture of all activities and costs, while making full unit configurations and related documentation readily available to the technician in the field.
Warranty work
Field service management software can be used for warranty issues, in a very similar manner to install.
Techs or partners can be dispatched using the scheduling functionality within the application or field service management system. The tech is scheduled, and can see where to go and what issue generated the service order.
Warranty Form

The tech or partner can see the service history of the good requiring service. They can also see the as-built unit configuration, current configuration, and notes and documents associated with previous activities.
Unit Configuration Form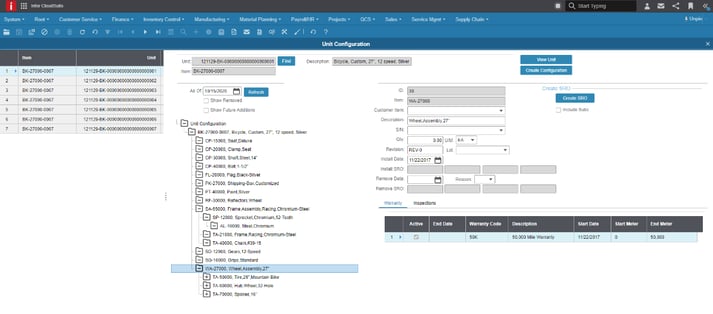 Again, you can record all activities including:
Labor
Materials used
Credit card purchases
Travel and expenses
Pictures (before and after)
Inspection data
Electronic signatures
Service team members will be able to access warranty specifics—learning which elements of the product are still under warranty and warranty terms—to ensure charges and replacements are correct. Having accurate warranty information can result in significant savings and possible added revenue.
Service agreements
Many manufacturers sell service agreements with their products. These service agreements may contain planned inspections, preventive maintenance, and refurbishing as part of the agreement. The agreements are typically somewhat profitable, but also increase customer satisfaction because they ensure assets are maintained, perform well, and provide maximum uptime.
With field service management software, service managers and technicians can see what is covered and provided as part of the service agreement, in a quick and efficient manner. The ease of access to this information increases customer service and service management efficiencies—you need fewer team members to handle more service-related transactions, and they are able to handle them more expertly.
Break/fix service orders
Field service teams know that not all customers choose to have service contracts, nor do they maintain products based on best practices. Oftentimes, the mantra is to "run it till it breaks" and that becomes a self-fulfilling prophecy. The asset breaks and the client calls customer service needing assistance. The customer service and service management team will use the same tools as in previous examples.
The service order will be scheduled and assigned. The tech or partner will use their mobile application to determine the customer's location and issue. They will be able to see previous history, work, issues, remedies, pictures, and documentation. All activities will be logged for both labor and material used.
Once the job is complete, the costs will be automatically pushed to the billing component of the service management module or standalone field service management system, and invoicing can happen that same day.
Related: How to Select Service Management Software
Related: Infor Service Management Review
Related: How Infor CloudSuite Industrial ERP Improves Service Management Profitability
Billing cycle benefits
There many benefits associated with using field service management software with your manufacturing ERP system. You can save endless amounts of time resources when you're able to account for all activities in one integrated platform—you no longer have to gather paper documents, look up coverages for warranty and service in paper files, or calculate charges outside of the system. We have seen our clients reduce billing cycles from days to hours. Plus, there is a direct impact to cash flow when you have such a tightly integrated field service system; ERP manufacturing, customer service, service management, and accounting applications all exist within a single ERP system.
Customer satisfaction benefits
When customers are happy, retention increases. And customers are typically happy when they get timely responses to service requests that relate to warranty, agreements, and repairs. A strong service management system should have the ability to provide a complete 360-degree view of all customer and service management-related activities helping you take proper action in a quick fashion, which leads to happy customers.
Summary
Manufacturers looking to increase both customer satisfaction and drive profits through efficient service management activities need to have an integrated service management module as part of their ERP application.
For more information on how to improve the service functions at your company, please reach out for a free assessment.