ERP software evaluations provide answers to your questions
Visual South assists companies with ERP system evaluations and implementations every day, and has since 1993. It's what we do and we have been through the ERP evaluation process hundreds of times.
However, many customers may only evaluate ERP software every 10 to 15 years. The ERP selection team members may have never evaluated software, or may have done so only once before. This leads to the development of many different processes -- some are good and others not so good. The Visual South team can help regardless.
Our team provides a consultative approach for companies, and can help create an ERP evaluation process and ERP evaluation template to ensure you maximize your time looking for the right-sized application to meet your business needs.
Part of the plan for ERP evaluation is to know the right questions to ask. You want to be able to quickly identify which products are a viable option. The questions need to be well-thought-out because many evaluators struggle to differentiate between ERP providers and to differentiate between ERP products. A common mistake is to either look at products that do not provide a complete functional footprint and will limit growth; or conversely, to look at a brand name like SAP and assume it will easily fit into small to medium-sized growing organizations when it is actually too big for the true business requirements.
We also see the same mistake with a company insistent on a cloud deployment or an on-premise deployment based on assumptions rather than true best fit.
How do you ensure you are looking for the right solution?
Prepare in advance to discuss your project with ERP vendors.
Answer these four questions to evaluation an ERP system:
What are your business - not ERP - goals?
Do these goals and defined business issues align with the executive team's vision of what an ERP system should provide?
How do you want to deploy the system? Cloud? On-Premise?
What is the budget needed to purchase the ERP system that meets your business requirements?
We take you through each ERP evaluation question in more depth below.
1. What are your goals with a properly implemented new ERP system?
Clarity of the end goal is needed. Simply replacing what you have will not help. You will want clearly defined areas that are causing issues and limiting business efficiency and growth.
Identify your 5-10 top must-haves and have the ERP vendors address the most important issues up front. This will provide clarity and an easier comparison. If you allow the ERP vendors too much latitude, many will propagate their strengths, create clutter and noise, and make it hard to stay focused on whether the system can help accomplish your most important business goals.
2. Do these ERP goals and defined business issues align with the executive team's vision of what an ERP system should provide?
If the answer is no, then you may have trouble getting final approval for your project regardless of the software system selected. Ask yourself if the new system is solving the right people's problems and matching their vision. If it isn't, then a "no" decision and delay of moving forward is highly probable. It happens every day. You must have executive level support.
Related: 3 Things to Consider When Choosing an ERP Development Company
3. Do you know why you want a cloud system?
We often hear from companies wanting to go to the cloud. It's a natural evolution considering it's all you see in the media. But that may not make the most sense for your company. Depending on your specific situation, a cloud deployment can be much more expensive versus an on-premise deployment when doing a 5-year comparison. For example, local internet bandwidth and reliability may be an issue. Then again, you may have capable hardware and software servers already, and a valued internal IT resource that allows for ease of deployment onsite. But you have to ask the questions or at least educate yourself on the topic before venturing into an evaluation of ERP that considers a cloud deployment. Many ERP vendors will try to steer you to what is most convenient for them instead what is in your best interests. For ways to better understand deployment options, please visit Comparing ERP Cloud to On-Premise.
4. What is the budget needed to purchase the ERP system that meets your business requirements?
We frequently work with companies who have an arbitrary budget that doesn't take into account the size of the project. Most of the time, the budget is too small to truly address the business goals, address specific business issues, develop best practices procedures, and have a properly educated user base on the new system. If corners are cut in any of these areas during the implementation, it often leads to underwhelming return on investment.
Start with an ERP evaluation template
If the four points above made sense to you, then you will be interested in our ERP evaluation template. It not only guides you through the entire process, it gives you a strategy. It provides you a plan.
There are two parts to the template.
Our eBook "How to Select ERP ...and not regret it": The eBook is free, it's a 10-20 minute read, and it can be downloaded here. It will provide clarity to you.
Our checklist: "The ERP Selection Criteria Checklist": This follows the strategy of the eBook. You can download it here. The download is a convenient spreadsheet. Here is a sample of what it looks like: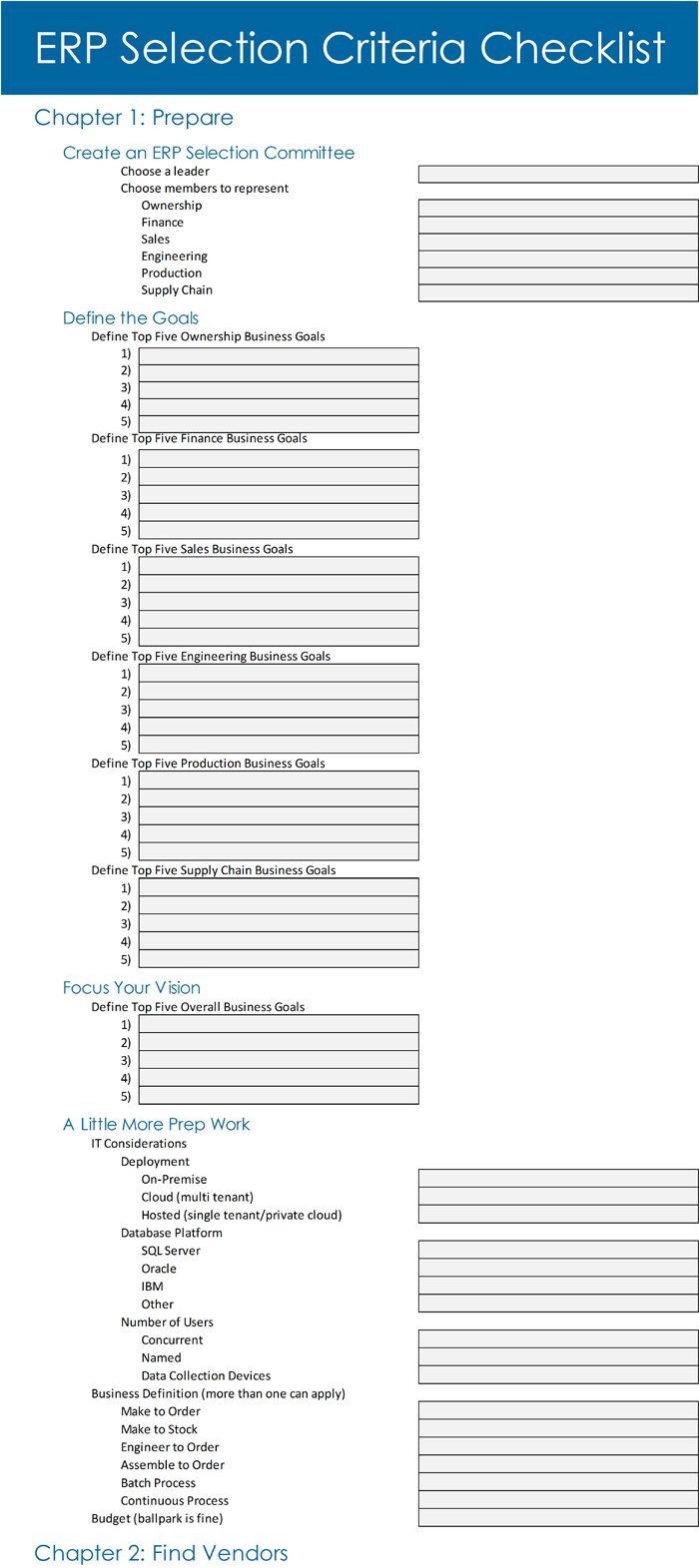 Visual South provides an extensive array of resources to educate you on how to have an effective ERP software evaluation process. Please let us know if you have questions. We are also happy to set up a free consultation to provide guidance on managing your ERP evaluation.