Differences between make-to-stock and make-to-order manufacturing
These two manufacturing modes are just what you'd assume. Make-to-stock manufacturing is where finished goods are built to inventory. The demand associated with make-to-stock is typically driven by a forecast. Additionally, a mix of forecasting, inventory quantities driven by planning policies, and actual demand can drive planning and scheduling for make-to-stock manufacturers.
Make-to-order manufacturers do not typically build finished goods to stock. However, they can operate on mixed mode, where they build some component parts or assemblies to stock, but final assembly and other operations are driven by specific customer orders. So, forecasting and other planning policies may still be a component of build-to-order manufacturers.
Finally, there are manufacturers which are purely make-to-order (no mixed mode). They do not keep any finished good inventory, nor do they build any components to stock. We see this method used most in job shop or engineer-to-order environments where they may only make a finished good a single time.
In this article, we'll explain the essential ERP tools needed to manage these three variations of discrete manufacturing.
ERP requirements for make- to-stock
As mentioned above, make-to-stock manufacturers need forecasting tools. The build quantities need to be more than a guess or feel. The demand drivers for planning and scheduling are typically historical usage, seasonal variations, assumed growth targets, and actual demand. The Infor Cloudsuite Advanced Forecasting tool, used in tandem with Infor CloudSuite Sales and Operations Planning tool, will give management and users the best prescribed inventory levels to build to, and during the appropriate times of the year.
Advanced Forecasting will drive material requirements, capacity requirements, and outside services needs. Lead times will be an integral component for releasing purchase orders for component parts to meet forecast-driven finished good inventory levels.
Managing and balancing the optimum inventory levels is a critical component, as make-to-stock manufacturers ship from stock. The inventory levels are driven by planning policies in the ERP application. They typically quote fast lead times, and their customers expect them to be able to meet those deadlines; otherwise, business will be lost, contracts negated, or penalties levied.
Also, finished goods inventory takes a larger financial commitment from make to stock than manufacturers who are make to order. If you build too much inventory, then it can have a serious impact on the business. Factors such as lowered demand from slower sales or economic impacts must be considered while adjusting the inventory levels. Using the ERP toolset including adjusting planning policies including reorder point and reorder quantity is an action needed to ensure optimum inventory levels.
ERP requirements for mixed mode
Mixed-mode manufacturers use forecasts to drive the component parts and sub-assemblies needed to complete the entire finished good assembly in a timely manner. So, they operate exactly like make-to-stock manufacturers for many parts, and must manage many of the same variables.
However, they only build the finished good to a specific order. No orders, then no finished goods inventory.
The challenge of managing the mix of production mode manufacturing requires a potent ERP system capable of handling both unique methods of deriving inventory levels. The key component of the ERP system for mixed mode manufacturers will be strong planning and scheduling. Production purchase orders and work order management are going to determine the efficiency of the manufacturing organization. The planning and scheduling application in the ERP system will tell purchasing what and when to buy, to align with desired finished good delivery dates.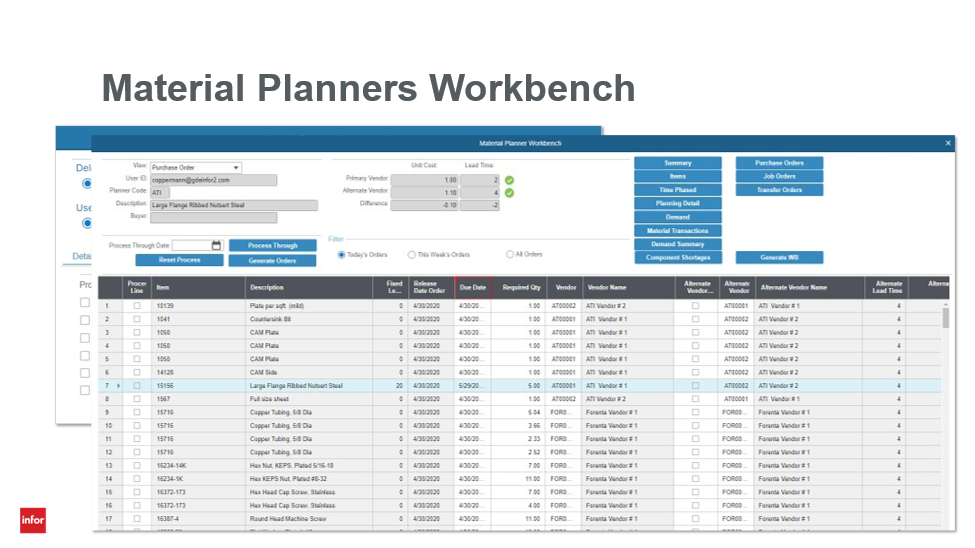 Planning and scheduling will also provide guidance on when to release work orders, ensuring the company is meeting expected completion dates and delivery. Work orders being suggested to planners for release will be a combination of the make-to-stock items, as well as the make-to-order items.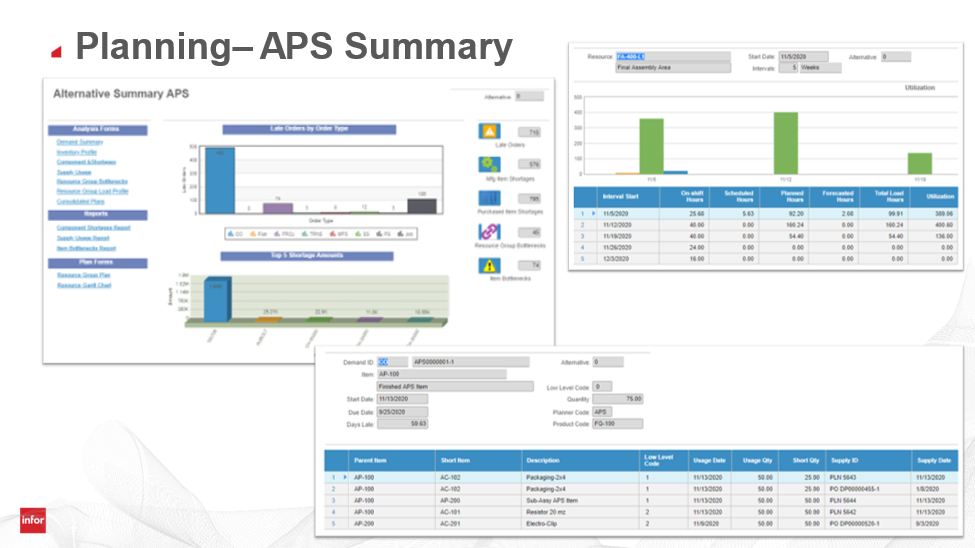 ERP requirements for make-to-order
Make-to-order-only manufacturing may be the most volatile because all components are either purchased to inventory or order, but all fabrication is completed on the shop floor and is exclusively to order. The customer order initiates demand, and the resulting activities are associated with fulfilling that demand.
Engineering may initiate the design process, then generating bill of materials and routings in the ERP, along with documentation, quality needs, project structures for project-based manufacturers, and even service. This process is fluid with the variety associated, especially for those who are engineer-to-order/build-to-print manufacturers. Similar processes are followed for configure-to-order and job-shop-type production companies in their ERP system.
Those who are assemble-to-order typically have less volatility because of a tighter set of finished goods.
Regardless, planning and scheduling will be a critical ERP component for make-to-order or assemble-to-order manufacturers. This functionality provides them with the ability to deliver on time and within expected margins. Another ERP function that may be important is the ability to capture costs, as these companies typically use actual costing versus standard costing.
Additional ERP functionality needed for those making large engineer-to-order products may include project structures, costing, and management.
ERP tools needed for all manufacturing modes
Planning and scheduling ERP tools are critical for manufacturers. Additionally, having a proper shop floor execution system is important to support the execution of the production plan. Whether using Infor Factory Track with Infor CloudSuite Industrial ERP or Infor VISUAL ERP Shop Floor Mobile with Infor VISUAL ERP, you need a way to effectively push the actionable schedule to the shop floor and allow the shop floor workers to report completed product. Tracking inventory levels for components and finished goods is critical to proper planning, and both Factory Track and Shop Floor Mobile facilitate this need.
Do you have the tools you need?
Make-to-stock and make-to-order manufacturers need tools to provide demand, digest demand, and convert that demand into accurate material planning and production management. The Visual South team has helped hundreds of organizations do this with Infor ERP, versus being dependent on Excel and a bevy of work-arounds due to having an ERP system incapable of meeting their business needs.
Forecasting, Advanced Planning & Scheduling, accurate inventory, and Shop Floor Execution tools will allow to better manage your varying manufacturing modes. If you are not sure if you have the proper toolset in place and want to discuss your situation, then we can assist. And if you have determined that there must be a better way, then we are happy to show how Infor ERP can help address your specific business needs and goals.
Visual South has supported and implemented ERP for all types of manufacturers, whether make-to-stock, make-to-order, or mixed mode. If you would like to discuss how to best address your manufacturing needs, please register for a free assessment, so our team can help you improve your discrete manufacturing production and supporting ERP system.